Bride steals $273K for extravagant wedding
Harpist? Check. Canapés? Check. 20 months in jail? Yup.
Kirsty Lane walked down the aisle and then into the pokey. In 2011, the then 30 year-old bride threw an over-the-top wedding using $272,986 stolen from her employer.
Lane was a financial administrator for home theater company Pure AV. She siphoned hundreds of thousands from her employer and plead guilty to 10 counts of fraud.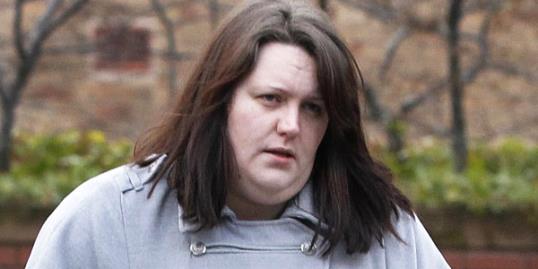 Lane was eventually sentenced to 20 months in jail. But after throwing a wedding that could rival The Royals', Lane was recently only required to repay her boss $28,633.
More on MSN Living: 14 surprising facts about getting engaged
So what exactly was included in this quarter of a million dollar ceremony?
Lane used the stolen money to hire a harpist to greet guests at her wedding, and her bridesmaids were given jewel-encrusted iPods. An award-winning chef provided the reception catering, and, of course, there was an open bar.
Oh, right. We almost forgot about the magicians and fireworks display.
More on MSN Living: 10 cliche holiday marriage proposals
"I hope she has learnt her lesson," said Peter Sutton, company director of Pure AV. He told the Daily Mail that Lane's theft cost two employers their jobs and, eventually, cost the company a total of $481,740.
"It is very disappointing considering she has gained so much and had to pay back so little."
Lane made 122 payments to herself over the course of three years, but she was finally placed under suspicion when a customer asked about an invoice. Days after her wedding, Lane was put in jail.
Bing: Look for wedding dresses
Photo: Peter Byrne/PA Wire
More from The Heart Beat:
Weird wedding trend: Naked nuptials
Poll: Women don't marry the best sex of their lives
Grand Slam nuptials: Denny's to open wedding chapel

love: friendships, dating, sex & marriage
Government-supported Vietnamese classes teach women Korean language, customs.

Whether you're into creative artists or uber-preppy bankers, there's something to be said for trying something new.

Sometimes two characters on a TV show or movie can portray being a happy couple effortlessly, or can have lots of fun playing former spouses — especially if they're married to each other in real life! Keep scrolling for six celebrity costars you probably didn't know tied the knot, even after the bloodiest and craziest story lines.

Some couples want nothing more than a laid-back, by-the-book proposal. Then there are the other couples, where the proposal not only needs to be personalized, it also has to be unique and entirely different than the typical restaurant, bended-knee idea. Sound like you? Then get inspired by some of the most creative proposal ideas we've ever seen. If you find something you like, steal it and then modify it to make your proposal something totally unforgettable.

From Nantucket all the way to Cayo Espanto, we've rounded up some of the prettiest beaches to travel to for your honeymoon.

Researchers studied the age-old stereotype that women really are more talkative than men.

'There is a science behind attraction,' SingldOut says.

One minute you're happy and in love, the next he's delivering the "It's not you, it's me" speech. Why? We have the scoop on the real reasons most couples split up.

Want to keep your wedding budget in check? Start by checking out this list of the 10 things that could end up costing you a lot more than you anticipated.

Brace yourself, this is uncomfortable.

The proposal-filled site How He Asked has shared its top 10 most emotional proposal photos with us, so have your tissues handy. We're suckers for a good proposal story, and these ones are truly tear-worthy. Check them out now, and watch your heart grow (at least) three sizes!

How to do weddings: Yet another foreign (and expensive) aspect of adulthood that you have to learn the hard way. But have no fear! Click through for some must-have wedding tips.