28 reasons Thanksgiving is the least sexy holiday
Thanksgiving has many wonderful things about it — most of them edible — but it does not include a boost to your sex life.
By Gena Kaufman
While I love, love, love Thanksgiving and the week of delicious leftovers after it, it has to be said: Thanksgiving is not sexy. In fact, it might be the least sexy holiday ever.
It's got none of the romance of Valentine's Day, it lacks the sex appeal of Halloween costumes, and it's much too cold for outdoor barbecues or pool parties.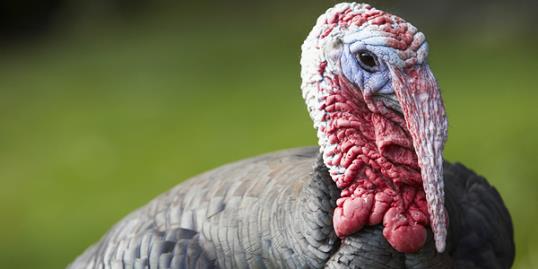 More from Glamour: 10 turn-ons that aren't about looks
Here are just a few things that may contribute to a very unsexy celebration of thanks, whether you're spending it alone or with your guy:

1.       Overcrowded airline travel.
2.       Screaming babies on overcrowded airline travel.
3.       Screaming babies at your grandma's house.
4.       The hangover you're nursing after Thanksgiving Eve, the all-important night of judging your old high school friends at the local bar.
5.       Being stuck in traffic.
6.       The huge fight you get in while stuck in traffic.
7.       Your mother.
8.       His mother.
9.       Your drunken aunt who can't stop asking when you two are getting married already.
10.   His drunken uncle with a wandering eye and penchant for dirty jokes.
11.   Voluntarily sticking your hand into a turkey's cavity.
12.   Accidentally sticking your hand on a hot pan.
13.   Or jamming a knife in your finger while slicing sweet potatoes.
14.   Political, religious or assorted family drama at the dinner table.
15.   Your sister's three loud kids who spill everything, everywhere. Loudly.
16.   Turkey coma.
17.   Tofurkey coma, if you're vegetarian.
18.   Pumpkin pie moustache (OK, that's not a real thing but it could be).
19.   The way you both unbutton your jeans to make room for seconds.
20.   Painful indigestion for the rest of the night.
21.   Washing 4,000 dirty dishes and grimy pots.
22.   The hideous sweater he wore because his mom bought it for him.
23.   The matching footie pajamas your mom bought for the whole family to sleep in.
24.   Separate rooms when you're under your parents' roof.
25.   The fear of overhearing your parents having sex.
26.   The possibility of running into your high school boyfriend while sporting sweats, gravy stains and a greasy ponytail on Black Friday.
27.   The possibility that your mom will find out that you made out with said high school boyfriend on Thanksgiving Eve.
28.   Leftover turkey coma, Day Two.
See? It's just not a holiday that's conducive to sex or romance. And do not suggest spicing it up with some sort of tacky Pilgrim and Native American reenactment.
More from Glamour: 30 sex tips every woman should consider 
But, sexy or not, I'm more than thankful for an excuse to spend time with my loved ones. And by loved ones, I mean my friends, my family and my mashed potatoes.
What are your Thanksgiving plans this year? What other unsexy aspects of this delicious holiday did I forget?
Photo: Noel Hendrickson/Getty Images
Bing: Thanksgiving Day outfit ideas
More from Glamour:
6 signs he's ready for a baby
25 first-date dos and don'ts
9 sex secrets men want you to know
love: friendships, dating, sex & marriage
Here's why dudes without hair make the best boyfriends.

What do you wish you appreciated more when you were flying solo?

"If you're so busy tweeting and Instagraming, you're not paying attention," New York wedding planner Marcy Blum said. "It's almost a cosmic faux pas. People want your energy with them and focused on what they're doing."

The wedding favor, that little thank-you-for-coming gift, has risen to new heights with the bride and groom giving guests a wide range of favors that are meaningful to them.

Generations ago, planning a wedding was 100 percent the bride's job, but in today's age of gender equity, it's a mere 99 percent.

For all the self-help books and advice columns out there (um, keeping reading my advice anyway, please!), there's one tool we all already have in our arsenal for picking a partner that will keep us happy: our gut instincts.

According to a new study from the University of Texas and the University of California, Los Angeles, both men and women have regrets when it comes to sex, but the genders vary greatly when it comes to what they regret specifically.

Spending time alone with your guy is easy, but going public with your plus-one is another thing entirely. Whether it's your crazy relatives at Thanksgiving dinner or awkward convos with your boss at the holiday party, possible pitfalls are everywhere. Keep reading for tips on how to make his grand entrance into your social life a good thing.

Match.com survey reveals the day you're least likely to get spruced up for a date.

Drinking and relationships seem to go hand in hand in a lot of ways. But only in moderation!

Many men will tell you that they have no clue what their wives are thinking.

Spending the holidays with your guy's family for the first time is a huge relationship milestone. But between your nerves, the usual family tension, and your weird Uncle Sal's inappropriate stories, it's also a prime opportunity for total disaster. Read on for 10 of our readers' most embarrassing meet-the-parents moments.