28 reasons Thanksgiving is the least sexy holiday
Thanksgiving has many wonderful things about it — most of them edible — but it does not include a boost to your sex life.
By Gena Kaufman
While I love, love, love Thanksgiving and the week of delicious leftovers after it, it has to be said: Thanksgiving is not sexy. In fact, it might be the least sexy holiday ever.
It's got none of the romance of Valentine's Day, it lacks the sex appeal of Halloween costumes, and it's much too cold for outdoor barbecues or pool parties.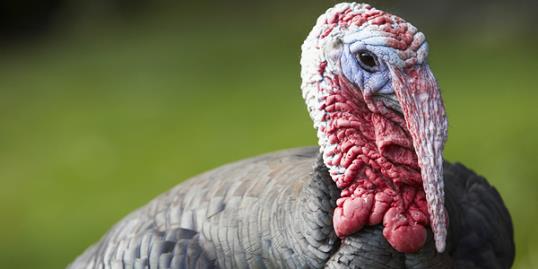 More from Glamour: 10 turn-ons that aren't about looks
Here are just a few things that may contribute to a very unsexy celebration of thanks, whether you're spending it alone or with your guy:

1.       Overcrowded airline travel.
2.       Screaming babies on overcrowded airline travel.
3.       Screaming babies at your grandma's house.
4.       The hangover you're nursing after Thanksgiving Eve, the all-important night of judging your old high school friends at the local bar.
5.       Being stuck in traffic.
6.       The huge fight you get in while stuck in traffic.
7.       Your mother.
8.       His mother.
9.       Your drunken aunt who can't stop asking when you two are getting married already.
10.   His drunken uncle with a wandering eye and penchant for dirty jokes.
11.   Voluntarily sticking your hand into a turkey's cavity.
12.   Accidentally sticking your hand on a hot pan.
13.   Or jamming a knife in your finger while slicing sweet potatoes.
14.   Political, religious or assorted family drama at the dinner table.
15.   Your sister's three loud kids who spill everything, everywhere. Loudly.
16.   Turkey coma.
17.   Tofurkey coma, if you're vegetarian.
18.   Pumpkin pie moustache (OK, that's not a real thing but it could be).
19.   The way you both unbutton your jeans to make room for seconds.
20.   Painful indigestion for the rest of the night.
21.   Washing 4,000 dirty dishes and grimy pots.
22.   The hideous sweater he wore because his mom bought it for him.
23.   The matching footie pajamas your mom bought for the whole family to sleep in.
24.   Separate rooms when you're under your parents' roof.
25.   The fear of overhearing your parents having sex.
26.   The possibility of running into your high school boyfriend while sporting sweats, gravy stains and a greasy ponytail on Black Friday.
27.   The possibility that your mom will find out that you made out with said high school boyfriend on Thanksgiving Eve.
28.   Leftover turkey coma, Day Two.
See? It's just not a holiday that's conducive to sex or romance. And do not suggest spicing it up with some sort of tacky Pilgrim and Native American reenactment.
More from Glamour: 30 sex tips every woman should consider 
But, sexy or not, I'm more than thankful for an excuse to spend time with my loved ones. And by loved ones, I mean my friends, my family and my mashed potatoes.
What are your Thanksgiving plans this year? What other unsexy aspects of this delicious holiday did I forget?
Photo: Noel Hendrickson/Getty Images
Bing: Thanksgiving Day outfit ideas
More from Glamour:
6 signs he's ready for a baby
25 first-date dos and don'ts
9 sex secrets men want you to know
love: friendship, dating, sex & marriage
We've made picking your palette a breeze! Just find your favorite hue and choose one of the cool combos below.

Get inspired with these twelve ideas for a fantastic, fun summer wedding!

What's worse than getting snubbed while proposing? Having your heart broken in front of countless strangers.

Want your I do's to be totally you? From pre-wedding cocktails to Mad Lib vows, here are 25 ways to make your ceremony as unforgettable as your reception.

Summer love can be sweet. But it tends to be fast, feverish and often fleeting. In a season where emotions run hot, here are some rules to help avoid heartbreak.

We asked brides on TheKnot.com to tell all -- and they did. Here, five of the most likely culprits and advice for how to deal with your drama-causing guests along the way.

This short course in flirting will not only teach you how to flirt better but also how to tell when someone is flirting with you—and how to respond. Have fun.

Gatsby glamour doesn't have to just live on the big screen! Embrace the trendy (yet timeless) art deco style with sequins, pearls, feathers and geometric patterns. Check out these art deco ideas and achieve the feel of 1920s decadence. By the way, all of these are affordable, except for the $600 hairpiece which is a splurge, but a knockout. Shop the look!

Wondering if your summer love will last? Here are 15 signs if your seasonal love is fleeting or for real.

Sixteen years after "Titanic's" release—and 101 years after the historic ship's notorious sinking—our hearts still go on for star-crossed lovers Rose DeWitt Bukater (Kate Winslet) and Jack Dawson (Leonardo DiCaprio). We rounded up some of our favorite ill-fated, but oh-so-romantic affairs on film, from "Gone with the Wind" to "Moulin Rouge!".

Flirting shouldn't be retired once you've got the ring. We asked relationship expert Harlan Cohen, as well as real husbands, the best way to keep the sparks flying.

When we're annoyed by male behavior, we turn to columnist Aaron Traister. His logic may be strange, but we have to admit, it's pretty helpful. Here, he answers our many questions for guys.