28 reasons Thanksgiving is the least sexy holiday
Thanksgiving has many wonderful things about it — most of them edible — but it does not include a boost to your sex life.
By Gena Kaufman
While I love, love, love Thanksgiving and the week of delicious leftovers after it, it has to be said: Thanksgiving is not sexy. In fact, it might be the least sexy holiday ever.
It's got none of the romance of Valentine's Day, it lacks the sex appeal of Halloween costumes, and it's much too cold for outdoor barbecues or pool parties.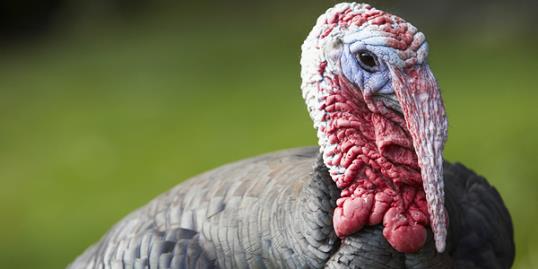 More from Glamour: 10 turn-ons that aren't about looks
Here are just a few things that may contribute to a very unsexy celebration of thanks, whether you're spending it alone or with your guy:

1.       Overcrowded airline travel.
2.       Screaming babies on overcrowded airline travel.
3.       Screaming babies at your grandma's house.
4.       The hangover you're nursing after Thanksgiving Eve, the all-important night of judging your old high school friends at the local bar.
5.       Being stuck in traffic.
6.       The huge fight you get in while stuck in traffic.
7.       Your mother.
8.       His mother.
9.       Your drunken aunt who can't stop asking when you two are getting married already.
10.   His drunken uncle with a wandering eye and penchant for dirty jokes.
11.   Voluntarily sticking your hand into a turkey's cavity.
12.   Accidentally sticking your hand on a hot pan.
13.   Or jamming a knife in your finger while slicing sweet potatoes.
14.   Political, religious or assorted family drama at the dinner table.
15.   Your sister's three loud kids who spill everything, everywhere. Loudly.
16.   Turkey coma.
17.   Tofurkey coma, if you're vegetarian.
18.   Pumpkin pie moustache (OK, that's not a real thing but it could be).
19.   The way you both unbutton your jeans to make room for seconds.
20.   Painful indigestion for the rest of the night.
21.   Washing 4,000 dirty dishes and grimy pots.
22.   The hideous sweater he wore because his mom bought it for him.
23.   The matching footie pajamas your mom bought for the whole family to sleep in.
24.   Separate rooms when you're under your parents' roof.
25.   The fear of overhearing your parents having sex.
26.   The possibility of running into your high school boyfriend while sporting sweats, gravy stains and a greasy ponytail on Black Friday.
27.   The possibility that your mom will find out that you made out with said high school boyfriend on Thanksgiving Eve.
28.   Leftover turkey coma, Day Two.
See? It's just not a holiday that's conducive to sex or romance. And do not suggest spicing it up with some sort of tacky Pilgrim and Native American reenactment.
More from Glamour: 30 sex tips every woman should consider 
But, sexy or not, I'm more than thankful for an excuse to spend time with my loved ones. And by loved ones, I mean my friends, my family and my mashed potatoes.
What are your Thanksgiving plans this year? What other unsexy aspects of this delicious holiday did I forget?
Photo: Noel Hendrickson/Getty Images
Bing: Thanksgiving Day outfit ideas
More from Glamour:
6 signs he's ready for a baby
25 first-date dos and don'ts
9 sex secrets men want you to know
love: friendships, dating, sex & marriage
As a general rule, any island that offers great weather year-round is going to attract the most visitors in the winter (high season) when we're all trying to escape the snow. Once summer rolls around, many islands see a sharp drop-off in tourism since many people have beach weather right in their own backyards.

And how you can attack the issues together.

A wedding is an exceptionally special day. Sometimes, an opportune photo flub makes the occasion even more memorable. Here are 25 awesome wedding photo bombs.

Somewhere between the first few butterfly-inducing dates and the committed-for-life stage, there's the period of wondering if you're both on the same page about how serious you feel about a future together. If you're not quite at the point of "that talk" but you're looking for a few clues you're heading in that direction, here are some signs he's in it for the long haul as your relationship progresses.

What's that sound? It's white noise blocking out the well-meaning person proclaiming groundbreaking news about where you can meet someone, asking why you're still single, or bugging you about when you're getting married already. Don't be that person. Here are 15 annoying things all single people don't want to hear.

With just a few days left before the big day, you already have a mile-long checklist of to-dos—now meet the don'ts! From impromptu skin treatments to all-night movie marathons, here are 11 things to avoid at all costs.

A new study shows that watching and discussing romantic films can drastically reduce your chance of divorce. These flicks more than fit the bill.

These seemingly innocent phrases still have the power to wound… big time.

Making "I do" last forever is one of the biggest challenges you'll ever face—and it's normal to worry about how you'll do it. But, if your connection involves any of these things, rest assured that you're in it for the long run.

Ultimately, as hard as it may seem at the beginning, a marital affair can be a turning point.

Five months after the Boston Marathon bombing, The Knot reached out to Rebekah Gregory and Pete DiMartino and offered to throw them a dream wedding. They said yes, and on April 4, 2014, the two married at the Biltmore Estate in Asheville, North Carolina. Rebekah and Pete exchanged vows on the tennis lawn amidst the cherry tree blossoms and then celebrated with all of their friends and family at a beautiful reception tent right in front of the estate. All of the details were perfectly executed by a team of talented and generous wedding industry pros, including celebrity wedding planner Marcy Blum. Here, a few highlights from Rebekah and Pete's wedding day.

Your wedding is your special day, but you want to keep your guests happy, too. Here are 20 typical wedding guest complaints and what you can do about them.