Science says everlasting love is a myth
Love isn't what we think it is, one researcher says—but it might be better.
If you have fairy tale expectations, you may want to proceed with caution.
This week, the Atlantic posted a piece on Barbara Fredrickson's new book, Love 2.0: How Our Supreme Emotion Affects Everything We Feel, Think, Do, and Become. In her book, Fredrickson describes a new concept of love that is dramatically different from our traditional definition. Instead of an everlasting, always-present emotion, Fredrickson says that love is a "micro-moment of positivity romance."
Fredrickson explains that love is simply a rush of positive emotions one feels in a certain instance. This rush can happen with anyone, even a stranger on the street, the article points out.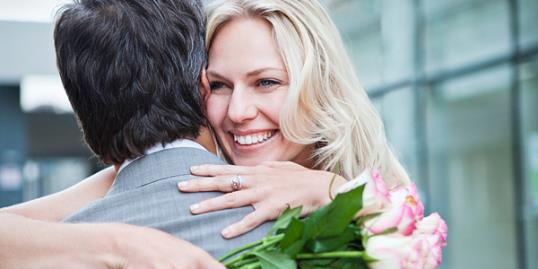 More on MSN Living: 9 sex & dating myths
The Heart Beat spoke with Fredrickson about this new view of love. Specifically, we were curious how it fit in with marriage, science and soul mates.
"People have strong personal beliefs about love and may mistakenly think that I am asking them to trade in their own cherished view of love in favor of this new definition," Fredrickson told The Heart Beat. " A concept as rich as love, however, can be approached and understood from many different angles…"
More on MSN Living: 28 ways to have a sexy February
Fredrickson's definition of love is more universal. It's less about romance and more about compassion. It's what's at the heart of 'Love Makes the World Go 'Round.'
"I wrote the book because the scientific evidence has convinced me that how we think about love matters," Fredrickson continues.
The vagus nerve is one of three biological factors responsible for the feeling of love. Scientists believed a person's capacity to love—their vagal tone—was stable; it wasn't something that could increase, they thought. But Fredrickson debunked that notion in a 2010 study.
Fredrickson asked participants to practice a Buddhist "loving-kindness meditation."  Subjects cultivated feelings of love and peace toward another human being. After the meditation, Fredrickson measured the participants' vagal tone and found that there was a significant increase. Her findings were so substantial that she was asked to present them to the Dalai Lama.
So if love isn't some star-crossed, meant-to-be force and instead a series of controllable biological functions, what does this mean for the concept of soul mates?
"I have no quarrel with the idea of 'soul mates,'" Fredrickson said. "A soul mate, according to this new perspective, is someone who deeply understands your inner-workings and uses this privileged knowledge thoughtfully, for your benefit, to create frequent moments of connection, or what I call 'positivity resonance.'"
Her theory also doesn't discount marriage:
"I see marriage as a commitment ceremony, a pledge to be loyal to one another to the end. Such commitments create foundations of safety and trust that support more frequent experiences of positivity resonance, which over time help each partner become their best."
Overall, Fredrickson's theory may be an improved view of love. Her angle expands the definition to include the compassion and warmth we're able to feel for those around us.
"It offers new lenses through which to view your every interaction with others and can help you see those interactions as precious opportunities to nourish health, both your own and that of others, and to unlock collective capacity. Love becomes a forever-renewable resource, if you know how to tap into it."
More from The Heart Beat:
Is courtship really dead?

Politics, religion & relationships: When couples don't agree
Study: Confidence before marriage leads to a happy union
Love content like this? Friend us on Facebook, follow us on Twitter and find us on Pinterest
Photo: Dimitri Vervitsiotis/Getty Images
love: friendships, dating, sex & marriage
Revealr is a new iPhone app that allows those looking for love to hear their possible matches before they see them.

A new poll reveals 59 percent of the country supports same-sex marriage.

Celebrity engagements are so much fun to follow because every detail is bound to be over-the-top — from the proposal (like when Kanye rented out an entire stadium to propose to Kim) to the huge, sparkly engagement ring and, of course, the wedding. Plus, as trendsetters, celebs can be a source of inspiration even if you can't afford a million dollar ring. Here are our celebrity wedding predictions for 2014.

If you've ever been to a club—like, ever, even once—you are not going to be shocked to hear that women get a lot of unwanted, aggressive attention. But when you read the findings of this study on how often and why it happens, it might make you feel downright sick to your stomach.

Hopeless romantics and cringe-worthy chick flicks would tell you that it doesn't matter what you do on the date, as long as you're together. But they're wrong. Dead wrong. Women use your date ideas to size you up, says matchmaker Rachel DeAlto, author of "Flirt Fearlessly." "You absolutely will be judged based on the date you plan. There are so many subconscious impressions that we take in while dating." Gulp. Here are 10 terrible ideas that can land you on the no-lay list—and simple swaps to keep her happy. By K. Aleisha Fetters

No matter your current relationship status or past relationship fails, get a fresh start this month, with these tips for spring cleaning your love life.

Forget the rules you've always heard—it's time to start making your own.

Are you in an affair without knowing it? Unless you're a swinger, having sex with someone else counts as cheating. But then there's the fuzzy area between friendship and infidelity—and chances are, your girlfriend sees those shades of gray as more black and white than you do. "Men aren't as attuned to identifying ambiguous behaviors as cheating as women are," says Daniel Kruger, Ph.D., a University of Michigan psychologist, who's studied gender differences in definitions of infidelity. In other words, what you consider totally innocent could be her deal breaker.

We spoke with relationship therapist Rachel A. Sussman, author of "The Breakup Bible," for her tips on how regular girls can survive a split like an A-lister.

A researcher from Texas Tech University has found that people who use the same kind of "function words" are more likely to get together.

Check out these five celebrity stunners.

And by weird, we really mean friggin' awesome.