Science says everlasting love is a myth
Love isn't what we think it is, one researcher says—but it might be better.
If you have fairy tale expectations, you may want to proceed with caution.
This week, the Atlantic posted a piece on Barbara Fredrickson's new book, Love 2.0: How Our Supreme Emotion Affects Everything We Feel, Think, Do, and Become. In her book, Fredrickson describes a new concept of love that is dramatically different from our traditional definition. Instead of an everlasting, always-present emotion, Fredrickson says that love is a "micro-moment of positivity romance."
Fredrickson explains that love is simply a rush of positive emotions one feels in a certain instance. This rush can happen with anyone, even a stranger on the street, the article points out.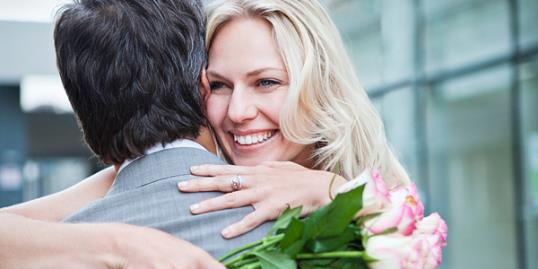 More on MSN Living: 9 sex & dating myths
The Heart Beat spoke with Fredrickson about this new view of love. Specifically, we were curious how it fit in with marriage, science and soul mates.
"People have strong personal beliefs about love and may mistakenly think that I am asking them to trade in their own cherished view of love in favor of this new definition," Fredrickson told The Heart Beat. " A concept as rich as love, however, can be approached and understood from many different angles…"
More on MSN Living: 28 ways to have a sexy February
Fredrickson's definition of love is more universal. It's less about romance and more about compassion. It's what's at the heart of 'Love Makes the World Go 'Round.'
"I wrote the book because the scientific evidence has convinced me that how we think about love matters," Fredrickson continues.
The vagus nerve is one of three biological factors responsible for the feeling of love. Scientists believed a person's capacity to love—their vagal tone—was stable; it wasn't something that could increase, they thought. But Fredrickson debunked that notion in a 2010 study.
Fredrickson asked participants to practice a Buddhist "loving-kindness meditation."  Subjects cultivated feelings of love and peace toward another human being. After the meditation, Fredrickson measured the participants' vagal tone and found that there was a significant increase. Her findings were so substantial that she was asked to present them to the Dalai Lama.
So if love isn't some star-crossed, meant-to-be force and instead a series of controllable biological functions, what does this mean for the concept of soul mates?
"I have no quarrel with the idea of 'soul mates,'" Fredrickson said. "A soul mate, according to this new perspective, is someone who deeply understands your inner-workings and uses this privileged knowledge thoughtfully, for your benefit, to create frequent moments of connection, or what I call 'positivity resonance.'"
Her theory also doesn't discount marriage:
"I see marriage as a commitment ceremony, a pledge to be loyal to one another to the end. Such commitments create foundations of safety and trust that support more frequent experiences of positivity resonance, which over time help each partner become their best."
Overall, Fredrickson's theory may be an improved view of love. Her angle expands the definition to include the compassion and warmth we're able to feel for those around us.
"It offers new lenses through which to view your every interaction with others and can help you see those interactions as precious opportunities to nourish health, both your own and that of others, and to unlock collective capacity. Love becomes a forever-renewable resource, if you know how to tap into it."
More from The Heart Beat:
Is courtship really dead?

Politics, religion & relationships: When couples don't agree
Study: Confidence before marriage leads to a happy union
Love content like this? Friend us on Facebook, follow us on Twitter and find us on Pinterest
Photo: Dimitri Vervitsiotis/Getty Images
love: friendship, dating, sex & marriage
What's worse than getting snubbed while proposing? Having your heart broken in front of countless strangers. Watch these memorable rejections where one lovebird pulled out all the stops, only to have their significant other slam on the brakes.

We asked brides on TheKnot.com to tell all -- and they did. Here, five of the most likely culprits and advice for how to deal with your drama-causing guests along the way.

This short course in flirting will not only teach you how to flirt better but also how to tell when someone is flirting with you—and how to respond. Have fun.

Gatsby glamour doesn't have to just live on the big screen! Embrace the trendy (yet timeless) art deco style with sequins, pearls, feathers and geometric patterns. Check out these art deco ideas and achieve the feel of 1920s decadence. By the way, all of these are affordable, except for the $600 hairpiece which is a splurge, but a knockout. Shop the look!

Wondering if your summer love will last? Here are 15 signs if your seasonal love is fleeting or for real.

Sixteen years after "Titanic's" release—and 101 years after the historic ship's notorious sinking—our hearts still go on for star-crossed lovers Rose DeWitt Bukater (Kate Winslet) and Jack Dawson (Leonardo DiCaprio). We rounded up some of our favorite ill-fated, but oh-so-romantic affairs on film, from "Gone with the Wind" to "Moulin Rouge!".

Flirting shouldn't be retired once you've got the ring. We asked relationship expert Harlan Cohen, as well as real husbands, the best way to keep the sparks flying.

When we're annoyed by male behavior, we turn to columnist Aaron Traister. His logic may be strange, but we have to admit, it's pretty helpful. Here, he answers our many questions for guys.

Author Amanda Robb talks to clinical psychologist David Schnarch, Ph.D., author of Passionate Marriage: Keeping Love and Intimacy Alive in Committed Relationships and Intimacy and Desire: Awaken the Passion in Your Relationship, to discover the ways she can relight the fire in her own relationship. What she learned just might help you wake up your own libido.

The average wedding costs $28,000. Think that's pricey? You're in for a surprise. We've rounded up some of the most expensive weddings of all time. See if you can guess how much was dropped on these over-the-top affairs, then click through to Bing to see if you're right.

A guide to staying together forever…straight from divorce lawyers! They know what tears couples apart, and they'll tell you how to avoid it.

We've come across some odd tales of lost love. Here's our list of the weirdest reasons people have divorced.