Study: Couples who met online are happier
In case you still have lingering doubts about online dating, here's yet another reason to get over it.
A study of 19,131 American couples who married between 2005 and 2012 found that more than a third of them met online, and those couples tend to be happier in their relationships. And lest you think they're just overcompensating to prove meeting online totally works, you guys, I swear, not only did couples who met on the Internet report higher rates of satisfaction, they also were actually less likely to separate or divorce.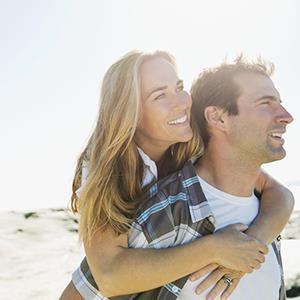 A few interesting tidbits:
More from Glamour: 30 reasons being a woman is awesome
•Of the one-third of couples who met online, only 45 percent actually met on dating sites. The others met through social networks (21 percent) and a combination of other online communities like gaming sites, chat rooms and discussion groups.
•Divorce rates for this study, by the way, were nowhere near the 50 percent you hear people claiming. For couples who met "the old-fashioned way," as they say, 7.6 percent split up, compared with 5.9 percent of those who met online.
•Among couples who met offline, the most satisfied met through school, church, social gatherings or by growing up together. The least-satisfied met through work (which was also the most common way to meet offline), family, at bars, or on blind dates.
More from Glamour: 10 wardrobe essentials every woman should own
The study didn't look at what might cause online couples to have more satisfying marriages, but the researchers have a few possible ideas: People who use the Internet to meet people may be different from those who don't, for instance, more motivated to meet a spouse; the large pool of online potential matches allows people to be more selective; and/or people may open up more online than they do face-to-face.
(As an FYI, the study was funded by eHarmony, which obviously has a stake in claiming online relationships end up happier. However, independent statisticians oversaw it, and eHarmony agreed the results could be published regardless of the outcome. Do with that information what you will, ladies.)
More from Glamour: 21 style don'ts to live by
Why do you think people who meet online might be happier?
Bing: How to create a great online dating profile
More from The Heart Beat: 
And the most romantic city in America is...
Love letter delivered after nearly 70 years
Infidelity ranked the most immoral behavior
Photo: Happy couple / Hero Images/Getty Images
love: friendships, dating, sex & marriage
The typical wedding: A white dress, tiered cake, floral centerpieces and a cute flower girl -- you know the drill. Every once in a while, though, a couple trades in tradition for a quirky, never-seen-that-before idea. Here are a few of the most out-there wedding photos that made us do a double take.

There's a lot to love about weddings this fall, like cocktails served in copper Moscow mule mugs, industrial-inspired lighting and pheasant feather details. See what's new!

Do you have to be engaged to sport a ring with bling?

124.6 million haven't gotten hitched.

Even though the national average wedding is $29,858, that's just an average. If you live in a smaller state like Idaho where the average wedding costs $16,159, you may find yourself saving a little more than half of the national spend! Check out some of the other least expensive cities to get married in below:

Summer is winding down, but the ubiquitous summer romance lives on.

For those times when nothing big and horrible happened--but nothing is feeling right either.

He's confident, distinguished and anywhere from 4 to 20 years older than you. Age is just a number, but there's something about older men that we love. Here are eight reasons why being in a relationship with an older man is tops.

While a younger man may have less life experience, that doesn't mean he's not emotionally mature. Here are the eight reasons why being in a relationship with a younger man is tops.

Have you ever wondered what the 'other woman' was thinking?

So fall is coming and you need some romantic inspiration now that long walks on the beach are out of the question. Well look no further! From apple picking to pumpkin carving, these are some great fall date ideas from girls just like you!

Getting bored of the same dinner and movie date night? Take an adorable cue from your favorite celebs and try something new! From dancing to boxing you can't go wrong with these awesome date ideas.