Study: Couples who met online are happier
In case you still have lingering doubts about online dating, here's yet another reason to get over it.
A study of 19,131 American couples who married between 2005 and 2012 found that more than a third of them met online, and those couples tend to be happier in their relationships. And lest you think they're just overcompensating to prove meeting online totally works, you guys, I swear, not only did couples who met on the Internet report higher rates of satisfaction, they also were actually less likely to separate or divorce.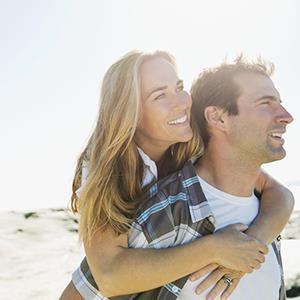 A few interesting tidbits:
More from Glamour: 30 reasons being a woman is awesome
•Of the one-third of couples who met online, only 45 percent actually met on dating sites. The others met through social networks (21 percent) and a combination of other online communities like gaming sites, chat rooms and discussion groups.
•Divorce rates for this study, by the way, were nowhere near the 50 percent you hear people claiming. For couples who met "the old-fashioned way," as they say, 7.6 percent split up, compared with 5.9 percent of those who met online.
•Among couples who met offline, the most satisfied met through school, church, social gatherings or by growing up together. The least-satisfied met through work (which was also the most common way to meet offline), family, at bars, or on blind dates.
More from Glamour: 10 wardrobe essentials every woman should own
The study didn't look at what might cause online couples to have more satisfying marriages, but the researchers have a few possible ideas: People who use the Internet to meet people may be different from those who don't, for instance, more motivated to meet a spouse; the large pool of online potential matches allows people to be more selective; and/or people may open up more online than they do face-to-face.
(As an FYI, the study was funded by eHarmony, which obviously has a stake in claiming online relationships end up happier. However, independent statisticians oversaw it, and eHarmony agreed the results could be published regardless of the outcome. Do with that information what you will, ladies.)
More from Glamour: 21 style don'ts to live by
Why do you think people who meet online might be happier?
Bing: How to create a great online dating profile
More from The Heart Beat: 
And the most romantic city in America is...
Love letter delivered after nearly 70 years
Infidelity ranked the most immoral behavior
Photo: Happy couple / Hero Images/Getty Images
love: friendships, dating, sex & marriage
Two guests arrested in New Jersey.

Celebrities certainly know how to travel in style, so if you're struggling to select a honeymoon destination, look no further than these star-approved hotspots. To make it even easier, we're providing you with hotel recommendations, packing essentials, and tips on what to do and see! So channel your inner celeb at one of these U.S. destinations for an unforgettable vacation!

Tall Twitter users named Wayne, we're on to you!

Should little girls be dreaming of a different kind of "I do"?

Need a reason to pack your bags and get the hell out of here?

After your return from your honeymoon, your marriage officially starts and with that come some changes. It's not to say that the honeymoon phase is over, but you'll have to get some things situated in order to have your marriage start off on the right foot. We tapped the expert advice of wedding planner and reality TV star David Tutera and love and career coach Charreah Jackson to dish on six things you must do to have a successful first month of marriage — from wedding-related logistics to wrap up to relationship rules to set.

Owner of Weddings in Vieques, a destination-wedding planning company off the coast of Puerto Rico, Sandy Malone has helped countless couples plan their big day since 2007. Here, the veteran planner is sharing some expert advice for free: She's sharing the top eight things you have to do right after you get engaged.

Is the idea of a big bridal bash just not your thing? Or perhaps you and your fiancé are just the super spontaneous type, so why not make your next beach vacation your nuptials as well? If you're thinking of eloping but have questions on the mind, we're here to help. We tapped elopement and wedding planner Lindsey Nickel, founder of Events, Etc., for her top dos and don'ts for getting hitched on the sly.

Easy everyday ways to keep the love alive.

Expert tips on moving past those oh-so-familiar arguments.

Sometimes you have to do things you don't want to do, like hang out with his lame friends. You're not always in the mood to nurse a beer silently while he and his boys argue about who's going to die next on "Game of Thrones" — but tomorrow he's sitting through a seven-girl brunch. So.

Why holding on to your partner's mistakes will end up hurting you.