Yard sale: 'Hurry before spouse comes home'
Well, this divorce should be interesting.
Somehow, we don't think this is going to be an amicable split.
The Huffington Post found this photo of a "divorce" yard sale advertisement. It reads:
"Hurry before spouse comes home."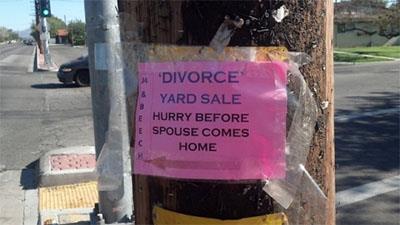 Gallery: Weirdest reasons people have divorced
This certainly isn't the first time an angry spouse has used a yard sale to unload their significant other's junk. Last year, a Wisconsin woman held an "X-husband" sale in her front yard. The good news? Everything was free. The bad news was spray-painted across her husband's GMC Yukon SUV: "Cheater."
More from The Heart Beat:
Woman wants to marry her death row pen pal
Savers are more attractive than spenders
One night away can improve your sex life
Subscribe to The Heart Beat | Friend us on Facebook, follow us on Twitter and find us on Pinterest
Photo: via Imgur

Over 75% of divorces are filed by women NOT because the man was caught having an affair but because they stand to lose NOTHING!! Why do you think the majority of men are on "marriage strike"? Laws are biased and a man DOES lose everything. The home he bought, everything in the home AND the kids. AND he has to pay rental fees to see his own children while the woman gets to practice "liberalism" in the bedroom. DO NOT have joint accounts, DO NOT put her name on the deed and if kids are born, immediately file for Paternity tests. Don't be duped into paying support for another man's kids (54% of men are currently doing so w/o knowledge that they are in fact NOT the bio Dad ).  64% of women admit to lying about taking the pill in hopes of becoming pregnant w/o the knowledge of the man.
Are you sure you want to delete this comment?
love: friendships, dating, sex & marriage
If you just got engaged, congrats! This is seriously exciting news that deserves lots of congratulatory hugs, "oohing" and "ahhing" over the ring and plenty of bubbly. To make sure you get the right response from friends, family and coworkers, avoid announcing your engagement like this…

Ladies, give yourself the best gift of all this season: The NYC Taxi Driver 2014 Calendar. By Michelle Toglia

Pheromones may be the key to finding your perfect match.

The outlandish things we do for love have no limits; just ask these guys. Love makes us do some pretty crazy things. And sometimes, we feel the need to prove it to the entire world. And no, we don't mean getting a tattoo of your partner's name on your leg or proposing on the big screen at the Yankee game. We mean renewing your marriage vows 101 times or making out for 58 hours. Who would go to such extremes you ask? Meet the Guinness World Record-holders in all-things love. They gave up sleep, food and even going to the bathroom alone, all in the name of loving longer than anyone else. Who's hugged the longest? Kissed the longest? Been on the most expensive date? Take a look below as we count down the world's most loving record-breakers.

Her partner? Wine? Downtime? Find out where it all ranks.

This time of year, we dust off our holiday traditions of special songs, stories, events and food to make our season bright. Here's a look into the traditional, unique and quirky holiday traditions of some famous couples.

Look, I looooove engagement season for obvious reasons, but even I can admit I'm like, "Really, AGAIN?" when yet ANOTHER engagement ring pops up in my news feed. Seriously, there were two this weekend. (Congrats, Gemma and Danny!)

We asked real men and women (and a few first-base experts, too) to give us the cardinal rules of kissing, tell us what makes someone a good kisser and more. So whether you're leaning in for kiss No. 1 or 1,000, read on.by Devin Tomb

Not quite sure which diamond shape suits your personality? We're here to help.

Dating can lead to all kinds of tricky situations. To help you navigate even the most awkward moments, we've compiled our 50 best dating tips—some new, some old—given to us by experts, moms, women like you, and even Justin Timberlake.

Customers as Madison's new Snuggle House can snuggle with professional cuddlers for $60 an hour.

Can you believe it was only about 15 years ago that engagement ring shopping meant a time-consuming slog from jewelry boutique to jewelry boutique? Thank goodness for the internet; nowadays, it's easy to do all that legwork online.