10 romantic facts about Valentine's Day
A few sweet Valentine's Day tidbits to get you in the mood for love.
Haven't yet been hit by Cupid's arrow? Not in the Valentine's Day spirit? Well, The Heart Beat is here to give you the romantic kick in the pants you need.
The V-Day bug bit us early this year, and we've been spending our days reading and researching some sweet Valentine's Day stories and statistics. We now bring you 10 romantic facts about Valentine's Day.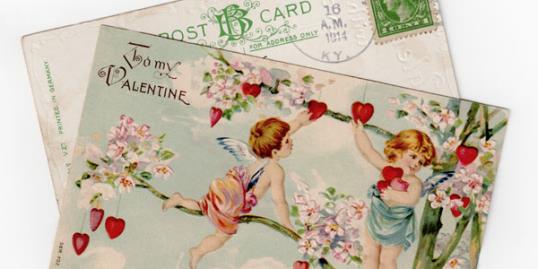 More on MSN Living: 10 tips for a sexy and romantic Valentine's Day
According to a recent survey, 85 percent of people celebrating Valentine's Day hope to make sex the centerpiece of their plans.

Each year, Verona, Italy receives over 1,000 valentines addressed to Juliet of Shakespeare's Romeo and Juliet.

In the mid-nineteenth century, Esther Howland became the "Mother of the Valentine." Howland is responsible for designing the first mass produced valentines in the United States. She was inspired by a card given to her by a friend from England. Overseas, valentines were already popular.
In Japan, it's traditional for women to give men gifts on Valentine's Day—not the other way around. But not to worry—ladies get their turn a month later on a Japanese holiday called "White Day."

In 2010, the Emirates Palace in Abu Dhabi offered a ridiculously elaborate Valentine's Day gift that came with a $1 million price tag. The offer included a week long stay, romantic dinner, helicopter flight, camel racing and perfume making. Yup—a million bucks and you still have to make your own perfume.

Valentine's Day is thought to be named after Saint Valentine of Rome—a priest who performed illegal weddings for soldiers who were forbidden to marry.

In the 1800s, doctors advised lovelorn patients to eat chocolate. Nothing wrong with that prescription.

Cupid has been designated a symbol of Valentine's Day because he was the son of Venus, the Roman god of love and beauty.

The red rose was Venus' favorite flower.

In the Middle Ages, people believed that the first unmarried man a girls sees on Valentine's Day is her future husband.

More on MSN Living: Best Valentine's Day gifts on Pinterest
Still not in the Valentine's Day spirit? We recommend chocolate.
More from The Heart Beat:
97-year-old woman weds
New wedding trend: The anti-invite
China's 'fake-marriage market' a growing trend
Love content like this? Friend us on Facebook, follow us on Twitter and find us on Pinterest   
Photo: Sheri Blaney/Getty Images

love: friendships, dating, sex & marriage
Love it or hate it, the selfie wields much power.

Talk about some blurred lines.

Come on people, it's not that hard to mind your own business.

No sense in wasting your time on someone who will never commit.

There he is, the man of your dreams. He's sitting across from you at the coffee shop or standing at the opposite side of the bar. His eyes meet yours, a quick glance, and then it's back to his drink. Was he giving you a signal?

Remember that time on "30 Rock" when Liz Lemon and her eventual-husband Criss went shopping at Ikea, only to end up in a major fight? We know it couldn't be closer to the truth because we've all been there. In honor of the irritation that can be Ikea, here are the top fights you'll likely encounter.

Dating doesn't have to be a daunting task, promise. Here's how to make it fun for you and him.

One woman's honest journey to divorce will break your heart and inspire you at the same time.

Want to send your date running? Try one these moves.

Two guests arrested in New Jersey.

Celebrities certainly know how to travel in style, so if you're struggling to select a honeymoon destination, look no further than these star-approved hotspots. To make it even easier, we're providing you with hotel recommendations, packing essentials, and tips on what to do and see! So channel your inner celeb at one of these U.S. destinations for an unforgettable vacation!

Tall Twitter users named Wayne, we're on to you!