10 romantic facts about Valentine's Day
A few sweet Valentine's Day tidbits to get you in the mood for love.
Haven't yet been hit by Cupid's arrow? Not in the Valentine's Day spirit? Well, The Heart Beat is here to give you the romantic kick in the pants you need.
The V-Day bug bit us early this year, and we've been spending our days reading and researching some sweet Valentine's Day stories and statistics. We now bring you 10 romantic facts about Valentine's Day.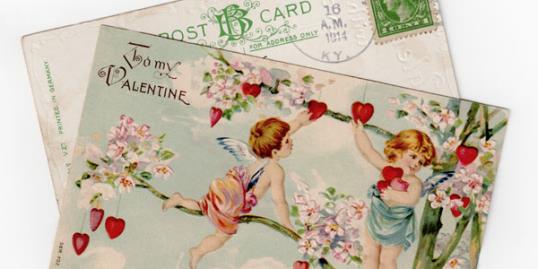 More on MSN Living: 10 tips for a sexy and romantic Valentine's Day
According to a recent survey, 85 percent of people celebrating Valentine's Day hope to make sex the centerpiece of their plans.

Each year, Verona, Italy receives over 1,000 valentines addressed to Juliet of Shakespeare's Romeo and Juliet.

In the mid-nineteenth century, Esther Howland became the "Mother of the Valentine." Howland is responsible for designing the first mass produced valentines in the United States. She was inspired by a card given to her by a friend from England. Overseas, valentines were already popular.
In Japan, it's traditional for women to give men gifts on Valentine's Day—not the other way around. But not to worry—ladies get their turn a month later on a Japanese holiday called "White Day."

In 2010, the Emirates Palace in Abu Dhabi offered a ridiculously elaborate Valentine's Day gift that came with a $1 million price tag. The offer included a week long stay, romantic dinner, helicopter flight, camel racing and perfume making. Yup—a million bucks and you still have to make your own perfume.

Valentine's Day is thought to be named after Saint Valentine of Rome—a priest who performed illegal weddings for soldiers who were forbidden to marry.

In the 1800s, doctors advised lovelorn patients to eat chocolate. Nothing wrong with that prescription.

Cupid has been designated a symbol of Valentine's Day because he was the son of Venus, the Roman god of love and beauty.

The red rose was Venus' favorite flower.

In the Middle Ages, people believed that the first unmarried man a girls sees on Valentine's Day is her future husband.

More on MSN Living: Best Valentine's Day gifts on Pinterest
Still not in the Valentine's Day spirit? We recommend chocolate.
More from The Heart Beat:
97-year-old woman weds
New wedding trend: The anti-invite
China's 'fake-marriage market' a growing trend
Love content like this? Friend us on Facebook, follow us on Twitter and find us on Pinterest   
Photo: Sheri Blaney/Getty Images

love: friendship, dating, sex & marriage
The perfect wedding toast is a work of oratory art. It can't be too short (cheers!) and it can't drone on and on. It has to be funny but it also has to be sentimental. So if you've been tasked with toasting the newlyweds, prepare to prep -- and whatever you do, avoid these toasting faux pas!

We've made picking your palette a breeze! Just find your favorite hue and choose one of the cool combos below.

Get inspired with these twelve ideas for a fantastic, fun summer wedding!

What's worse than getting snubbed while proposing? Having your heart broken in front of countless strangers.

Want your I do's to be totally you? From pre-wedding cocktails to Mad Lib vows, here are 25 ways to make your ceremony as unforgettable as your reception.

Summer love can be sweet. But it tends to be fast, feverish and often fleeting. In a season where emotions run hot, here are some rules to help avoid heartbreak.

We asked brides on TheKnot.com to tell all -- and they did. Here, five of the most likely culprits and advice for how to deal with your drama-causing guests along the way.

This short course in flirting will not only teach you how to flirt better but also how to tell when someone is flirting with you—and how to respond. Have fun.

Gatsby glamour doesn't have to just live on the big screen! Embrace the trendy (yet timeless) art deco style with sequins, pearls, feathers and geometric patterns. Check out these art deco ideas and achieve the feel of 1920s decadence. By the way, all of these are affordable, except for the $600 hairpiece which is a splurge, but a knockout. Shop the look!

Who says a special outing with the hubby has to empty your wallet? These fresh, fun activities require no cash at all, so work your way down the list.

Wondering if your summer love will last? Here are 15 signs if your seasonal love is fleeting or for real.

Sixteen years after "Titanic's" release—and 101 years after the historic ship's notorious sinking—our hearts still go on for star-crossed lovers Rose DeWitt Bukater (Kate Winslet) and Jack Dawson (Leonardo DiCaprio). We rounded up some of our favorite ill-fated, but oh-so-romantic affairs on film, from "Gone with the Wind" to "Moulin Rouge!".