10 romantic facts about Valentine's Day
A few sweet Valentine's Day tidbits to get you in the mood for love.
Haven't yet been hit by Cupid's arrow? Not in the Valentine's Day spirit? Well, The Heart Beat is here to give you the romantic kick in the pants you need.
The V-Day bug bit us early this year, and we've been spending our days reading and researching some sweet Valentine's Day stories and statistics. We now bring you 10 romantic facts about Valentine's Day.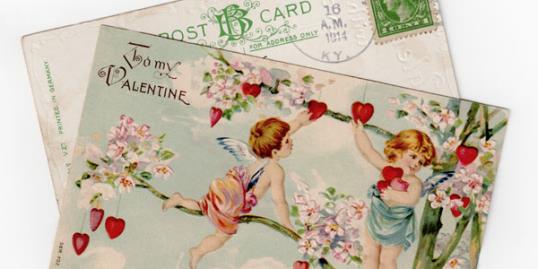 More on MSN Living: 10 tips for a sexy and romantic Valentine's Day
According to a recent survey, 85 percent of people celebrating Valentine's Day hope to make sex the centerpiece of their plans.

Each year, Verona, Italy receives over 1,000 valentines addressed to Juliet of Shakespeare's Romeo and Juliet.

In the mid-nineteenth century, Esther Howland became the "Mother of the Valentine." Howland is responsible for designing the first mass produced valentines in the United States. She was inspired by a card given to her by a friend from England. Overseas, valentines were already popular.
In Japan, it's traditional for women to give men gifts on Valentine's Day—not the other way around. But not to worry—ladies get their turn a month later on a Japanese holiday called "White Day."

In 2010, the Emirates Palace in Abu Dhabi offered a ridiculously elaborate Valentine's Day gift that came with a $1 million price tag. The offer included a week long stay, romantic dinner, helicopter flight, camel racing and perfume making. Yup—a million bucks and you still have to make your own perfume.

Valentine's Day is thought to be named after Saint Valentine of Rome—a priest who performed illegal weddings for soldiers who were forbidden to marry.

In the 1800s, doctors advised lovelorn patients to eat chocolate. Nothing wrong with that prescription.

Cupid has been designated a symbol of Valentine's Day because he was the son of Venus, the Roman god of love and beauty.

The red rose was Venus' favorite flower.

In the Middle Ages, people believed that the first unmarried man a girls sees on Valentine's Day is her future husband.

More on MSN Living: Best Valentine's Day gifts on Pinterest
Still not in the Valentine's Day spirit? We recommend chocolate.
More from The Heart Beat:
97-year-old woman weds
New wedding trend: The anti-invite
China's 'fake-marriage market' a growing trend
Love content like this? Friend us on Facebook, follow us on Twitter and find us on Pinterest   
Photo: Sheri Blaney/Getty Images

love: friendships, dating, sex & marriage
The typical wedding: A white dress, tiered cake, floral centerpieces and a cute flower girl -- you know the drill. Every once in a while, though, a couple trades in tradition for a quirky, never-seen-that-before idea. Here are a few of the most out-there wedding photos that made us do a double take.

There's a lot to love about weddings this fall, like cocktails served in copper Moscow mule mugs, industrial-inspired lighting and pheasant feather details. See what's new!

Do you have to be engaged to sport a ring with bling?

124.6 million haven't gotten hitched.

Even though the national average wedding is $29,858, that's just an average. If you live in a smaller state like Idaho where the average wedding costs $16,159, you may find yourself saving a little more than half of the national spend! Check out some of the other least expensive cities to get married in below:

Summer is winding down, but the ubiquitous summer romance lives on.

For those times when nothing big and horrible happened--but nothing is feeling right either.

He's confident, distinguished and anywhere from 4 to 20 years older than you. Age is just a number, but there's something about older men that we love. Here are eight reasons why being in a relationship with an older man is tops.

While a younger man may have less life experience, that doesn't mean he's not emotionally mature. Here are the eight reasons why being in a relationship with a younger man is tops.

Have you ever wondered what the 'other woman' was thinking?

So fall is coming and you need some romantic inspiration now that long walks on the beach are out of the question. Well look no further! From apple picking to pumpkin carving, these are some great fall date ideas from girls just like you!

Getting bored of the same dinner and movie date night? Take an adorable cue from your favorite celebs and try something new! From dancing to boxing you can't go wrong with these awesome date ideas.