10 romantic facts about Valentine's Day
A few sweet Valentine's Day tidbits to get you in the mood for love.
Haven't yet been hit by Cupid's arrow? Not in the Valentine's Day spirit? Well, The Heart Beat is here to give you the romantic kick in the pants you need.
The V-Day bug bit us early this year, and we've been spending our days reading and researching some sweet Valentine's Day stories and statistics. We now bring you 10 romantic facts about Valentine's Day.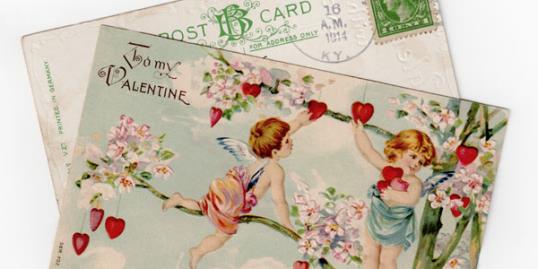 More on MSN Living: 10 tips for a sexy and romantic Valentine's Day
According to a recent survey, 85 percent of people celebrating Valentine's Day hope to make sex the centerpiece of their plans.

Each year, Verona, Italy receives over 1,000 valentines addressed to Juliet of Shakespeare's Romeo and Juliet.

In the mid-nineteenth century, Esther Howland became the "Mother of the Valentine." Howland is responsible for designing the first mass produced valentines in the United States. She was inspired by a card given to her by a friend from England. Overseas, valentines were already popular.
In Japan, it's traditional for women to give men gifts on Valentine's Day—not the other way around. But not to worry—ladies get their turn a month later on a Japanese holiday called "White Day."

In 2010, the Emirates Palace in Abu Dhabi offered a ridiculously elaborate Valentine's Day gift that came with a $1 million price tag. The offer included a week long stay, romantic dinner, helicopter flight, camel racing and perfume making. Yup—a million bucks and you still have to make your own perfume.

Valentine's Day is thought to be named after Saint Valentine of Rome—a priest who performed illegal weddings for soldiers who were forbidden to marry.

In the 1800s, doctors advised lovelorn patients to eat chocolate. Nothing wrong with that prescription.

Cupid has been designated a symbol of Valentine's Day because he was the son of Venus, the Roman god of love and beauty.

The red rose was Venus' favorite flower.

In the Middle Ages, people believed that the first unmarried man a girls sees on Valentine's Day is her future husband.

More on MSN Living: Best Valentine's Day gifts on Pinterest
Still not in the Valentine's Day spirit? We recommend chocolate.
More from The Heart Beat:
97-year-old woman weds
New wedding trend: The anti-invite
China's 'fake-marriage market' a growing trend
Love content like this? Friend us on Facebook, follow us on Twitter and find us on Pinterest   
Photo: Sheri Blaney/Getty Images

love: friendships, dating, sex & marriage
As a general rule, any island that offers great weather year-round is going to attract the most visitors in the winter (high season) when we're all trying to escape the snow. Once summer rolls around, many islands see a sharp drop-off in tourism since many people have beach weather right in their own backyards.

And how you can attack the issues together.

A wedding is an exceptionally special day. Sometimes, an opportune photo flub makes the occasion even more memorable. Here are 25 awesome wedding photo bombs.

Somewhere between the first few butterfly-inducing dates and the committed-for-life stage, there's the period of wondering if you're both on the same page about how serious you feel about a future together. If you're not quite at the point of "that talk" but you're looking for a few clues you're heading in that direction, here are some signs he's in it for the long haul as your relationship progresses.

What's that sound? It's white noise blocking out the well-meaning person proclaiming groundbreaking news about where you can meet someone, asking why you're still single, or bugging you about when you're getting married already. Don't be that person. Here are 15 annoying things all single people don't want to hear.

With just a few days left before the big day, you already have a mile-long checklist of to-dos—now meet the don'ts! From impromptu skin treatments to all-night movie marathons, here are 11 things to avoid at all costs.

A new study shows that watching and discussing romantic films can drastically reduce your chance of divorce. These flicks more than fit the bill.

These seemingly innocent phrases still have the power to wound… big time.

Making "I do" last forever is one of the biggest challenges you'll ever face—and it's normal to worry about how you'll do it. But, if your connection involves any of these things, rest assured that you're in it for the long run.

Ultimately, as hard as it may seem at the beginning, a marital affair can be a turning point.

Five months after the Boston Marathon bombing, The Knot reached out to Rebekah Gregory and Pete DiMartino and offered to throw them a dream wedding. They said yes, and on April 4, 2014, the two married at the Biltmore Estate in Asheville, North Carolina. Rebekah and Pete exchanged vows on the tennis lawn amidst the cherry tree blossoms and then celebrated with all of their friends and family at a beautiful reception tent right in front of the estate. All of the details were perfectly executed by a team of talented and generous wedding industry pros, including celebrity wedding planner Marcy Blum. Here, a few highlights from Rebekah and Pete's wedding day.

Your wedding is your special day, but you want to keep your guests happy, too. Here are 20 typical wedding guest complaints and what you can do about them.