10 romantic facts about Valentine's Day
A few sweet Valentine's Day tidbits to get you in the mood for love.
Haven't yet been hit by Cupid's arrow? Not in the Valentine's Day spirit? Well, The Heart Beat is here to give you the romantic kick in the pants you need.
The V-Day bug bit us early this year, and we've been spending our days reading and researching some sweet Valentine's Day stories and statistics. We now bring you 10 romantic facts about Valentine's Day.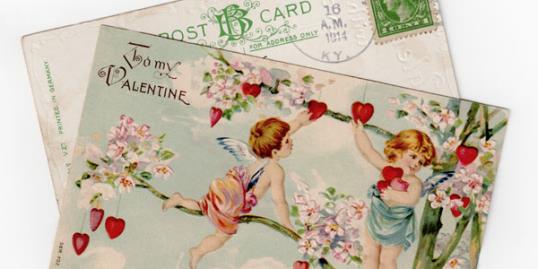 More on MSN Living: 10 tips for a sexy and romantic Valentine's Day
According to a recent survey, 85 percent of people celebrating Valentine's Day hope to make sex the centerpiece of their plans.

Each year, Verona, Italy receives over 1,000 valentines addressed to Juliet of Shakespeare's Romeo and Juliet.

In the mid-nineteenth century, Esther Howland became the "Mother of the Valentine." Howland is responsible for designing the first mass produced valentines in the United States. She was inspired by a card given to her by a friend from England. Overseas, valentines were already popular.
In Japan, it's traditional for women to give men gifts on Valentine's Day—not the other way around. But not to worry—ladies get their turn a month later on a Japanese holiday called "White Day."

In 2010, the Emirates Palace in Abu Dhabi offered a ridiculously elaborate Valentine's Day gift that came with a $1 million price tag. The offer included a week long stay, romantic dinner, helicopter flight, camel racing and perfume making. Yup—a million bucks and you still have to make your own perfume.

Valentine's Day is thought to be named after Saint Valentine of Rome—a priest who performed illegal weddings for soldiers who were forbidden to marry.

In the 1800s, doctors advised lovelorn patients to eat chocolate. Nothing wrong with that prescription.

Cupid has been designated a symbol of Valentine's Day because he was the son of Venus, the Roman god of love and beauty.

The red rose was Venus' favorite flower.

In the Middle Ages, people believed that the first unmarried man a girls sees on Valentine's Day is her future husband.

More on MSN Living: Best Valentine's Day gifts on Pinterest
Still not in the Valentine's Day spirit? We recommend chocolate.
More from The Heart Beat:
97-year-old woman weds
New wedding trend: The anti-invite
China's 'fake-marriage market' a growing trend
Love content like this? Friend us on Facebook, follow us on Twitter and find us on Pinterest   
Photo: Sheri Blaney/Getty Images

love: friendships, dating, sex & marriage
This just in: A new study shows girls are warriors in the womb.

You can make a pros and cons list...but ultimately you know what works best for you.

Maggie Reyes is a life coach, writer, and the founder of ModernMarried.com. She helps newlyweds re-think what married life can be. Here, she's revealing tricks every newlywed couple needs to know.

Government-supported Vietnamese classes teach women Korean language, customs.

Whether you're into creative artists or uber-preppy bankers, there's something to be said for trying something new.

Sometimes two characters on a TV show or movie can portray being a happy couple effortlessly, or can have lots of fun playing former spouses — especially if they're married to each other in real life! Keep scrolling for six celebrity costars you probably didn't know tied the knot, even after the bloodiest and craziest story lines.

Some couples want nothing more than a laid-back, by-the-book proposal. Then there are the other couples, where the proposal not only needs to be personalized, it also has to be unique and entirely different than the typical restaurant, bended-knee idea. Sound like you? Then get inspired by some of the most creative proposal ideas we've ever seen. If you find something you like, steal it and then modify it to make your proposal something totally unforgettable.

From Nantucket all the way to Cayo Espanto, we've rounded up some of the prettiest beaches to travel to for your honeymoon.

Researchers studied the age-old stereotype that women really are more talkative than men.

'There is a science behind attraction,' SingldOut says.

One minute you're happy and in love, the next he's delivering the "It's not you, it's me" speech. Why? We have the scoop on the real reasons most couples split up.

Want to keep your wedding budget in check? Start by checking out this list of the 10 things that could end up costing you a lot more than you anticipated.