Do 'friends with benefits' have safer sex?
Sex buddies may be casual, but they're also careful.
Friends with benefits relationships are known to be ripe with unpleasant possibilities, but a new study has found a silver lining to the casual sex conundrum.
According to a recent poll, friends who engage in no-strings-attached sexual relationships are more likely to use condoms than couples in traditional relationships.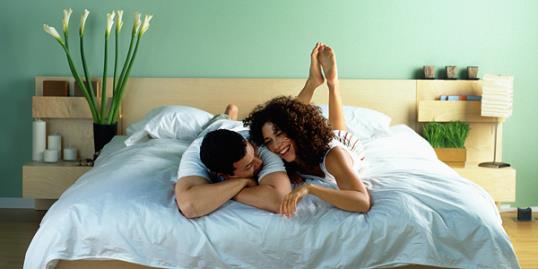 More on MSN Living: 10 foolproof ways to get in the mood
The poll, which was published in the Nov. 26 issue of the Journal of Sex Research, surveyed 376 people. Most were college-age—in their mid-20s. About half of those polled were in a friends-with-benefit​s relationship; the other half said they were in a traditional romantic relationship. Subjects in both groups said they'd known their partner for about four years.
Overall, researchers found that friends-with-benefit​s couples were less sexually satisfied, less likely to communicate about sex and more likely to have multiple sex partners.
More on MSN Living: The real reasons men shut down
It's not news that this type of relationship comes with its share of risks, but it may be somewhat surprising that casual-sex couples are proactive about managing these risks. They may not be committed, but they're cautious.
Justin Lehmiller, a social psychologist at Harvard University, explains that traditional couples are probably less likely to use condoms because they're more committed to their partner. Traditional couples trust that the relationship is monogamous; thus, they aren't as concerned about the health risks.
Researchers also found that friends-with-benefit​s relationships are fairly common. They point out that half of college-age students have at least some experience in this arena. Because of this, researchers argue that sex education "should consider explicitly addressing the unique health implications of involvement in these relationships."
Photo: Karen Moskowitz/Getty Images
Bing: Celebrity best friends
More Sex & Love on MSN Living:
How to pick a wedding band that works with your engagement ring
Wedding welcome basket shopping list
7 stories of lost wedding rings with happy endings 
Most common holiday arguments—and how to avoid them
love: friendships, dating, sex & marriage
All year long we obsess over hundreds of beautiful photos of every wedding detail, from the cutest flower girl dresses ever to wedding favor ideas that no one has ever seen before. But we couldn't keep these brilliant details to ourselves — here, 10 of the year's most unique wedding ideas!

Sexier sex! Very public proposals! Nearlyweds! It was a pretty busy year for love and relationships. As 2013 comes to a close, we look back at the best trends that made headlines.

The most wonderful time of the year can quickly become the most irritating time of the year if you're waiting for an engagement ring.

The holidays are a time of joy, cheer, and fighting with your boyfriend because he forgot to bring the gift you bought for his mom after you reminded him five times. These practical tips will help you avoid the bickering so you can get back to the important stuff—like eating more cookies.

Wedding cake, wedding reception? Psh! This couple is forgoing both—and going for a run instead.

Part of the reason Christmas felt so magical when you were a kid was because of all the special things you did only at that time of year, like sing Christmas carols or help decorate your mom's famous sugar cookies. (OK, fine. Also because of presents.)

Talk about a marriage proposal to remember.

I was just discussing last night how annoying posed professional portraits have become.

The key to wedded bliss isn't over-the-top romance, but these surprisingly simple practices you can do to stay - or fall back - in love with your partner. Read on for expert tips on how to have a happy marriage.

Do not get him a dopp kit, a money clip, a tie (seriously?), cufflinks or a bunch of candy that you will eat after he opens. Get him this stuff instead. He'll be surprised—but more importantly, he'll be happy. These gifts are good.

It might be time to let go of our general assumption that long-distance relationships are pure torture.

Researchers in a recent study conclude that men are better at focusing on one task, while women are more attuned to multi-task.