Do 'friends with benefits' have safer sex?
Sex buddies may be casual, but they're also careful.
Friends with benefits relationships are known to be ripe with unpleasant possibilities, but a new study has found a silver lining to the casual sex conundrum.
According to a recent poll, friends who engage in no-strings-attached sexual relationships are more likely to use condoms than couples in traditional relationships.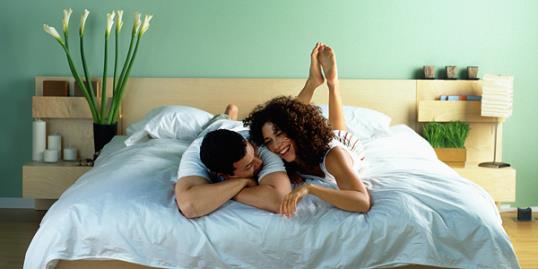 More on MSN Living: 10 foolproof ways to get in the mood
The poll, which was published in the Nov. 26 issue of the Journal of Sex Research, surveyed 376 people. Most were college-age—in their mid-20s. About half of those polled were in a friends-with-benefit​s relationship; the other half said they were in a traditional romantic relationship. Subjects in both groups said they'd known their partner for about four years.
Overall, researchers found that friends-with-benefit​s couples were less sexually satisfied, less likely to communicate about sex and more likely to have multiple sex partners.
More on MSN Living: The real reasons men shut down
It's not news that this type of relationship comes with its share of risks, but it may be somewhat surprising that casual-sex couples are proactive about managing these risks. They may not be committed, but they're cautious.
Justin Lehmiller, a social psychologist at Harvard University, explains that traditional couples are probably less likely to use condoms because they're more committed to their partner. Traditional couples trust that the relationship is monogamous; thus, they aren't as concerned about the health risks.
Researchers also found that friends-with-benefit​s relationships are fairly common. They point out that half of college-age students have at least some experience in this arena. Because of this, researchers argue that sex education "should consider explicitly addressing the unique health implications of involvement in these relationships."
Photo: Karen Moskowitz/Getty Images
Bing: Celebrity best friends
More Sex & Love on MSN Living:
How to pick a wedding band that works with your engagement ring
Wedding welcome basket shopping list
7 stories of lost wedding rings with happy endings 
Most common holiday arguments—and how to avoid them
love: friendships, dating, sex & marriage
Studies show that being satisfied with your romantic relationship is one of the best predictors of happiness -- even more important than education, income, or having a high-status job. Resolve to make 2014 your happiest year yet with these bond-strengthening pledges.

This winter, it's all about mixing unexpected seasonal elements with elegant neutral details and a hint of sparkle and sequins. Take a look.

Here's why dudes without hair make the best boyfriends.

What do you wish you appreciated more when you were flying solo?

"If you're so busy tweeting and Instagraming, you're not paying attention," New York wedding planner Marcy Blum said. "It's almost a cosmic faux pas. People want your energy with them and focused on what they're doing."

The wedding favor, that little thank-you-for-coming gift, has risen to new heights with the bride and groom giving guests a wide range of favors that are meaningful to them.

Generations ago, planning a wedding was 100 percent the bride's job, but in today's age of gender equity, it's a mere 99 percent.

For all the self-help books and advice columns out there (um, keeping reading my advice anyway, please!), there's one tool we all already have in our arsenal for picking a partner that will keep us happy: our gut instincts.

According to a new study from the University of Texas and the University of California, Los Angeles, both men and women have regrets when it comes to sex, but the genders vary greatly when it comes to what they regret specifically.

Spending time alone with your guy is easy, but going public with your plus-one is another thing entirely. Whether it's your crazy relatives at Thanksgiving dinner or awkward convos with your boss at the holiday party, possible pitfalls are everywhere. Keep reading for tips on how to make his grand entrance into your social life a good thing.

Match.com survey reveals the day you're least likely to get spruced up for a date.

Drinking and relationships seem to go hand in hand in a lot of ways. But only in moderation!