Do 'friends with benefits' have safer sex?
Sex buddies may be casual, but they're also careful.
Friends with benefits relationships are known to be ripe with unpleasant possibilities, but a new study has found a silver lining to the casual sex conundrum.
According to a recent poll, friends who engage in no-strings-attached sexual relationships are more likely to use condoms than couples in traditional relationships.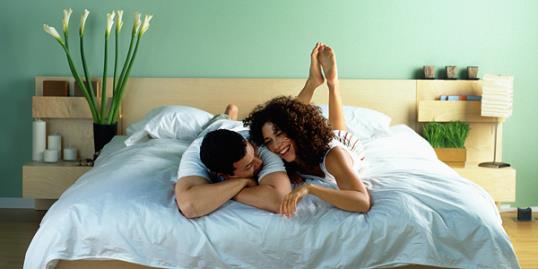 More on MSN Living: 10 foolproof ways to get in the mood
The poll, which was published in the Nov. 26 issue of the Journal of Sex Research, surveyed 376 people. Most were college-age—in their mid-20s. About half of those polled were in a friends-with-benefit​s relationship; the other half said they were in a traditional romantic relationship. Subjects in both groups said they'd known their partner for about four years.
Overall, researchers found that friends-with-benefit​s couples were less sexually satisfied, less likely to communicate about sex and more likely to have multiple sex partners.
More on MSN Living: The real reasons men shut down
It's not news that this type of relationship comes with its share of risks, but it may be somewhat surprising that casual-sex couples are proactive about managing these risks. They may not be committed, but they're cautious.
Justin Lehmiller, a social psychologist at Harvard University, explains that traditional couples are probably less likely to use condoms because they're more committed to their partner. Traditional couples trust that the relationship is monogamous; thus, they aren't as concerned about the health risks.
Researchers also found that friends-with-benefit​s relationships are fairly common. They point out that half of college-age students have at least some experience in this arena. Because of this, researchers argue that sex education "should consider explicitly addressing the unique health implications of involvement in these relationships."
Photo: Karen Moskowitz/Getty Images
Bing: Celebrity best friends
More Sex & Love on MSN Living:
How to pick a wedding band that works with your engagement ring
Wedding welcome basket shopping list
7 stories of lost wedding rings with happy endings 
Most common holiday arguments—and how to avoid them
love: friendships, dating, sex & marriage
Lesson learned: don't be afraid to shake things up!

Plus, what to do if you're experiencing a dry spell.

To go Dutch or not to go Dutch? Turns out, it's really not that simple.

While the national average wedding cost may be $29,858, if you live in a larger city, like Manhattan where the average wedding costs $86,916, you may find yourself spending close to triple of that number! Take a look at some of the other most expensive places in America to get married.

Happy spring! Luckily, the weather here in New York is fairly warm and beautifully sunny, so I'm totally feeling that start of the season buzz. You know, when you want to walk outside for hours and then reorganize your entire closet by getting rid of all your stupid snow boots and sweaters immediately?

The American Civil Liberties Union's primary work is litigation, but this month it's moonlighting as a wedding planner as part of its role in the campaign to legalize same-sex marriage nationwide.