Do 'friends with benefits' have safer sex?
Sex buddies may be casual, but they're also careful.
Friends with benefits relationships are known to be ripe with unpleasant possibilities, but a new study has found a silver lining to the casual sex conundrum.
According to a recent poll, friends who engage in no-strings-attached sexual relationships are more likely to use condoms than couples in traditional relationships.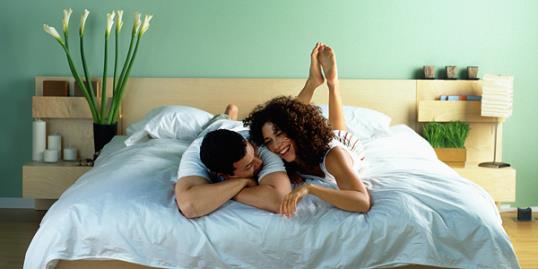 More on MSN Living: 10 foolproof ways to get in the mood
The poll, which was published in the Nov. 26 issue of the Journal of Sex Research, surveyed 376 people. Most were college-age—in their mid-20s. About half of those polled were in a friends-with-benefit​s relationship; the other half said they were in a traditional romantic relationship. Subjects in both groups said they'd known their partner for about four years.
Overall, researchers found that friends-with-benefit​s couples were less sexually satisfied, less likely to communicate about sex and more likely to have multiple sex partners.
More on MSN Living: The real reasons men shut down
It's not news that this type of relationship comes with its share of risks, but it may be somewhat surprising that casual-sex couples are proactive about managing these risks. They may not be committed, but they're cautious.
Justin Lehmiller, a social psychologist at Harvard University, explains that traditional couples are probably less likely to use condoms because they're more committed to their partner. Traditional couples trust that the relationship is monogamous; thus, they aren't as concerned about the health risks.
Researchers also found that friends-with-benefit​s relationships are fairly common. They point out that half of college-age students have at least some experience in this arena. Because of this, researchers argue that sex education "should consider explicitly addressing the unique health implications of involvement in these relationships."
Photo: Karen Moskowitz/Getty Images
Bing: Celebrity best friends
More Sex & Love on MSN Living:
How to pick a wedding band that works with your engagement ring
Wedding welcome basket shopping list
7 stories of lost wedding rings with happy endings 
Most common holiday arguments—and how to avoid them
love: friendships, dating, sex & marriage
One minute you're happy and in love, the next he's delivering the "It's not you, it's me" speech. Why? We have the scoop on the real reasons most couples split up.

Want to keep your wedding budget in check? Start by checking out this list of the 10 things that could end up costing you a lot more than you anticipated.

Brace yourself, this is uncomfortable.

The proposal-filled site How He Asked has shared its top 10 most emotional proposal photos with us, so have your tissues handy. We're suckers for a good proposal story, and these ones are truly tear-worthy. Check them out now, and watch your heart grow (at least) three sizes!

How to do weddings: Yet another foreign (and expensive) aspect of adulthood that you have to learn the hard way. But have no fear! Click through for some must-have wedding tips.

As part of the 2014 Brides Best Honeymoon awards, we're counting down the best places for newlyweds to stay in the Mainland U.S. From luxe resorts in the Napa Valley to hotel oases in the Sedona Desert, you're guaranteed a memorable stay no matter which resort you choose.

These are the conversations all betrothed coupled should take the time to have before they get hitched.

For him they're NBD, so don't stress.

It's not always easy to speak up about the little—or big—things that bother you about your marriage, but some of this stuff may be on his mind.

It's not really about what happens, but how you react to what happens.

Etta James is No. 1 on Spotify ranking.

These secluded vacation rentals promise plenty of peace and quiet.