Do 'friends with benefits' have safer sex?
Sex buddies may be casual, but they're also careful.
Friends with benefits relationships are known to be ripe with unpleasant possibilities, but a new study has found a silver lining to the casual sex conundrum.
According to a recent poll, friends who engage in no-strings-attached sexual relationships are more likely to use condoms than couples in traditional relationships.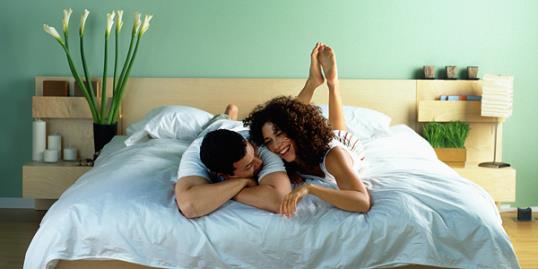 More on MSN Living: 10 foolproof ways to get in the mood
The poll, which was published in the Nov. 26 issue of the Journal of Sex Research, surveyed 376 people. Most were college-age—in their mid-20s. About half of those polled were in a friends-with-benefit​s relationship; the other half said they were in a traditional romantic relationship. Subjects in both groups said they'd known their partner for about four years.
Overall, researchers found that friends-with-benefit​s couples were less sexually satisfied, less likely to communicate about sex and more likely to have multiple sex partners.
More on MSN Living: The real reasons men shut down
It's not news that this type of relationship comes with its share of risks, but it may be somewhat surprising that casual-sex couples are proactive about managing these risks. They may not be committed, but they're cautious.
Justin Lehmiller, a social psychologist at Harvard University, explains that traditional couples are probably less likely to use condoms because they're more committed to their partner. Traditional couples trust that the relationship is monogamous; thus, they aren't as concerned about the health risks.
Researchers also found that friends-with-benefit​s relationships are fairly common. They point out that half of college-age students have at least some experience in this arena. Because of this, researchers argue that sex education "should consider explicitly addressing the unique health implications of involvement in these relationships."
Photo: Karen Moskowitz/Getty Images
Bing: Celebrity best friends
More Sex & Love on MSN Living:
How to pick a wedding band that works with your engagement ring
Wedding welcome basket shopping list
7 stories of lost wedding rings with happy endings 
Most common holiday arguments—and how to avoid them
love: friendships, dating, sex & marriage
Five months after the Boston Marathon bombing, The Knot reached out to Rebekah Gregory and Pete DiMartino and offered to throw them a dream wedding. They said yes, and on April 4, 2014, the two married at the Biltmore Estate in Asheville, North Carolina. Rebekah and Pete exchanged vows on the tennis lawn amidst the cherry tree blossoms and then celebrated with all of their friends and family at a beautiful reception tent right in front of the estate. All of the details were perfectly executed by a team of talented and generous wedding industry pros, including celebrity wedding planner Marcy Blum. Here, a few highlights from Rebekah and Pete's wedding day.

Your wedding is your special day, but you want to keep your guests happy, too. Here are 20 typical wedding guest complaints and what you can do about them.

Study finds that early birds get the long-term relationships.

Receptions would take place near where raw sewage is processed.

We don't think this one can be topped.

Studies show the lesbian divorce rate is astronomical. Find out why - and how to avoid it.

Plus, four more real-life reasons to not incorporate a hot air balloon into your engagement.

We searched far and wide to find some of the most creative gifts for the first 10 years of marriage—complete with a few fun, personalized ideas for celebrating your love.

Marriage is a beautiful thing, but it's not always easy to stay on the same page. Here are 20 signs your marriage is in trouble and what you can do to fix it.

Today in unfortunately rhyming news: The more you tweet, the more you cheat.

We don't know these couples personally, but their public relationship personas can teach us a thing or two about love. Here are 25 of the best love lessons.

This short course in flirting will teach you not only how to flirt better but how to tell when someone is flirting with you—and how to respond. Have fun.