Do 'friends with benefits' have safer sex?
Sex buddies may be casual, but they're also careful.
Friends with benefits relationships are known to be ripe with unpleasant possibilities, but a new study has found a silver lining to the casual sex conundrum.
According to a recent poll, friends who engage in no-strings-attached sexual relationships are more likely to use condoms than couples in traditional relationships.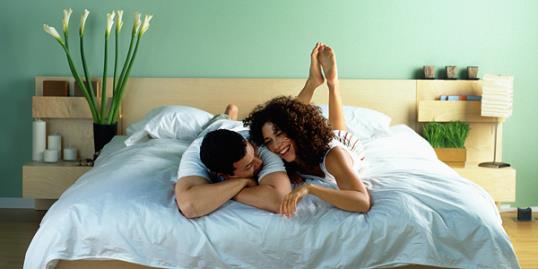 More on MSN Living: 10 foolproof ways to get in the mood
The poll, which was published in the Nov. 26 issue of the Journal of Sex Research, surveyed 376 people. Most were college-age—in their mid-20s. About half of those polled were in a friends-with-benefit​s relationship; the other half said they were in a traditional romantic relationship. Subjects in both groups said they'd known their partner for about four years.
Overall, researchers found that friends-with-benefit​s couples were less sexually satisfied, less likely to communicate about sex and more likely to have multiple sex partners.
More on MSN Living: The real reasons men shut down
It's not news that this type of relationship comes with its share of risks, but it may be somewhat surprising that casual-sex couples are proactive about managing these risks. They may not be committed, but they're cautious.
Justin Lehmiller, a social psychologist at Harvard University, explains that traditional couples are probably less likely to use condoms because they're more committed to their partner. Traditional couples trust that the relationship is monogamous; thus, they aren't as concerned about the health risks.
Researchers also found that friends-with-benefit​s relationships are fairly common. They point out that half of college-age students have at least some experience in this arena. Because of this, researchers argue that sex education "should consider explicitly addressing the unique health implications of involvement in these relationships."
Photo: Karen Moskowitz/Getty Images
Bing: Celebrity best friends
More Sex & Love on MSN Living:
How to pick a wedding band that works with your engagement ring
Wedding welcome basket shopping list
7 stories of lost wedding rings with happy endings 
Most common holiday arguments—and how to avoid them
love: friendships, dating, sex & marriage
Spending the holidays with your guy's family for the first time is a huge relationship milestone. But between your nerves, the usual family tension, and your weird Uncle Sal's inappropriate stories, it's also a prime opportunity for total disaster. Read on for 10 of our readers' most embarrassing meet-the-parents moments.

Want a classic round stone but an extra special setting? These stunning rings are not your average solitaire.

If you just got engaged, congrats! This is seriously exciting news that deserves lots of congratulatory hugs, "oohing" and "ahhing" over the ring and plenty of bubbly. To make sure you get the right response from friends, family and coworkers, avoid announcing your engagement like this…

All year long we laugh and cry along to some of the cutest, funniest and most creative proposals on the Internet. We've seen it all -- from marching bands to every kind of flash mob you can imagine. Here, we've narrowed down our favorites from this year.

John F. Kennedy reigned with his wife Jackie in the Washington golden age known as Camelot. They were young, beautiful and seemingly the perfect couple. But behind the scenes, it was a totally different story. JFK's affairs were as legendary as some of his conquests.

Persistent nagging could cause an avalanche of distrust the way an affair can.

Try these tried-and-true tricks from dating experts to detach the stage-five clinger in your life without being a heartbreaker.

We know that the winter doldrums can leave you lacking the spirit and inspiration needed to come up with steamy Saturday night plans, so we did it for you. Happy (early) holidays!

A guide to getting by and creating a productive and memorable experience.

Plus, the No. 1 reason for divorce.

Taking forever to get ready? Nagging him? See where it all ranks on the tolerable spectrum.

Looking for an afternoon delight? A dating service lists the most desirable locations for sex at work.