Do 'friends with benefits' have safer sex?
Sex buddies may be casual, but they're also careful.
Friends with benefits relationships are known to be ripe with unpleasant possibilities, but a new study has found a silver lining to the casual sex conundrum.
According to a recent poll, friends who engage in no-strings-attached sexual relationships are more likely to use condoms than couples in traditional relationships.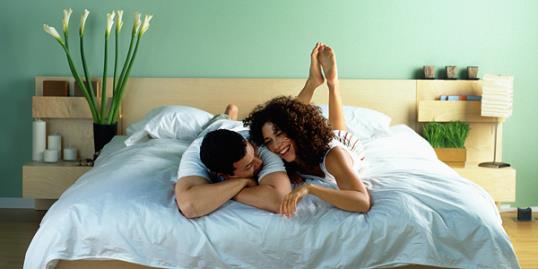 More on MSN Living: 10 foolproof ways to get in the mood
The poll, which was published in the Nov. 26 issue of the Journal of Sex Research, surveyed 376 people. Most were college-age—in their mid-20s. About half of those polled were in a friends-with-benefit​s relationship; the other half said they were in a traditional romantic relationship. Subjects in both groups said they'd known their partner for about four years.
Overall, researchers found that friends-with-benefit​s couples were less sexually satisfied, less likely to communicate about sex and more likely to have multiple sex partners.
More on MSN Living: The real reasons men shut down
It's not news that this type of relationship comes with its share of risks, but it may be somewhat surprising that casual-sex couples are proactive about managing these risks. They may not be committed, but they're cautious.
Justin Lehmiller, a social psychologist at Harvard University, explains that traditional couples are probably less likely to use condoms because they're more committed to their partner. Traditional couples trust that the relationship is monogamous; thus, they aren't as concerned about the health risks.
Researchers also found that friends-with-benefit​s relationships are fairly common. They point out that half of college-age students have at least some experience in this arena. Because of this, researchers argue that sex education "should consider explicitly addressing the unique health implications of involvement in these relationships."
Photo: Karen Moskowitz/Getty Images
Bing: Celebrity best friends
More Sex & Love on MSN Living:
How to pick a wedding band that works with your engagement ring
Wedding welcome basket shopping list
7 stories of lost wedding rings with happy endings 
Most common holiday arguments—and how to avoid them
love: friendships, dating, sex & marriage
Love it or hate it, the selfie wields much power.

Talk about some blurred lines.

Come on people, it's not that hard to mind your own business.

No sense in wasting your time on someone who will never commit.

There he is, the man of your dreams. He's sitting across from you at the coffee shop or standing at the opposite side of the bar. His eyes meet yours, a quick glance, and then it's back to his drink. Was he giving you a signal?

Remember that time on "30 Rock" when Liz Lemon and her eventual-husband Criss went shopping at Ikea, only to end up in a major fight? We know it couldn't be closer to the truth because we've all been there. In honor of the irritation that can be Ikea, here are the top fights you'll likely encounter.

Dating doesn't have to be a daunting task, promise. Here's how to make it fun for you and him.

One woman's honest journey to divorce will break your heart and inspire you at the same time.

Want to send your date running? Try one these moves.

Two guests arrested in New Jersey.

Celebrities certainly know how to travel in style, so if you're struggling to select a honeymoon destination, look no further than these star-approved hotspots. To make it even easier, we're providing you with hotel recommendations, packing essentials, and tips on what to do and see! So channel your inner celeb at one of these U.S. destinations for an unforgettable vacation!

Tall Twitter users named Wayne, we're on to you!