Couple Meets For the First Time After Years Of Dating
Prepare to have your heart warmed.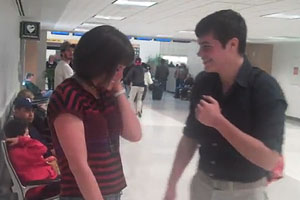 In an adorable YouTube video now going viral, a long distance couple has their first face-to-face encounter after forming a relationship five years ago.
The video, uploaded by a user known only as 'Cadynow,' features the pair meeting at an airport as they run to each other in a giant embrace.
The video description reads:
"After meeting for the first time on a Halo 3 game lobby 5 years ago, we built a relationship as best friends for 3 years through video games, Myspace to Facebook, then finally Sykpe."
She lives in Texas; he's from Tennessee. They've now met two more times since this first meeting.
Only a decade ago this love story would have been atypical, but according to a study from the University of Rochester earlier this year, online dating is now the second most common way for couples to meet.
Harry Reis, the study's co-author, said in a statement:
"The Internet holds great promise for helping adults form healthy and supportive romantic partnerships, and those relationships are one of the best predictors of emotional and physical health."
Sure, there have been other studies knocking the online dating trend, claiming it's no better than meeting someone at a bar—but try telling that to the happy couple in this video.
Still, there are some things for which you just have to go offline. The two are now engaged, and one YouTube user asked whether the proposal happened online or in real life. Cadynow's response: "In real life of course."
Tell us on Facebook: What do you think of long distance relationships?
Photo: cadynow via YouTube, http://aka.ms/cadyno​w
More on love & sex from MSN Living:
25 Secrets Men Keep From Women
25 Secrets Women Keep From Men
The DOs and DON'Ts of Dating More Than One Guy at a Time
love: friendships, dating, sex & marriage
This just in: Guys over 5'10" are twice as likely to stray.

Or how to tell if you've reached THAT point in your bond.

Dating doesn't have to be a daunting task, promise. Here's how to make it fun for you and him.

This just in: A new study shows girls are warriors in the womb.

You can make a pros and cons list...but ultimately you know what works best for you.

Maggie Reyes is a life coach, writer, and the founder of ModernMarried.com. She helps newlyweds re-think what married life can be. Here, she's revealing tricks every newlywed couple needs to know.

Government-supported Vietnamese classes teach women Korean language, customs.

Whether you're into creative artists or uber-preppy bankers, there's something to be said for trying something new.

Sometimes two characters on a TV show or movie can portray being a happy couple effortlessly, or can have lots of fun playing former spouses — especially if they're married to each other in real life! Keep scrolling for six celebrity costars you probably didn't know tied the knot, even after the bloodiest and craziest story lines.

Some couples want nothing more than a laid-back, by-the-book proposal. Then there are the other couples, where the proposal not only needs to be personalized, it also has to be unique and entirely different than the typical restaurant, bended-knee idea. Sound like you? Then get inspired by some of the most creative proposal ideas we've ever seen. If you find something you like, steal it and then modify it to make your proposal something totally unforgettable.

From Nantucket all the way to Cayo Espanto, we've rounded up some of the prettiest beaches to travel to for your honeymoon.

Researchers studied the age-old stereotype that women really are more talkative than men.