Couple Meets For the First Time After Years Of Dating
Prepare to have your heart warmed.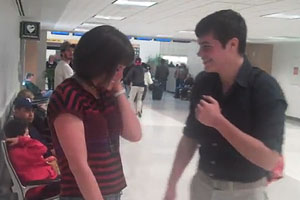 In an adorable YouTube video now going viral, a long distance couple has their first face-to-face encounter after forming a relationship five years ago.
The video, uploaded by a user known only as 'Cadynow,' features the pair meeting at an airport as they run to each other in a giant embrace.
The video description reads:
"After meeting for the first time on a Halo 3 game lobby 5 years ago, we built a relationship as best friends for 3 years through video games, Myspace to Facebook, then finally Sykpe."
She lives in Texas; he's from Tennessee. They've now met two more times since this first meeting.
Only a decade ago this love story would have been atypical, but according to a study from the University of Rochester earlier this year, online dating is now the second most common way for couples to meet.
Harry Reis, the study's co-author, said in a statement:
"The Internet holds great promise for helping adults form healthy and supportive romantic partnerships, and those relationships are one of the best predictors of emotional and physical health."
Sure, there have been other studies knocking the online dating trend, claiming it's no better than meeting someone at a bar—but try telling that to the happy couple in this video.
Still, there are some things for which you just have to go offline. The two are now engaged, and one YouTube user asked whether the proposal happened online or in real life. Cadynow's response: "In real life of course."
Tell us on Facebook: What do you think of long distance relationships?
Photo: cadynow via YouTube, http://aka.ms/cadyno​w
More on love & sex from MSN Living:
25 Secrets Men Keep From Women
25 Secrets Women Keep From Men
The DOs and DON'Ts of Dating More Than One Guy at a Time
love: friendships, dating, sex & marriage
It's wedding season! Let's take a look back at when these stunning celebs put on gorgeous gowns and held beautiful bouquets in support of their friends' and family members' big days.

A new study says we're more open to consensual non-monogamy now than ever before — but does it work?

5 steps to being happy together in the long run.

There has been an exponential increase in the number of people who are questioning their marriage.

We're willing to bet that if you're not already grappling with these wedding-related snags, you will be soon.

Pull out the tissues for these personalized wedding vows.

Forgotten what love is all about? Read this note, and remember.

And a few that aren't so shocking.

If you find yourself doing any of these things, consider changing your behavior or counseling.

From pineapple sculptures made out of sunflowers to bold graphic printed tablecloths, ten trendsetters in the wedding industry shared 100 days' worth of inspiring new wedding details. See The Knot editors' top picks for the coolest and most awe-worthy ideas from the wedding experts.

Those Facebook friends who seem to have perfect lives with flawless mates whom they adore at all times? Even they face tough times like these.

How to flag her little fibs. By Laura Tedesco