Couple Meets For the First Time After Years Of Dating
Prepare to have your heart warmed.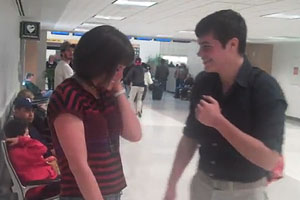 In an adorable YouTube video now going viral, a long distance couple has their first face-to-face encounter after forming a relationship five years ago.
The video, uploaded by a user known only as 'Cadynow,' features the pair meeting at an airport as they run to each other in a giant embrace.
The video description reads:
"After meeting for the first time on a Halo 3 game lobby 5 years ago, we built a relationship as best friends for 3 years through video games, Myspace to Facebook, then finally Sykpe."
She lives in Texas; he's from Tennessee. They've now met two more times since this first meeting.
Only a decade ago this love story would have been atypical, but according to a study from the University of Rochester earlier this year, online dating is now the second most common way for couples to meet.
Harry Reis, the study's co-author, said in a statement:
"The Internet holds great promise for helping adults form healthy and supportive romantic partnerships, and those relationships are one of the best predictors of emotional and physical health."
Sure, there have been other studies knocking the online dating trend, claiming it's no better than meeting someone at a bar—but try telling that to the happy couple in this video.
Still, there are some things for which you just have to go offline. The two are now engaged, and one YouTube user asked whether the proposal happened online or in real life. Cadynow's response: "In real life of course."
Tell us on Facebook: What do you think of long distance relationships?
Photo: cadynow via YouTube, http://aka.ms/cadyno​w
More on love & sex from MSN Living:
25 Secrets Men Keep From Women
25 Secrets Women Keep From Men
The DOs and DON'Ts of Dating More Than One Guy at a Time
love: friendships, dating, sex & marriage
Learn how these surprising tactics can really improve your relationship.

Use these tips to up your chances of finding love.

Find out how paired-off ladies might feel lacking—and how you can make your relationship satisfying.

These signals are seriously subtle, but they can give you real insight into what's going through your husband's mind.

Check which changes are necessary to stay happy together.

We know some of this may sound obvious, but these simple statements can make both of you happier.

Making your relationship more secure, connected, and intimate doesn't have to feel overwhelming. Try these expert tips and reap the rewards now—and in the long run.

For those times when nothing big and horrible happened--but nothing is feeling right either.

What's more fun than animals in weddings? We've rounded up eight of the cutest.

Your puppy is all over your Instagram, Facebook and fridge, so there's no reason not to include him in your engagement pictures too. The best engagement photos give viewers a peek into your life. If you're a dog owner, take this opportunity to show off your pooch, like these 22 couples did! And we can't thank them enough.

Our married blogger gets real about checking out other guys when you're taken.

He's confident, distinguished and anywhere from 4 to 20 years older than you. Age is just a number, but there's something about older men that we love. Here are eight reasons why being in a relationship with an older man is tops.