Students Dangerously Misled by Outdated Sex Ed Courses, Report Reveals
Sex, lies, & misinformation.
Some might argue that it's up to parents to teach their children about sex, but sex education is nothing new, and research shows that proper sex education actually delays teen sex. But according to a new report from the New York Civil Liberties Union (NYCLU), many schools are teaching sex education courses that are severely outdated.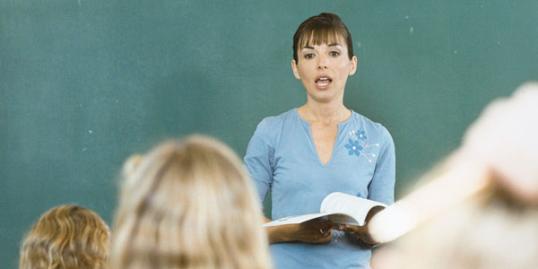 The NYCLU's survey of 82 schools found that students are learning gender stereotypes, biases and in some cases, flat out inaccuracies.
In the NYCLU's "Birds, Bees and Bias: How Absent Sex Ed Standards Fail New York Students," they examined the textbooks, lesson plans and supplements teachers used to educate 540,000 New York students about sex. Executive director Donna Lieberman summed up the findings in a conference call on Wednesday:
"Too much is missing. Too much is inaccurate. There are far too many stereotypes and far too much bias."
When it comes to AIDS education, for example, 44 percent of schools teaching it are using scientifically inaccurate information. According to blog Albany Watch, one district even showed students a diagram that illustrated the timeline of HIV leading to a death sentence. It included an arrow pointing at a tombstone that read "RIP."
Students were also egregiously misinformed about safe sex. While 80 percent of districts taught some information about condoms, only one-third of them provided demonstrations, and some schools were teaching flat-out dangerous misinformation. They told students that condoms containing a certain type of spermicide could prevent the transmission of HIV. But, in actuality, the spermicide they cited (which is still on the market) makes it easier for the HIV virus to spread. According to the report:
"But for more than a decade, Nonoxynol-9 has been known not to prevent transmission, and to possibly increase HIV transmission in women. Misinformation of this nature is both medically inaccurate and potentially dangerous."
Furthermore, in one school, students were advised to use condoms only if they were having sex with multiple partners.
With blunders like this, why teach sex ed in the first place?
Less immediately dangerous but potentially harmful to social evolution and students' identity, the NYCLU also found that gender stereotypes were reinforced in much of the curricula. The materials included diagrams of male and female brains, illustrating that men almost exclusively think about sex while women are needy and jealous. While that may be a long-standing gender stereotype (and fodder for '90s standup material), it's generally untrue.
"Both the state guidance document and the national standards say high school student should learn about gender stereotypes and how stereotypes about gender roles can be limiting for men and women," the report reveals. Further, they add: "The national standards add that middle and high school students should learn about gender identity; gender expression; transgender people, sex stereotypes and gender non-conformity; and that biological sex, gender identity, gender expression and sexual orientation differ."
And that's another area where these schools have failed, and, I think it's safe to assume, schools across the nation are likely failing. There was relatively no information on lesbian, gay, bisexual and transgender people. For students questioning their sexuality or gender identity, sex ed could be a very informative source of guidance. Unfortunately, there's nothing offered.
The report also found that there were moral overtones to a lot of this information, and in some instances, shame-based messages. In some cases, schools taught that sex is only appropriate within the context of marriage. One textbook read:
"Waiting until marriage to have sex preserves traditional marriage … Actions that preserve traditional marriage preserve the family."
So, basically, the message is: Don't have sex before marriage or you're ruining your future family.
Related video: 5 Ways to Strengthen Your Relationship
To be honest, there's very little I remember from my junior high sex education, other than the giggling that ensued every time our uptight science teacher said the word "penis." And he knew we were giggling, too.  He didn't want to teach it any more than we wanted to hear him talk about it; we all just wanted to get the awkwardness over with. But the point is, perhaps it's time to take sex education a bit more seriously.
The Heart Beat talked to one California teacher who says that the problem isn't limited to New York.
 "I teach sex education in California public schools, juvenile hall and parent groups.  I'm credentialed and certified.  I have found two glaring errors in the most used sex-ed curriculum in the state."
The teacher, who prefers to be left unnamed, says one of the errors has to do with condom use.

"The materials that the students view in the [sex-ed] curriculum do not mention one vital step in proper condom usage: putting it on before sexual contact."
It may seem obvious, but it's still important, and apparently, it needs to be reinforced:

"Studies confirmed by the CDC show that 'Incorrect use more commonly entails a failure to use condoms throughout the entire sex act, from start (of sexual contact) to finish (after ejaculation).'"
Further, the source tells us that other parts of the curriculum leave "students to believe that condoms could be 100 percent effective for all STDs, which is medically inaccurate."

She adds that she's brought the errors to the attention of the Department of Education and Red Cross Positive Prevention, as well as the original author of the specific curriculum.
"Millions of students have been given biased
inaccuracies--errors​

that led them in the direction of making unhealthy choices. Currently, one in four US teens have an STI (sexually transmitted infection). At a minimum, what they are taught in school should attempt to improve that figure, not make it worse."

The NYCLU is recommending that the state Education Department update its sex education regulations. They want to make sex ed more comprehensive.

"It's shocking what passes for sex ed in some New York classrooms," assistant advocacy director Johanna Miller, a co-author of the report, said in a statement. "Rigorous, binding statewide standards are essential to fix these rampant failures."

Dennis Tompkins, a spokesman for the Department of Education, added that the organization is reviewing the report.

 "Our goal is to make sure students get accurate, sound health information."

More love and sex on MSN Living:

Crazy Marriage Proposals
Weird Wild World of Modern Love
Most Romantic Date Destinations in America
25 Reasons Why Married Sex Is Better

 

Photo:  Paul Simcock/Getty Images

 
love: friendships, dating, sex & marriage
While we do love crazy, funny and over-the-top engagements, sometimes there's just nothing like a proposal with a heartfelt story behind it (warning: you might need some tissues). We've rounded up some of the most romantic wedding proposals from couples across the country, so keep scrolling for seven of our favorites:

As much as you'd like to think your guests will love every single aspect of your wedding, the truth is you really can't please everyone. However, you can try to avoid ticking them off. Here's how.

You'd think brides and grooms who celebrate their nuptials with 50 guests have an equal shot at wedded bliss as those who invite 500, but apparently not.

Because some things are just better with a buddy (whom you happen to be dating).

They're smart, funny, and adorable, but are you a good match?

Fight the urge to sign her up for OkCupid and read this instead.

We know you have good intentions, but...please...stop.

You can't say we didn't warn you. Every month is Movember when you're dating a guy with a beard. And while the scruffy look can be hot, there are some very real, err, challenges that come with the territory. Don't believe us? Well…

Follow these steps to slash your wedding budget—not your fun—in half.

It won't all be cake and flowers, but it can be the best year of your life together so far.

Expert tips on moving past those oh-so-familiar arguments.