Report: Hollywood is less gay-friendly off-screen
Most actors surveyed think directors and producers are biased against them, study finds.
LOS ANGELES (AP) — A new study suggests the proliferation of gay and transgender characters in films and television shows has not prevented gay, lesbian, bisexual and transgender actors from experiencing discrimination in Hollywood.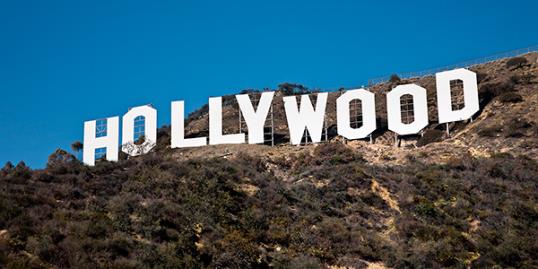 The Screen Actors Guild-American Federation of Television and Radio Artists commissioned the survey released Friday showing that more than half of the actors who identify as gay, bisexual and transgender say they think directors and producers are biased against them.
MSN Living: 5 same-sex wedding trends
More than one-third of the actors who don't fall into any of those categories agreed with that perception.
Bing: Barilla CEO under fire for anti-gay comments
The online survey of 5,700 SAG/AFTRA members also found that more than half of the gay, transgender and bisexual respondents had heard producers and directors make anti-gay comments.
The study was conducted by the Williams Institute, a think tank based at UCLA.
More from The Heart Beat:
Why is it so hard to be monogamous?
7 little-known benefits of being single
What kind of facial hair is most attractive to women?
Subscribe to The Heart Beat | Friend us on Facebook, follow us on Twitter and find us on Pinterest
Photo: Christian Adams/Getty Images
love: friendships, dating, sex & marriage
While we do love crazy, funny and over-the-top engagements, sometimes there's just nothing like a proposal with a heartfelt story behind it (warning: you might need some tissues). We've rounded up some of the most romantic wedding proposals from couples across the country, so keep scrolling for seven of our favorites:

As much as you'd like to think your guests will love every single aspect of your wedding, the truth is you really can't please everyone. However, you can try to avoid ticking them off. Here's how.

You'd think brides and grooms who celebrate their nuptials with 50 guests have an equal shot at wedded bliss as those who invite 500, but apparently not.

Because some things are just better with a buddy (whom you happen to be dating).

They're smart, funny, and adorable, but are you a good match?

Fight the urge to sign her up for OkCupid and read this instead.

We know you have good intentions, but...please...stop.

You can't say we didn't warn you. Every month is Movember when you're dating a guy with a beard. And while the scruffy look can be hot, there are some very real, err, challenges that come with the territory. Don't believe us? Well…

Follow these steps to slash your wedding budget—not your fun—in half.

It won't all be cake and flowers, but it can be the best year of your life together so far.

Expert tips on moving past those oh-so-familiar arguments.