Where Are the Most Promiscuous Cities in the US?
When it comes to sex, some cities have a leg up.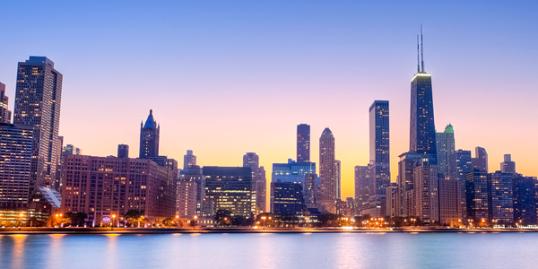 Lately, there's been a heap of research in the spotlight touting the health benefits of sex. It's an antidepressant, it's good for your immune system, and what's more, it even makes you smarter. Scientists and relationship experts alike seem to agree: Sex is good.
And some cities are really taking that declaration to heart. A new poll has revealed which cities in the United States boast having the most promiscuous men.
Well, some may call them promiscuous — perhaps they're just health-conscious.
At any rate, Brandon Wade, founder of the sometimes-controvers​ial website, SeekingArrangement.c​om, carried out the poll and found that Chicago tops the list of cities with the most promiscuous men. While most men in the nationwide poll reported having between two and four sexual partners a year, 72 percent of Chicagoans claimed to have seven or more partners per year.
Let's talk about how Wade carried out his poll. But first, a little background:
Wade's website has been in headlines in recent years, as it essentially hooks up young, broke college girls with wealthy sugar daddies. As you can probably imagine, it's been criticized quite a bit, with some likening it to an escort service. But Wade fervently defends the concept of his site, saying the relationships are "mutually beneficial," and not just about sex. And, you know, he might be right.
In this poll, he surveyed 5,000 of the site's male members to find out who was there just for sex, and who was there for a meaningful relationship with an attractive young college student who needs money.
Related video: 5 Ways to Strengthen Your Relationship
Interestingly, the poll found that there are fewer men joining his site for sex (52 percent) than the average dating website (67 percent, according to the New York Post).
While he was questioning these guys' intentions, Wade went ahead and noted their city of origin, finding out the most sex-crazed cities in the U.S. And that brings us back to our list. While Chicago takes the cake, Birmingham, Ala., is a close second for having the most promiscuous men. Seventy percent of men from Birmingham say they've slept with seven or more people in a year. Las Vegas came in third at 68 percent. Atlanta, Philadelphia, and Phoenix also made the list.
As for the least promiscuous cities, New York and San Francisco came in last, at less than 15 percent.
A full list of the Top 10 Most Promiscuous Cities for Men is below. Again, the percentage notes the amount of men who say they've had upwards of seven partners.
Chicago - 72 percent
Birmingham, Ala. - 70 percent
Las Vegas - 68 percent
Oklahoma City, Okla. - 64 percent
Atlanta - 62 percent
Phoenix - 61 percent
Philadelphia - 59 percent
Hoboken, N.J. - 57 percent
Richmond, Va. - 55 percent
Hartford, Conn. - 54 percent
Photo: Getty Images
Bing: Thinking of taking a vacation? Check out Chicago.
More love and sex on MSN Living:
Crazy Marriage Proposals
Weird Wild World of Modern Love
Most Romantic Date Destinations in America
25 Reasons Why Married Sex Is Better
love: friendships, dating, sex & marriage
This winter, it's all about mixing unexpected seasonal elements with elegant neutral details and a hint of sparkle and sequins. Take a look.

Here's why dudes without hair make the best boyfriends.

What do you wish you appreciated more when you were flying solo?

"If you're so busy tweeting and Instagraming, you're not paying attention," New York wedding planner Marcy Blum said. "It's almost a cosmic faux pas. People want your energy with them and focused on what they're doing."

The wedding favor, that little thank-you-for-coming gift, has risen to new heights with the bride and groom giving guests a wide range of favors that are meaningful to them.

Generations ago, planning a wedding was 100 percent the bride's job, but in today's age of gender equity, it's a mere 99 percent.

For all the self-help books and advice columns out there (um, keeping reading my advice anyway, please!), there's one tool we all already have in our arsenal for picking a partner that will keep us happy: our gut instincts.

According to a new study from the University of Texas and the University of California, Los Angeles, both men and women have regrets when it comes to sex, but the genders vary greatly when it comes to what they regret specifically.

Spending time alone with your guy is easy, but going public with your plus-one is another thing entirely. Whether it's your crazy relatives at Thanksgiving dinner or awkward convos with your boss at the holiday party, possible pitfalls are everywhere. Keep reading for tips on how to make his grand entrance into your social life a good thing.

Match.com survey reveals the day you're least likely to get spruced up for a date.

Drinking and relationships seem to go hand in hand in a lot of ways. But only in moderation!

Many men will tell you that they have no clue what their wives are thinking.