Where Are the Most Promiscuous Cities in the US?
When it comes to sex, some cities have a leg up.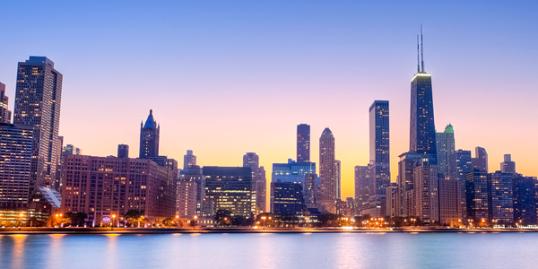 Lately, there's been a heap of research in the spotlight touting the health benefits of sex. It's an antidepressant, it's good for your immune system, and what's more, it even makes you smarter. Scientists and relationship experts alike seem to agree: Sex is good.
And some cities are really taking that declaration to heart. A new poll has revealed which cities in the United States boast having the most promiscuous men.
Well, some may call them promiscuous — perhaps they're just health-conscious.
At any rate, Brandon Wade, founder of the sometimes-controvers​ial website, SeekingArrangement.c​om, carried out the poll and found that Chicago tops the list of cities with the most promiscuous men. While most men in the nationwide poll reported having between two and four sexual partners a year, 72 percent of Chicagoans claimed to have seven or more partners per year.
Let's talk about how Wade carried out his poll. But first, a little background:
Wade's website has been in headlines in recent years, as it essentially hooks up young, broke college girls with wealthy sugar daddies. As you can probably imagine, it's been criticized quite a bit, with some likening it to an escort service. But Wade fervently defends the concept of his site, saying the relationships are "mutually beneficial," and not just about sex. And, you know, he might be right.
In this poll, he surveyed 5,000 of the site's male members to find out who was there just for sex, and who was there for a meaningful relationship with an attractive young college student who needs money.
Related video: 5 Ways to Strengthen Your Relationship
Interestingly, the poll found that there are fewer men joining his site for sex (52 percent) than the average dating website (67 percent, according to the New York Post).
While he was questioning these guys' intentions, Wade went ahead and noted their city of origin, finding out the most sex-crazed cities in the U.S. And that brings us back to our list. While Chicago takes the cake, Birmingham, Ala., is a close second for having the most promiscuous men. Seventy percent of men from Birmingham say they've slept with seven or more people in a year. Las Vegas came in third at 68 percent. Atlanta, Philadelphia, and Phoenix also made the list.
As for the least promiscuous cities, New York and San Francisco came in last, at less than 15 percent.
A full list of the Top 10 Most Promiscuous Cities for Men is below. Again, the percentage notes the amount of men who say they've had upwards of seven partners.
Chicago - 72 percent
Birmingham, Ala. - 70 percent
Las Vegas - 68 percent
Oklahoma City, Okla. - 64 percent
Atlanta - 62 percent
Phoenix - 61 percent
Philadelphia - 59 percent
Hoboken, N.J. - 57 percent
Richmond, Va. - 55 percent
Hartford, Conn. - 54 percent
Photo: Getty Images
Bing: Thinking of taking a vacation? Check out Chicago.
More love and sex on MSN Living:
Crazy Marriage Proposals
Weird Wild World of Modern Love
Most Romantic Date Destinations in America
25 Reasons Why Married Sex Is Better
love: friendships, dating, sex & marriage
LinkedUp connects to your LinkedIn profile to find you a date.

Plus, some report having no one at all they feel close to.

It's wedding season! Let's take a look back at when these stunning celebs put on gorgeous gowns and held beautiful bouquets in support of their friends' and family members' big days.

A new study says we're more open to consensual non-monogamy now than ever before — but does it work?

5 steps to being happy together in the long run.

There has been an exponential increase in the number of people who are questioning their marriage.

We're willing to bet that if you're not already grappling with these wedding-related snags, you will be soon.

Pull out the tissues for these personalized wedding vows.

Forgotten what love is all about? Read this note, and remember.

And a few that aren't so shocking.

If you find yourself doing any of these things, consider changing your behavior or counseling.

From pineapple sculptures made out of sunflowers to bold graphic printed tablecloths, ten trendsetters in the wedding industry shared 100 days' worth of inspiring new wedding details. See The Knot editors' top picks for the coolest and most awe-worthy ideas from the wedding experts.