Where Are the Most Promiscuous Cities in the US?
When it comes to sex, some cities have a leg up.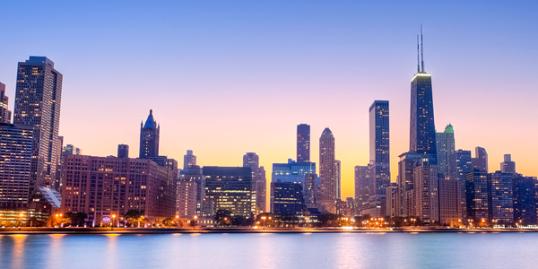 Lately, there's been a heap of research in the spotlight touting the health benefits of sex. It's an antidepressant, it's good for your immune system, and what's more, it even makes you smarter. Scientists and relationship experts alike seem to agree: Sex is good.
And some cities are really taking that declaration to heart. A new poll has revealed which cities in the United States boast having the most promiscuous men.
Well, some may call them promiscuous — perhaps they're just health-conscious.
At any rate, Brandon Wade, founder of the sometimes-controvers​ial website, SeekingArrangement.c​om, carried out the poll and found that Chicago tops the list of cities with the most promiscuous men. While most men in the nationwide poll reported having between two and four sexual partners a year, 72 percent of Chicagoans claimed to have seven or more partners per year.
Let's talk about how Wade carried out his poll. But first, a little background:
Wade's website has been in headlines in recent years, as it essentially hooks up young, broke college girls with wealthy sugar daddies. As you can probably imagine, it's been criticized quite a bit, with some likening it to an escort service. But Wade fervently defends the concept of his site, saying the relationships are "mutually beneficial," and not just about sex. And, you know, he might be right.
In this poll, he surveyed 5,000 of the site's male members to find out who was there just for sex, and who was there for a meaningful relationship with an attractive young college student who needs money.
Related video: 5 Ways to Strengthen Your Relationship
Interestingly, the poll found that there are fewer men joining his site for sex (52 percent) than the average dating website (67 percent, according to the New York Post).
While he was questioning these guys' intentions, Wade went ahead and noted their city of origin, finding out the most sex-crazed cities in the U.S. And that brings us back to our list. While Chicago takes the cake, Birmingham, Ala., is a close second for having the most promiscuous men. Seventy percent of men from Birmingham say they've slept with seven or more people in a year. Las Vegas came in third at 68 percent. Atlanta, Philadelphia, and Phoenix also made the list.
As for the least promiscuous cities, New York and San Francisco came in last, at less than 15 percent.
A full list of the Top 10 Most Promiscuous Cities for Men is below. Again, the percentage notes the amount of men who say they've had upwards of seven partners.
Chicago - 72 percent
Birmingham, Ala. - 70 percent
Las Vegas - 68 percent
Oklahoma City, Okla. - 64 percent
Atlanta - 62 percent
Phoenix - 61 percent
Philadelphia - 59 percent
Hoboken, N.J. - 57 percent
Richmond, Va. - 55 percent
Hartford, Conn. - 54 percent
Photo: Getty Images
Bing: Thinking of taking a vacation? Check out Chicago.
More love and sex on MSN Living:
Crazy Marriage Proposals
Weird Wild World of Modern Love
Most Romantic Date Destinations in America
25 Reasons Why Married Sex Is Better
love: friendship, dating, sex & marriage
We've made picking your palette a breeze! Just find your favorite hue and choose one of the cool combos below.

Get inspired with these twelve ideas for a fantastic, fun summer wedding!

What's worse than getting snubbed while proposing? Having your heart broken in front of countless strangers.

Want your I do's to be totally you? From pre-wedding cocktails to Mad Lib vows, here are 25 ways to make your ceremony as unforgettable as your reception.

Summer love can be sweet. But it tends to be fast, feverish and often fleeting. In a season where emotions run hot, here are some rules to help avoid heartbreak.

We asked brides on TheKnot.com to tell all -- and they did. Here, five of the most likely culprits and advice for how to deal with your drama-causing guests along the way.

This short course in flirting will not only teach you how to flirt better but also how to tell when someone is flirting with you—and how to respond. Have fun.

Gatsby glamour doesn't have to just live on the big screen! Embrace the trendy (yet timeless) art deco style with sequins, pearls, feathers and geometric patterns. Check out these art deco ideas and achieve the feel of 1920s decadence. By the way, all of these are affordable, except for the $600 hairpiece which is a splurge, but a knockout. Shop the look!

Wondering if your summer love will last? Here are 15 signs if your seasonal love is fleeting or for real.

Sixteen years after "Titanic's" release—and 101 years after the historic ship's notorious sinking—our hearts still go on for star-crossed lovers Rose DeWitt Bukater (Kate Winslet) and Jack Dawson (Leonardo DiCaprio). We rounded up some of our favorite ill-fated, but oh-so-romantic affairs on film, from "Gone with the Wind" to "Moulin Rouge!".

Flirting shouldn't be retired once you've got the ring. We asked relationship expert Harlan Cohen, as well as real husbands, the best way to keep the sparks flying.

When we're annoyed by male behavior, we turn to columnist Aaron Traister. His logic may be strange, but we have to admit, it's pretty helpful. Here, he answers our many questions for guys.