Where Are the Most Promiscuous Cities in the US?
When it comes to sex, some cities have a leg up.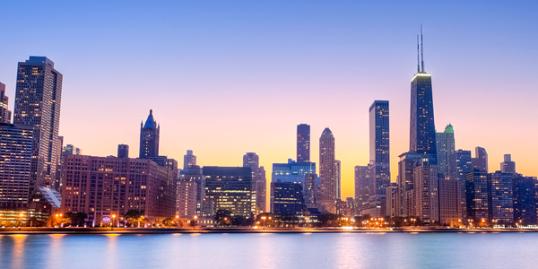 Lately, there's been a heap of research in the spotlight touting the health benefits of sex. It's an antidepressant, it's good for your immune system, and what's more, it even makes you smarter. Scientists and relationship experts alike seem to agree: Sex is good.
And some cities are really taking that declaration to heart. A new poll has revealed which cities in the United States boast having the most promiscuous men.
Well, some may call them promiscuous — perhaps they're just health-conscious.
At any rate, Brandon Wade, founder of the sometimes-controvers​ial website, SeekingArrangement.c​om, carried out the poll and found that Chicago tops the list of cities with the most promiscuous men. While most men in the nationwide poll reported having between two and four sexual partners a year, 72 percent of Chicagoans claimed to have seven or more partners per year.
Let's talk about how Wade carried out his poll. But first, a little background:
Wade's website has been in headlines in recent years, as it essentially hooks up young, broke college girls with wealthy sugar daddies. As you can probably imagine, it's been criticized quite a bit, with some likening it to an escort service. But Wade fervently defends the concept of his site, saying the relationships are "mutually beneficial," and not just about sex. And, you know, he might be right.
In this poll, he surveyed 5,000 of the site's male members to find out who was there just for sex, and who was there for a meaningful relationship with an attractive young college student who needs money.
Related video: 5 Ways to Strengthen Your Relationship
Interestingly, the poll found that there are fewer men joining his site for sex (52 percent) than the average dating website (67 percent, according to the New York Post).
While he was questioning these guys' intentions, Wade went ahead and noted their city of origin, finding out the most sex-crazed cities in the U.S. And that brings us back to our list. While Chicago takes the cake, Birmingham, Ala., is a close second for having the most promiscuous men. Seventy percent of men from Birmingham say they've slept with seven or more people in a year. Las Vegas came in third at 68 percent. Atlanta, Philadelphia, and Phoenix also made the list.
As for the least promiscuous cities, New York and San Francisco came in last, at less than 15 percent.
A full list of the Top 10 Most Promiscuous Cities for Men is below. Again, the percentage notes the amount of men who say they've had upwards of seven partners.
Chicago - 72 percent
Birmingham, Ala. - 70 percent
Las Vegas - 68 percent
Oklahoma City, Okla. - 64 percent
Atlanta - 62 percent
Phoenix - 61 percent
Philadelphia - 59 percent
Hoboken, N.J. - 57 percent
Richmond, Va. - 55 percent
Hartford, Conn. - 54 percent
Photo: Getty Images
Bing: Thinking of taking a vacation? Check out Chicago.
More love and sex on MSN Living:
Crazy Marriage Proposals
Weird Wild World of Modern Love
Most Romantic Date Destinations in America
25 Reasons Why Married Sex Is Better
love: friendships, dating, sex & marriage
A new study on attraction may help explain why fashions change.

As a general rule, any island that offers great weather year-round is going to attract the most visitors in the winter (high season) when we're all trying to escape the snow. Once summer rolls around, many islands see a sharp drop-off in tourism since many people have beach weather right in their own backyards.

And how you can attack the issues together.

A wedding is an exceptionally special day. Sometimes, an opportune photo flub makes the occasion even more memorable. Here are 25 awesome wedding photo bombs.

Somewhere between the first few butterfly-inducing dates and the committed-for-life stage, there's the period of wondering if you're both on the same page about how serious you feel about a future together. If you're not quite at the point of "that talk" but you're looking for a few clues you're heading in that direction, here are some signs he's in it for the long haul as your relationship progresses.

What's that sound? It's white noise blocking out the well-meaning person proclaiming groundbreaking news about where you can meet someone, asking why you're still single, or bugging you about when you're getting married already. Don't be that person. Here are 15 annoying things all single people don't want to hear.

With just a few days left before the big day, you already have a mile-long checklist of to-dos—now meet the don'ts! From impromptu skin treatments to all-night movie marathons, here are 11 things to avoid at all costs.

A new study shows that watching and discussing romantic films can drastically reduce your chance of divorce. These flicks more than fit the bill.

These seemingly innocent phrases still have the power to wound… big time.

Making "I do" last forever is one of the biggest challenges you'll ever face—and it's normal to worry about how you'll do it. But, if your connection involves any of these things, rest assured that you're in it for the long run.

Ultimately, as hard as it may seem at the beginning, a marital affair can be a turning point.

Five months after the Boston Marathon bombing, The Knot reached out to Rebekah Gregory and Pete DiMartino and offered to throw them a dream wedding. They said yes, and on April 4, 2014, the two married at the Biltmore Estate in Asheville, North Carolina. Rebekah and Pete exchanged vows on the tennis lawn amidst the cherry tree blossoms and then celebrated with all of their friends and family at a beautiful reception tent right in front of the estate. All of the details were perfectly executed by a team of talented and generous wedding industry pros, including celebrity wedding planner Marcy Blum. Here, a few highlights from Rebekah and Pete's wedding day.