10 things you don't need to know about her
Are you dating a stranger?
Written by Cassie Shortsleeve, Men's Health
According to a new survey conducted by a British beauty retailer, 54 percent of men couldn't rattle off their partner's cell phone number, 12 percent didn't know her D.O.B., and one in 10 didn't even know her job title. Ouch.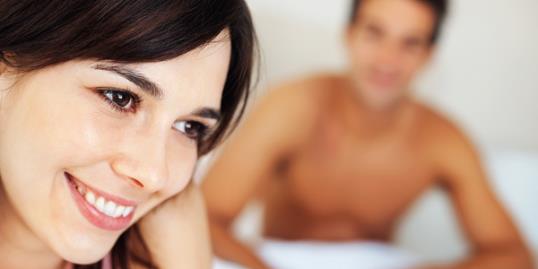 But the truth is, keeping the names of her coworkers and her hair stylist straight isn't always easy (or even necessary). There's such a thing as TMI—as well as a handful of non-negotiables. That's why we determined 10 things you simply don't need to know about her, and 10 things you better have memorized. (Bonus tip: How to read her body language like a pro.)
(And don't worry—we don't know anyone who memorizes phone numbers these days, either. Thanks, Siri!)
10 Things You Don't Need to Know About Her:
1. Her Favorite Designer
Can't tell the difference between Tory Burch and Rag & Bone for the life of you? That's OK: Recognizing a new dress or top (and complimenting her on it) goes a lot further.
2. What Her Perfume's Called
That's why she has a best friend—and if the perfume bottle's running low this holiday season, just call her for the name.
3. Her Favorite Makeup
Sometimes a little mystery is good. Wouldn't you rather believe she looks and feels awesome all the time because that's just the way she wakes up looking and feeling every morning?
4. When or What She Gets Waxed
Same deal—a trip to the "spa" is all the information you need.
5. Her Hair Stylist's Name
Part of being together means having your separate interests, too. Some names are must-knows; others leave you sounding like a character from Legally Blonde. This one falls in the latter category.
6. Her Best Friend's Latest Boyfriend Drama
If she's venting to you about her BFF's latest crisis, listen. But know that by no means are you required to remember this information—or cut ties with the guy because of it.
7. If It's That Time of the Month
Unless you're trying to get pregnant—or worried she might be—don't worry about her cycle. If she's in a bad mood, you'll blame that weird thing called PMS, and she'll lose it.
8. Her Ring Size
If you're at the point where you need to know, you probably already do. Otherwise, there's no need.
9. The Names of All Her Exes
Knowing she's got an ex-husband or was in a 10-year relationship can be useful information—and explain a lot about why she is who she is. Details about the DJ, the guy she met on spring break, or the semi-pro athlete she dated simply aren't necessary or wanted. (Be better than all of them by giving her What she really wants.)
10. Her Salary
Until you're serious—splitting finances, living together, paying for kids' education—knowing the number of zeros on her paycheck shouldn't matter. And remember: Picking up the tab should never be a matter of who makes more.
. . . And 10 Things You Do:
1. Small, Medium, or Large
You're signing the two of you up for a race, and the free T-shirt section needs her size. If you order a small and it's too small, she'll feel—well, large—but if she thinks you think she's a medium (when she's clearly a small), you're in the doghouse. Just ask.
2. Where She's From
Whether she's a born-and-bred Bostonian, a New Yorker at heart, or a small-town Midwesterner, her hometown matters. It probably says a lot about how she grew up—and how she'll continue to grow.
3. Where She Went to School
Same reasoning: It's important to her. Plus, it was four really fun years of her life that you may or may not have been present for. Mix up the University of Kansas with Kansas State, and you'll never hear the end of it.
4. The Names of Her Parents, Siblings, and Best Friends
She talks about them enough, so you should be able to remember their names. Bonus points for coworkers and bosses.
5. How to Cheer Her Up
Knowing the quick fix for a bad day is good for both of you. If a pack of Oreos, Homeland on DVD, or takeout from her favorite Chinese place can brighten her up, you'll see the rewards, too. The little things show you notice—and care.
6. The Signs of a Bad Mood
Being able to pinpoint bad mood warning signs she doesn't even notice—ie: her voice when she's hungry, or a less than enthusiastic response to a text—relay that you're learning her . . . better than she may even know. Plus, you'll be better equipped to handle what could be coming your way.
7. Her Middle Name
If her doctor, employer, and credit card company know it, so should you.
8. Her Favorite Music
And make it an option on long car rides.
9. What She Doesn't Eat
Take her to a steakhouse when she's told you twice that red meat's not her thing, and you've signed yourself up for an awkward date and a "do you even listen to me?" conversation.
10. Her Favorite Flower
You'll thank us later. (For more gift ideas, check out the Women's Health holiday gift guide for her.)
Photo: Abel Mitja Varela/Getty Images
Bing: Winter date ideas.
More from Men's Health:
The 100 hottest women of all time
Does she pass "the bacon test"?
20 things she notices about you
love: friendships, dating, sex & marriage
Juan Pablo will be joining his two chosen finalists for one more rose ceremony tonight. You know you'll be watching—and so will we.

Revealr is a new iPhone app that allows those looking for love to hear their possible matches before they see them.

A new poll reveals 59 percent of the country supports same-sex marriage.

Celebrity engagements are so much fun to follow because every detail is bound to be over-the-top — from the proposal (like when Kanye rented out an entire stadium to propose to Kim) to the huge, sparkly engagement ring and, of course, the wedding. Plus, as trendsetters, celebs can be a source of inspiration even if you can't afford a million dollar ring. Here are our celebrity wedding predictions for 2014.

If you've ever been to a club—like, ever, even once—you are not going to be shocked to hear that women get a lot of unwanted, aggressive attention. But when you read the findings of this study on how often and why it happens, it might make you feel downright sick to your stomach.

Hopeless romantics and cringe-worthy chick flicks would tell you that it doesn't matter what you do on the date, as long as you're together. But they're wrong. Dead wrong. Women use your date ideas to size you up, says matchmaker Rachel DeAlto, author of "Flirt Fearlessly." "You absolutely will be judged based on the date you plan. There are so many subconscious impressions that we take in while dating." Gulp. Here are 10 terrible ideas that can land you on the no-lay list—and simple swaps to keep her happy. By K. Aleisha Fetters

No matter your current relationship status or past relationship fails, get a fresh start this month, with these tips for spring cleaning your love life.

Forget the rules you've always heard—it's time to start making your own.

Are you in an affair without knowing it? Unless you're a swinger, having sex with someone else counts as cheating. But then there's the fuzzy area between friendship and infidelity—and chances are, your girlfriend sees those shades of gray as more black and white than you do. "Men aren't as attuned to identifying ambiguous behaviors as cheating as women are," says Daniel Kruger, Ph.D., a University of Michigan psychologist, who's studied gender differences in definitions of infidelity. In other words, what you consider totally innocent could be her deal breaker.

We spoke with relationship therapist Rachel A. Sussman, author of "The Breakup Bible," for her tips on how regular girls can survive a split like an A-lister.

A researcher from Texas Tech University has found that people who use the same kind of "function words" are more likely to get together.

Check out these five celebrity stunners.