Is courtship really dead?
Maybe it's just changing its look.
The New York Times posed the question this week in an article titled, "The End of Courtship?" 
Writer Alex Williams noted the new trend in dating that doesn't include, well, a date: 
"Instead of dinner-and-a-movie, which seems as obsolete as a rotary phone, they rendezvous over phone texts, Facebook posts, instant messages and other 'non-dates' that are leaving a generation confused about how to land a boyfriend or girlfriend." 
The Heart Beat has been wondering—is it true? Is courtship really dead, or is it taking a break? Maybe it's simply transformed into something unrecognizable and only seemingly unromantic. Maybe romance is just getting a makeover.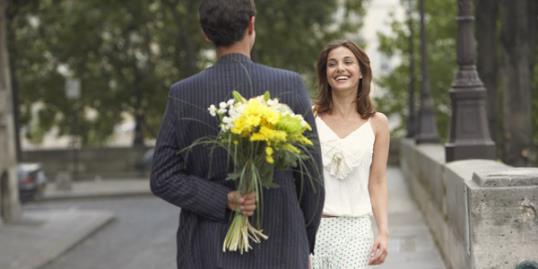 More on MSN Living: Just got engaged? 11 things to do NOW!
Online dating has almost commodified potential partners, the article argues:
"Faced with a never-ending stream of singles to choose from, many feel a sense of 'FOMO' (fear of missing out), so they opt for a speed-dating approach — cycle through lots of suitors quickly." 
Because of this, suitors opt for dates that are less meaningful and more cheap and quick—what Williams dubs the "speed-dating approach."
Adam LoDolce is an author who might support this argument. As a dating coach who helps dudes find romance, he's made a career out of the prospect that courtship is dead. And technology, he told MSN's The Heart Beat, is often an issue when it comes to dating.
 More on MSN Living: Engagement etiquette tips everyone should know 
"One of the biggest mistakes that men make on a date is checking their phone," LoDolce told us. "It's the biggest deal breaker." 
But according to the Times, fewer and fewer men are willing to put the phone away, so to speak. These days, it's less about tradition and more about "hanging out." Some have called it "pre-dating." 
Dating coach and expert Paula Rosdol agrees that courtship is dying, blaming it on our "fast-paced, time-starved culture."
"Courtship is all about taking the time to get to know someone," she tells The Heart Beat. "Like pursuing and attaining any worthwhile goal, finding the right person and relationship at any age takes a certain amount of commitment and determination, as well as time, energy and money."
Ami Angelowicz of The Frisky made the argument that courtship isn't dead, it's just transitioning: 
"Texting or Facebook or the recession or confusion about normative gender roles don't become an obstacle to love, they become a bridge." 
The Times quoted Hanna Rosin, author of The End of Men, who said that the changing dynamic between men and women is further complicating courtship. 
"Maybe there's still a sense of a man taking care of a woman, but our ideology is aligning with the reality of our finances," she told the Times. A man might convince himself "that dating is passé, a relic of a paternalistic era, because you can't afford to take a woman to a restaurant." 
Frankly, men are too broke for traditional courtship. And polls might support her argument, depending on who you ask. A survey earlier this year found that only a third of men are willing to pay for a first date. But a separate poll found that 74 percent of men are willing to pull out the wallet on a first date. Anyway, if a decline in picking up the tab is the end of courtship, it doesn't appear to be keeping women from feeling courted. Only about half of women in the latter survey seemed to think the guy should pay for the date.
But the dynamic isn't just about money. Rosin adds that many men are "worried that they might offend women by dating in an old-fashioned way." 
"It's hard to read a woman exactly right these days," she said. "You don't know whether, say, choosing the wine without asking her opinion will meet her yearnings for old-fashioned romance or strike her as boorish and macho." 
What do you think—is courtship over? Or is it simply changing?
More from The Heart Beat:
Cellphones are ruining relationships
Why powerful people are more likely to cheat
Study: Confidence before marriage leads to a happy union
Love content like this? Friend us on Facebook, follow us on Twitter and find us on Pinterest
Photo: Rayes/Getty Images
love: friendships, dating, sex & marriage
Brad Pitt and Angelina Jolie finally took the plunge, but marriage isn't always a good choice for everyone.

Learn how these surprising tactics can really improve your relationship.

Use these tips to up your chances of finding love.

Find out how paired-off ladies might feel lacking—and how you can make your relationship satisfying.

These signals are seriously subtle, but they can give you real insight into what's going through your husband's mind.

Check which changes are necessary to stay happy together.

We know some of this may sound obvious, but these simple statements can make both of you happier.

Making your relationship more secure, connected, and intimate doesn't have to feel overwhelming. Try these expert tips and reap the rewards now—and in the long run.

For those times when nothing big and horrible happened--but nothing is feeling right either.

What's more fun than animals in weddings? We've rounded up eight of the cutest.

Your puppy is all over your Instagram, Facebook and fridge, so there's no reason not to include him in your engagement pictures too. The best engagement photos give viewers a peek into your life. If you're a dog owner, take this opportunity to show off your pooch, like these 22 couples did! And we can't thank them enough.

Our married blogger gets real about checking out other guys when you're taken.