Target Stocks Greeting Cards For Same-Sex Couples
One small step for man, one big leap toward equality.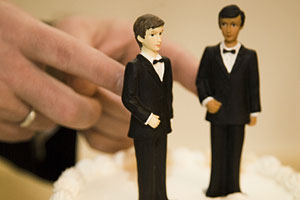 As our nation gradually moves toward supporting gay marriage, capitalism appears to be following suit. Bigotry is bad for business, and in fact, same sex-marriage has become marketable.
Target is the latest corporation to make a bold move toward marriage equality, as the company is now stocking greeting cards honoring same sex unions.
"Target is focused on diversity and inclusivity," the company's spokeswoman, Molly Snyder, told the Minneapolis Star-Tribune.
The cards, produced by Carlton Cards, include phrases like "Mr. & Mr." and "Two very special women, one very special love."
Politics aside, marketing professor Ashkay Rao tells the Tribune that Target's show of support is "a perfectly logical thing to do." After all, research shows that the country's lesbian, gay, bisexual, and transgender (LGBT) community and its supporters have a purchasing power of $790 billion.  According to the Tribune, corporations are smart to support to the LGBT community, because their target purchasers also support it:
"Surveys show that the groups most coveted by many retailers -- particularly the young and the educated -- tend to be accepting of gay people."
Target is also making up for their 2010 blunder, which involved making a $150,000 donation to a group that backed a Republican candidate opposing gay marriage. Back in 2010, Target said it donated to the group because of its platform on jobs and taxes, but that didn't stop the company from being in the anti-gay spotlight.
"Target is not anti-gay," Michael Francis, Target's executive vice president and chief marketing officer, told The Los Angeles Times. "It's important to set the record straight and provide some context."
Not only are they not anti-gay; this latest move shows that Target is, in fact, gay-friendly. There's a big difference between apathy and support. But the applause shouldn't necessarily be for Target. They're simply a business pandering to the most marketable demographic. Let's face it—if the move were damaging to the company's earnings, it wouldn't likely have been made. Still, the LGBT community and its supporters have something to celebrate with this news. As one commenter articulated:
"It's awesome that public opinion has reached the point where supporting gay rights and gay couples is seen as the financially smart thing to do."
Target may simply be a vehicle for cultural evolution, but the good news is, we're evolving. It's a gradual change, but it's beginning to be evident through our social systems. And while some still consider companies' LGBT support to be controversial, perhaps one day soon, we'll feel silly for even discussing the matter of a same-sex greeting card.
Photo: Queerstock, Inc./Alamy
More on love & sex from MSN Living:
25 Secrets Men Keep From Women
25 Secrets Women Keep From Men
The DOs and DON'Ts of Dating More Than One Guy at a Time
Are you sure you want to delete this comment?
love: friendship, dating, sex & marriage
What's worse than getting snubbed while proposing? Having your heart broken in front of countless strangers.

We asked brides on TheKnot.com to tell all -- and they did. Here, five of the most likely culprits and advice for how to deal with your drama-causing guests along the way.

This short course in flirting will not only teach you how to flirt better but also how to tell when someone is flirting with you—and how to respond. Have fun.

Gatsby glamour doesn't have to just live on the big screen! Embrace the trendy (yet timeless) art deco style with sequins, pearls, feathers and geometric patterns. Check out these art deco ideas and achieve the feel of 1920s decadence. By the way, all of these are affordable, except for the $600 hairpiece which is a splurge, but a knockout. Shop the look!

Wondering if your summer love will last? Here are 15 signs if your seasonal love is fleeting or for real.

Sixteen years after "Titanic's" release—and 101 years after the historic ship's notorious sinking—our hearts still go on for star-crossed lovers Rose DeWitt Bukater (Kate Winslet) and Jack Dawson (Leonardo DiCaprio). We rounded up some of our favorite ill-fated, but oh-so-romantic affairs on film, from "Gone with the Wind" to "Moulin Rouge!".

Flirting shouldn't be retired once you've got the ring. We asked relationship expert Harlan Cohen, as well as real husbands, the best way to keep the sparks flying.

When we're annoyed by male behavior, we turn to columnist Aaron Traister. His logic may be strange, but we have to admit, it's pretty helpful. Here, he answers our many questions for guys.

Author Amanda Robb talks to clinical psychologist David Schnarch, Ph.D., author of Passionate Marriage: Keeping Love and Intimacy Alive in Committed Relationships and Intimacy and Desire: Awaken the Passion in Your Relationship, to discover the ways she can relight the fire in her own relationship. What she learned just might help you wake up your own libido.

The average wedding costs $28,000. Think that's pricey? You're in for a surprise. We've rounded up some of the most expensive weddings of all time. See if you can guess how much was dropped on these over-the-top affairs, then click through to Bing to see if you're right.

A guide to staying together forever…straight from divorce lawyers! They know what tears couples apart, and they'll tell you how to avoid it.

We've come across some odd tales of lost love. Here's our list of the weirdest reasons people have divorced.