Target Stocks Greeting Cards For Same-Sex Couples
One small step for man, one big leap toward equality.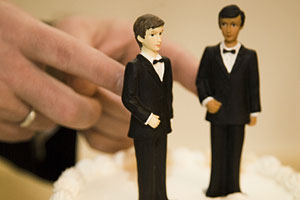 As our nation gradually moves toward supporting gay marriage, capitalism appears to be following suit. Bigotry is bad for business, and in fact, same sex-marriage has become marketable.
Target is the latest corporation to make a bold move toward marriage equality, as the company is now stocking greeting cards honoring same sex unions.
"Target is focused on diversity and inclusivity," the company's spokeswoman, Molly Snyder, told the Minneapolis Star-Tribune.
The cards, produced by Carlton Cards, include phrases like "Mr. & Mr." and "Two very special women, one very special love."
Politics aside, marketing professor Ashkay Rao tells the Tribune that Target's show of support is "a perfectly logical thing to do." After all, research shows that the country's lesbian, gay, bisexual, and transgender (LGBT) community and its supporters have a purchasing power of $790 billion.  According to the Tribune, corporations are smart to support to the LGBT community, because their target purchasers also support it:
"Surveys show that the groups most coveted by many retailers -- particularly the young and the educated -- tend to be accepting of gay people."
Target is also making up for their 2010 blunder, which involved making a $150,000 donation to a group that backed a Republican candidate opposing gay marriage. Back in 2010, Target said it donated to the group because of its platform on jobs and taxes, but that didn't stop the company from being in the anti-gay spotlight.
"Target is not anti-gay," Michael Francis, Target's executive vice president and chief marketing officer, told The Los Angeles Times. "It's important to set the record straight and provide some context."
Not only are they not anti-gay; this latest move shows that Target is, in fact, gay-friendly. There's a big difference between apathy and support. But the applause shouldn't necessarily be for Target. They're simply a business pandering to the most marketable demographic. Let's face it—if the move were damaging to the company's earnings, it wouldn't likely have been made. Still, the LGBT community and its supporters have something to celebrate with this news. As one commenter articulated:
"It's awesome that public opinion has reached the point where supporting gay rights and gay couples is seen as the financially smart thing to do."
Target may simply be a vehicle for cultural evolution, but the good news is, we're evolving. It's a gradual change, but it's beginning to be evident through our social systems. And while some still consider companies' LGBT support to be controversial, perhaps one day soon, we'll feel silly for even discussing the matter of a same-sex greeting card.
Photo: Queerstock, Inc./Alamy
More on love & sex from MSN Living:
25 Secrets Men Keep From Women
25 Secrets Women Keep From Men
The DOs and DON'Ts of Dating More Than One Guy at a Time
Are you sure you want to delete this comment?
love: friendships, dating, sex & marriage
How to flag her little fibs. By Laura Tedesco

A new study on attraction may help explain why fashions change.

As a general rule, any island that offers great weather year-round is going to attract the most visitors in the winter (high season) when we're all trying to escape the snow. Once summer rolls around, many islands see a sharp drop-off in tourism since many people have beach weather right in their own backyards.

And how you can attack the issues together.

A wedding is an exceptionally special day. Sometimes, an opportune photo flub makes the occasion even more memorable. Here are 25 awesome wedding photo bombs.

Somewhere between the first few butterfly-inducing dates and the committed-for-life stage, there's the period of wondering if you're both on the same page about how serious you feel about a future together. If you're not quite at the point of "that talk" but you're looking for a few clues you're heading in that direction, here are some signs he's in it for the long haul as your relationship progresses.

What's that sound? It's white noise blocking out the well-meaning person proclaiming groundbreaking news about where you can meet someone, asking why you're still single, or bugging you about when you're getting married already. Don't be that person. Here are 15 annoying things all single people don't want to hear.

With just a few days left before the big day, you already have a mile-long checklist of to-dos—now meet the don'ts! From impromptu skin treatments to all-night movie marathons, here are 11 things to avoid at all costs.

A new study shows that watching and discussing romantic films can drastically reduce your chance of divorce. These flicks more than fit the bill.

These seemingly innocent phrases still have the power to wound… big time.

Making "I do" last forever is one of the biggest challenges you'll ever face—and it's normal to worry about how you'll do it. But, if your connection involves any of these things, rest assured that you're in it for the long run.

Ultimately, as hard as it may seem at the beginning, a marital affair can be a turning point.