Target Stocks Greeting Cards For Same-Sex Couples
One small step for man, one big leap toward equality.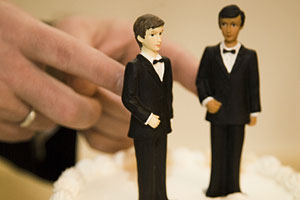 As our nation gradually moves toward supporting gay marriage, capitalism appears to be following suit. Bigotry is bad for business, and in fact, same sex-marriage has become marketable.
Target is the latest corporation to make a bold move toward marriage equality, as the company is now stocking greeting cards honoring same sex unions.
"Target is focused on diversity and inclusivity," the company's spokeswoman, Molly Snyder, told the Minneapolis Star-Tribune.
The cards, produced by Carlton Cards, include phrases like "Mr. & Mr." and "Two very special women, one very special love."
Politics aside, marketing professor Ashkay Rao tells the Tribune that Target's show of support is "a perfectly logical thing to do." After all, research shows that the country's lesbian, gay, bisexual, and transgender (LGBT) community and its supporters have a purchasing power of $790 billion.  According to the Tribune, corporations are smart to support to the LGBT community, because their target purchasers also support it:
"Surveys show that the groups most coveted by many retailers -- particularly the young and the educated -- tend to be accepting of gay people."
Target is also making up for their 2010 blunder, which involved making a $150,000 donation to a group that backed a Republican candidate opposing gay marriage. Back in 2010, Target said it donated to the group because of its platform on jobs and taxes, but that didn't stop the company from being in the anti-gay spotlight.
"Target is not anti-gay," Michael Francis, Target's executive vice president and chief marketing officer, told The Los Angeles Times. "It's important to set the record straight and provide some context."
Not only are they not anti-gay; this latest move shows that Target is, in fact, gay-friendly. There's a big difference between apathy and support. But the applause shouldn't necessarily be for Target. They're simply a business pandering to the most marketable demographic. Let's face it—if the move were damaging to the company's earnings, it wouldn't likely have been made. Still, the LGBT community and its supporters have something to celebrate with this news. As one commenter articulated:
"It's awesome that public opinion has reached the point where supporting gay rights and gay couples is seen as the financially smart thing to do."
Target may simply be a vehicle for cultural evolution, but the good news is, we're evolving. It's a gradual change, but it's beginning to be evident through our social systems. And while some still consider companies' LGBT support to be controversial, perhaps one day soon, we'll feel silly for even discussing the matter of a same-sex greeting card.
Photo: Queerstock, Inc./Alamy
More on love & sex from MSN Living:
25 Secrets Men Keep From Women
25 Secrets Women Keep From Men
The DOs and DON'Ts of Dating More Than One Guy at a Time
Are you sure you want to delete this comment?
love: friendships, dating, sex & marriage
Here's why dudes without hair make the best boyfriends.

What do you wish you appreciated more when you were flying solo?

"If you're so busy tweeting and Instagraming, you're not paying attention," New York wedding planner Marcy Blum said. "It's almost a cosmic faux pas. People want your energy with them and focused on what they're doing."

The wedding favor, that little thank-you-for-coming gift, has risen to new heights with the bride and groom giving guests a wide range of favors that are meaningful to them.

Generations ago, planning a wedding was 100 percent the bride's job, but in today's age of gender equity, it's a mere 99 percent.

For all the self-help books and advice columns out there (um, keeping reading my advice anyway, please!), there's one tool we all already have in our arsenal for picking a partner that will keep us happy: our gut instincts.

According to a new study from the University of Texas and the University of California, Los Angeles, both men and women have regrets when it comes to sex, but the genders vary greatly when it comes to what they regret specifically.

Spending time alone with your guy is easy, but going public with your plus-one is another thing entirely. Whether it's your crazy relatives at Thanksgiving dinner or awkward convos with your boss at the holiday party, possible pitfalls are everywhere. Keep reading for tips on how to make his grand entrance into your social life a good thing.

Match.com survey reveals the day you're least likely to get spruced up for a date.

Drinking and relationships seem to go hand in hand in a lot of ways. But only in moderation!

Many men will tell you that they have no clue what their wives are thinking.

Spending the holidays with your guy's family for the first time is a huge relationship milestone. But between your nerves, the usual family tension, and your weird Uncle Sal's inappropriate stories, it's also a prime opportunity for total disaster. Read on for 10 of our readers' most embarrassing meet-the-parents moments.