Target Stocks Greeting Cards For Same-Sex Couples
One small step for man, one big leap toward equality.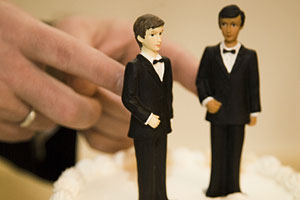 As our nation gradually moves toward supporting gay marriage, capitalism appears to be following suit. Bigotry is bad for business, and in fact, same sex-marriage has become marketable.
Target is the latest corporation to make a bold move toward marriage equality, as the company is now stocking greeting cards honoring same sex unions.
"Target is focused on diversity and inclusivity," the company's spokeswoman, Molly Snyder, told the Minneapolis Star-Tribune.
The cards, produced by Carlton Cards, include phrases like "Mr. & Mr." and "Two very special women, one very special love."
Politics aside, marketing professor Ashkay Rao tells the Tribune that Target's show of support is "a perfectly logical thing to do." After all, research shows that the country's lesbian, gay, bisexual, and transgender (LGBT) community and its supporters have a purchasing power of $790 billion.  According to the Tribune, corporations are smart to support to the LGBT community, because their target purchasers also support it:
"Surveys show that the groups most coveted by many retailers -- particularly the young and the educated -- tend to be accepting of gay people."
Target is also making up for their 2010 blunder, which involved making a $150,000 donation to a group that backed a Republican candidate opposing gay marriage. Back in 2010, Target said it donated to the group because of its platform on jobs and taxes, but that didn't stop the company from being in the anti-gay spotlight.
"Target is not anti-gay," Michael Francis, Target's executive vice president and chief marketing officer, told The Los Angeles Times. "It's important to set the record straight and provide some context."
Not only are they not anti-gay; this latest move shows that Target is, in fact, gay-friendly. There's a big difference between apathy and support. But the applause shouldn't necessarily be for Target. They're simply a business pandering to the most marketable demographic. Let's face it—if the move were damaging to the company's earnings, it wouldn't likely have been made. Still, the LGBT community and its supporters have something to celebrate with this news. As one commenter articulated:
"It's awesome that public opinion has reached the point where supporting gay rights and gay couples is seen as the financially smart thing to do."
Target may simply be a vehicle for cultural evolution, but the good news is, we're evolving. It's a gradual change, but it's beginning to be evident through our social systems. And while some still consider companies' LGBT support to be controversial, perhaps one day soon, we'll feel silly for even discussing the matter of a same-sex greeting card.
Photo: Queerstock, Inc./Alamy
More on love & sex from MSN Living:
25 Secrets Men Keep From Women
25 Secrets Women Keep From Men
The DOs and DON'Ts of Dating More Than One Guy at a Time
Are you sure you want to delete this comment?
love: friendships, dating, sex & marriage
This just in: Guys over 5'10" are twice as likely to stray.

Or how to tell if you've reached THAT point in your bond.

Dating doesn't have to be a daunting task, promise. Here's how to make it fun for you and him.

This just in: A new study shows girls are warriors in the womb.

You can make a pros and cons list...but ultimately you know what works best for you.

Maggie Reyes is a life coach, writer, and the founder of ModernMarried.com. She helps newlyweds re-think what married life can be. Here, she's revealing tricks every newlywed couple needs to know.

Government-supported Vietnamese classes teach women Korean language, customs.

Whether you're into creative artists or uber-preppy bankers, there's something to be said for trying something new.

Sometimes two characters on a TV show or movie can portray being a happy couple effortlessly, or can have lots of fun playing former spouses — especially if they're married to each other in real life! Keep scrolling for six celebrity costars you probably didn't know tied the knot, even after the bloodiest and craziest story lines.

Some couples want nothing more than a laid-back, by-the-book proposal. Then there are the other couples, where the proposal not only needs to be personalized, it also has to be unique and entirely different than the typical restaurant, bended-knee idea. Sound like you? Then get inspired by some of the most creative proposal ideas we've ever seen. If you find something you like, steal it and then modify it to make your proposal something totally unforgettable.

From Nantucket all the way to Cayo Espanto, we've rounded up some of the prettiest beaches to travel to for your honeymoon.

Researchers studied the age-old stereotype that women really are more talkative than men.