Eyes Reveal Sexual Orientation, Study Finds
Researchers say gay, straight or bisexual—the pupils reveal all.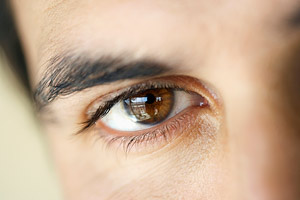 The herbaceous (and highly toxic) plant atropa belladonna partly gets its name from the Italian expression "bella donna," meaning "beautiful woman." Women in 16th century Italy would use drops from the plant to dilate their eyes, believing this made them appear more seductive.  And these ladies were on to something—studies have found that people indeed tend to be more attracted to dilated pupils.
Perhaps that's because pupil size is also an indicator of arousal. Researchers from Cornell University have recently concluded a study that found pupil dilation can accurately indicate sexual orientation.
Ritch Savin-Williams, a developmental psychologist at Cornell, along with Gerulf Rieger, a researcher at Cornell, performed the study on 165 men and 160 women, and participants varied in sexual orientation—they were gay, straight or bisexual. The subjects were shown separate one-minute videos of a sexual nature or neutral landscape scenes. The subjects' pupil size was measured as they watched the videos.

"The pupil reacts very quickly, and it is unconscious, so it's a method that gives us a subconscious indicator of sexuality," Rieger explained.
As a camera recorded the participants' pupils, the subjects also measured their own feelings of arousal with each video. The results were pretty simple:
"So if a man says he's straight, his eyes are dilating towards women," Savin-Williams told LiveScience. "And the opposite with gay men, their eyes are dilating to men."
But here's where the results varied: straight women's eyes dilated equally in response to erotic images of women as it did to men. Researchers explained that women's subjective arousal may not match their body's arousal. This finding mirrored results from other studies, and researcher Sandra Witelson of the Michael G. DeGroote School of Medicine explained:
"The female brain is not as differentiated. They don't have as strong a response for only men, as heterosexual men have for only women."
Overall, Savin-Williams told LiveScience that the study's methods could be used to perform cross-cultural studies on sexuality. Additionally, he believes the findings could also be used to help individuals who are confused about their sexuality.
Photo : Fuse/Getty Images
More Love & Sex from MSN Living:
Secrets of Happy Couples
9 Little Gestures He Wishes You'd Do
9 Things He's Thinking About the Wedding
Are you sure you want to delete this comment?
love: friendships, dating, sex & marriage
While we do love crazy, funny and over-the-top engagements, sometimes there's just nothing like a proposal with a heartfelt story behind it (warning: you might need some tissues). We've rounded up some of the most romantic wedding proposals from couples across the country, so keep scrolling for seven of our favorites:

As much as you'd like to think your guests will love every single aspect of your wedding, the truth is you really can't please everyone. However, you can try to avoid ticking them off. Here's how.

You'd think brides and grooms who celebrate their nuptials with 50 guests have an equal shot at wedded bliss as those who invite 500, but apparently not.

Because some things are just better with a buddy (whom you happen to be dating).

They're smart, funny, and adorable, but are you a good match?

Fight the urge to sign her up for OkCupid and read this instead.

We know you have good intentions, but...please...stop.

You can't say we didn't warn you. Every month is Movember when you're dating a guy with a beard. And while the scruffy look can be hot, there are some very real, err, challenges that come with the territory. Don't believe us? Well…

Follow these steps to slash your wedding budget—not your fun—in half.

It won't all be cake and flowers, but it can be the best year of your life together so far.

Expert tips on moving past those oh-so-familiar arguments.