Eyes Reveal Sexual Orientation, Study Finds
Researchers say gay, straight or bisexual—the pupils reveal all.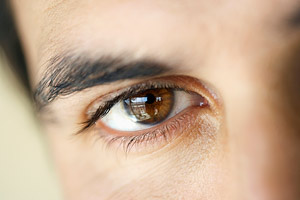 The herbaceous (and highly toxic) plant atropa belladonna partly gets its name from the Italian expression "bella donna," meaning "beautiful woman." Women in 16th century Italy would use drops from the plant to dilate their eyes, believing this made them appear more seductive.  And these ladies were on to something—studies have found that people indeed tend to be more attracted to dilated pupils.
Perhaps that's because pupil size is also an indicator of arousal. Researchers from Cornell University have recently concluded a study that found pupil dilation can accurately indicate sexual orientation.
Ritch Savin-Williams, a developmental psychologist at Cornell, along with Gerulf Rieger, a researcher at Cornell, performed the study on 165 men and 160 women, and participants varied in sexual orientation—they were gay, straight or bisexual. The subjects were shown separate one-minute videos of a sexual nature or neutral landscape scenes. The subjects' pupil size was measured as they watched the videos.

"The pupil reacts very quickly, and it is unconscious, so it's a method that gives us a subconscious indicator of sexuality," Rieger explained.
As a camera recorded the participants' pupils, the subjects also measured their own feelings of arousal with each video. The results were pretty simple:
"So if a man says he's straight, his eyes are dilating towards women," Savin-Williams told LiveScience. "And the opposite with gay men, their eyes are dilating to men."
But here's where the results varied: straight women's eyes dilated equally in response to erotic images of women as it did to men. Researchers explained that women's subjective arousal may not match their body's arousal. This finding mirrored results from other studies, and researcher Sandra Witelson of the Michael G. DeGroote School of Medicine explained:
"The female brain is not as differentiated. They don't have as strong a response for only men, as heterosexual men have for only women."
Overall, Savin-Williams told LiveScience that the study's methods could be used to perform cross-cultural studies on sexuality. Additionally, he believes the findings could also be used to help individuals who are confused about their sexuality.
Photo : Fuse/Getty Images
More Love & Sex from MSN Living:
Secrets of Happy Couples
9 Little Gestures He Wishes You'd Do
9 Things He's Thinking About the Wedding
Are you sure you want to delete this comment?
love: friendships, dating, sex & marriage
How to flag her little fibs. By Laura Tedesco

A new study on attraction may help explain why fashions change.

As a general rule, any island that offers great weather year-round is going to attract the most visitors in the winter (high season) when we're all trying to escape the snow. Once summer rolls around, many islands see a sharp drop-off in tourism since many people have beach weather right in their own backyards.

And how you can attack the issues together.

A wedding is an exceptionally special day. Sometimes, an opportune photo flub makes the occasion even more memorable. Here are 25 awesome wedding photo bombs.

Somewhere between the first few butterfly-inducing dates and the committed-for-life stage, there's the period of wondering if you're both on the same page about how serious you feel about a future together. If you're not quite at the point of "that talk" but you're looking for a few clues you're heading in that direction, here are some signs he's in it for the long haul as your relationship progresses.

What's that sound? It's white noise blocking out the well-meaning person proclaiming groundbreaking news about where you can meet someone, asking why you're still single, or bugging you about when you're getting married already. Don't be that person. Here are 15 annoying things all single people don't want to hear.

With just a few days left before the big day, you already have a mile-long checklist of to-dos—now meet the don'ts! From impromptu skin treatments to all-night movie marathons, here are 11 things to avoid at all costs.

A new study shows that watching and discussing romantic films can drastically reduce your chance of divorce. These flicks more than fit the bill.

These seemingly innocent phrases still have the power to wound… big time.

Making "I do" last forever is one of the biggest challenges you'll ever face—and it's normal to worry about how you'll do it. But, if your connection involves any of these things, rest assured that you're in it for the long run.

Ultimately, as hard as it may seem at the beginning, a marital affair can be a turning point.