Eyes Reveal Sexual Orientation, Study Finds
Researchers say gay, straight or bisexual—the pupils reveal all.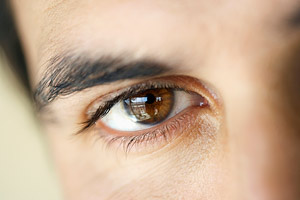 The herbaceous (and highly toxic) plant atropa belladonna partly gets its name from the Italian expression "bella donna," meaning "beautiful woman." Women in 16th century Italy would use drops from the plant to dilate their eyes, believing this made them appear more seductive.  And these ladies were on to something—studies have found that people indeed tend to be more attracted to dilated pupils.
Perhaps that's because pupil size is also an indicator of arousal. Researchers from Cornell University have recently concluded a study that found pupil dilation can accurately indicate sexual orientation.
Ritch Savin-Williams, a developmental psychologist at Cornell, along with Gerulf Rieger, a researcher at Cornell, performed the study on 165 men and 160 women, and participants varied in sexual orientation—they were gay, straight or bisexual. The subjects were shown separate one-minute videos of a sexual nature or neutral landscape scenes. The subjects' pupil size was measured as they watched the videos.

"The pupil reacts very quickly, and it is unconscious, so it's a method that gives us a subconscious indicator of sexuality," Rieger explained.
As a camera recorded the participants' pupils, the subjects also measured their own feelings of arousal with each video. The results were pretty simple:
"So if a man says he's straight, his eyes are dilating towards women," Savin-Williams told LiveScience. "And the opposite with gay men, their eyes are dilating to men."
But here's where the results varied: straight women's eyes dilated equally in response to erotic images of women as it did to men. Researchers explained that women's subjective arousal may not match their body's arousal. This finding mirrored results from other studies, and researcher Sandra Witelson of the Michael G. DeGroote School of Medicine explained:
"The female brain is not as differentiated. They don't have as strong a response for only men, as heterosexual men have for only women."
Overall, Savin-Williams told LiveScience that the study's methods could be used to perform cross-cultural studies on sexuality. Additionally, he believes the findings could also be used to help individuals who are confused about their sexuality.
Photo : Fuse/Getty Images
More Love & Sex from MSN Living:
Secrets of Happy Couples
9 Little Gestures He Wishes You'd Do
9 Things He's Thinking About the Wedding
Are you sure you want to delete this comment?
love: friendships, dating, sex & marriage
After your return from your honeymoon, your marriage officially starts and with that come some changes. It's not to say that the honeymoon phase is over, but you'll have to get some things situated in order to have your marriage start off on the right foot. We tapped the expert advice of wedding planner and reality TV star David Tutera and love and career coach Charreah Jackson to dish on six things you must do to have a successful first month of marriage — from wedding-related logistics to wrap up to relationship rules to set.

Owner of Weddings in Vieques, a destination-wedding planning company off the coast of Puerto Rico, Sandy Malone has helped countless couples plan their big day since 2007. Here, the veteran planner is sharing some expert advice for free: She's sharing the top eight things you have to do right after you get engaged.

Is the idea of a big bridal bash just not your thing? Or perhaps you and your fiancé are just the super spontaneous type, so why not make your next beach vacation your nuptials as well? If you're thinking of eloping but have questions on the mind, we're here to help. We tapped elopement and wedding planner Lindsey Nickel, founder of Events, Etc., for her top dos and don'ts for getting hitched on the sly.

Easy everyday ways to keep the love alive.

Expert tips on moving past those oh-so-familiar arguments.

Sometimes you have to do things you don't want to do, like hang out with his lame friends. You're not always in the mood to nurse a beer silently while he and his boys argue about who's going to die next on "Game of Thrones" — but tomorrow he's sitting through a seven-girl brunch. So.

Why holding on to your partner's mistakes will end up hurting you.

A little extra effort, will power and research can help your marriage bloom well into old age.

These are the conversations all betrothed couples should take the time to have before they get hitched.

Brace yourself, this is uncomfortable.

There's nothing wrong with grabbing Italian food and alternating between watching action films and romantic comedies, but shaking up your going-out routine with an extreme date night can be the ultimate turn on and the best way to keep your relationship exciting.

This just in: Guys over 5'10" are twice as likely to stray.