Eyes Reveal Sexual Orientation, Study Finds
Researchers say gay, straight or bisexual—the pupils reveal all.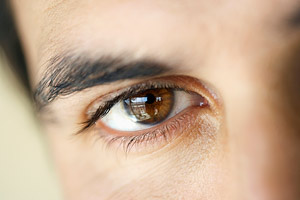 The herbaceous (and highly toxic) plant atropa belladonna partly gets its name from the Italian expression "bella donna," meaning "beautiful woman." Women in 16th century Italy would use drops from the plant to dilate their eyes, believing this made them appear more seductive.  And these ladies were on to something—studies have found that people indeed tend to be more attracted to dilated pupils.
Perhaps that's because pupil size is also an indicator of arousal. Researchers from Cornell University have recently concluded a study that found pupil dilation can accurately indicate sexual orientation.
Ritch Savin-Williams, a developmental psychologist at Cornell, along with Gerulf Rieger, a researcher at Cornell, performed the study on 165 men and 160 women, and participants varied in sexual orientation—they were gay, straight or bisexual. The subjects were shown separate one-minute videos of a sexual nature or neutral landscape scenes. The subjects' pupil size was measured as they watched the videos.

"The pupil reacts very quickly, and it is unconscious, so it's a method that gives us a subconscious indicator of sexuality," Rieger explained.
As a camera recorded the participants' pupils, the subjects also measured their own feelings of arousal with each video. The results were pretty simple:
"So if a man says he's straight, his eyes are dilating towards women," Savin-Williams told LiveScience. "And the opposite with gay men, their eyes are dilating to men."
But here's where the results varied: straight women's eyes dilated equally in response to erotic images of women as it did to men. Researchers explained that women's subjective arousal may not match their body's arousal. This finding mirrored results from other studies, and researcher Sandra Witelson of the Michael G. DeGroote School of Medicine explained:
"The female brain is not as differentiated. They don't have as strong a response for only men, as heterosexual men have for only women."
Overall, Savin-Williams told LiveScience that the study's methods could be used to perform cross-cultural studies on sexuality. Additionally, he believes the findings could also be used to help individuals who are confused about their sexuality.
Photo : Fuse/Getty Images
More Love & Sex from MSN Living:
Secrets of Happy Couples
9 Little Gestures He Wishes You'd Do
9 Things He's Thinking About the Wedding
Are you sure you want to delete this comment?
love: friendships, dating, sex & marriage
The typical wedding: A white dress, tiered cake, floral centerpieces and a cute flower girl -- you know the drill. Every once in a while, though, a couple trades in tradition for a quirky, never-seen-that-before idea. Here are a few of the most out-there wedding photos that made us do a double take.

There's a lot to love about weddings this fall, like cocktails served in copper Moscow mule mugs, industrial-inspired lighting and pheasant feather details. See what's new!

Do you have to be engaged to sport a ring with bling?

124.6 million haven't gotten hitched.

Even though the national average wedding is $29,858, that's just an average. If you live in a smaller state like Idaho where the average wedding costs $16,159, you may find yourself saving a little more than half of the national spend! Check out some of the other least expensive cities to get married in below:

Summer is winding down, but the ubiquitous summer romance lives on.

For those times when nothing big and horrible happened--but nothing is feeling right either.

He's confident, distinguished and anywhere from 4 to 20 years older than you. Age is just a number, but there's something about older men that we love. Here are eight reasons why being in a relationship with an older man is tops.

While a younger man may have less life experience, that doesn't mean he's not emotionally mature. Here are the eight reasons why being in a relationship with a younger man is tops.

Have you ever wondered what the 'other woman' was thinking?

So fall is coming and you need some romantic inspiration now that long walks on the beach are out of the question. Well look no further! From apple picking to pumpkin carving, these are some great fall date ideas from girls just like you!

Getting bored of the same dinner and movie date night? Take an adorable cue from your favorite celebs and try something new! From dancing to boxing you can't go wrong with these awesome date ideas.