Breakup season: 2 weeks before Christmas
'Tis the season…to split?
Well bah, humbug.
We can't imagine a harder time of year to handle a split, but there are peak seasons for breakups, and, unfortunately, the highest falls around the holidays.
Specifically, many couples split two weeks before Christmas. On the bright side, many new relationships are established around the holidays, too.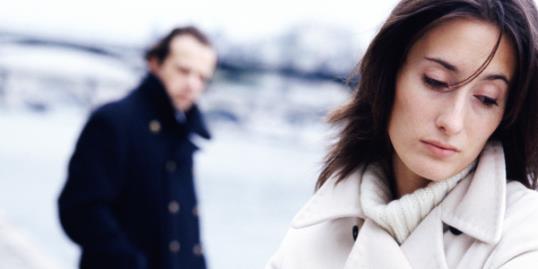 More on MSN Living: 10 foolproof ways to get in the mood
The folks at We Love Dates put together a handy infographic, focusing on "The Anatomy of a Digital Relationship." Based on data from Facebook, their graph shows that March and December are the most split-worthy months. Conversely, break-ups take a vacation in August and September.
A spokesperson for the site told MSN's The Heart Beat:
"We are all busier than ever during the month of December, and with a calendar full of family gatherings, work events and friend's parties, is it possible our relationships get put on the back burner with dire consequences?"
More on MSN Living: The real reasons men shut down
The site also surmises that the impending New Year prompts people to think about their goals:
"We decide what things we'd like to bring with us into the new year, and what things and people are better left in the past. It's the perfect time to establish a clean slate in regards to our love lives."
Handling a holiday breakup? Here are a few tips for coping with yuletide heartache:
Surround yourself with friends and family: Reconnect with those you might have spent less time with while you were in a relationship. At holiday events, focus on the people who love and support you. It will help push you through this tough time.
Start new holiday traditions: And keep the old ones. It's important to keep your traditions intact, but come up with some new ones, too. Instead of dwelling on the past, you'll be making a fresh start.
Volunteer: Nothing will take your mind off of your own troubles like helping others. Sort toys for a shelter, work at a soup kitchen—not only will volunteering give you a sense of satisfaction, you'll be helping those who need it most.
For more statistics, check out this infographic from
We Love Dates
on "The Anatomy of a Digital Relationship:"

Photo: Ghislain & Marie David de Lossy/Getty Images
More Sex & Love on MSN Living:
How to pick a wedding band that works with your engagement ring
Wedding welcome basket shopping list
7 stories of lost wedding rings with happy endings 
Most common holiday arguments—and how to avoid them
love: friendships, dating, sex & marriage
No sense in wasting your time on someone who will never commit.

There he is, the man of your dreams. He's sitting across from you at the coffee shop or standing at the opposite side of the bar. His eyes meet yours, a quick glance, and then it's back to his drink. Was he giving you a signal?

Remember that time on "30 Rock" when Liz Lemon and her eventual-husband Criss went shopping at Ikea, only to end up in a major fight? We know it couldn't be closer to the truth because we've all been there. In honor of the irritation that can be Ikea, here are the top fights you'll likely encounter.

Love it or hate it, the selfie wields much power.

Dating doesn't have to be a daunting task, promise. Here's how to make it fun for you and him.

One woman's honest journey to divorce will break your heart and inspire you at the same time.

Want to send your date running? Try one these moves.

Two guests arrested in New Jersey.

Celebrities certainly know how to travel in style, so if you're struggling to select a honeymoon destination, look no further than these star-approved hotspots. To make it even easier, we're providing you with hotel recommendations, packing essentials, and tips on what to do and see! So channel your inner celeb at one of these U.S. destinations for an unforgettable vacation!

Tall Twitter users named Wayne, we're on to you!

Should little girls be dreaming of a different kind of "I do"?

Need a reason to pack your bags and get the hell out of here?