Breakup season: 2 weeks before Christmas
'Tis the season…to split?
Well bah, humbug.
We can't imagine a harder time of year to handle a split, but there are peak seasons for breakups, and, unfortunately, the highest falls around the holidays.
Specifically, many couples split two weeks before Christmas. On the bright side, many new relationships are established around the holidays, too.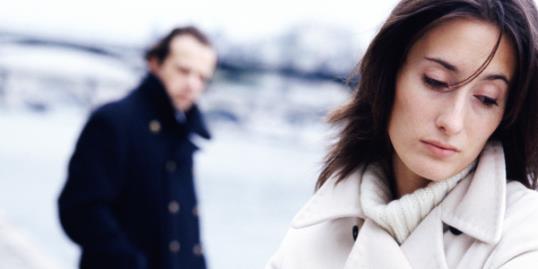 More on MSN Living: 10 foolproof ways to get in the mood
The folks at We Love Dates put together a handy infographic, focusing on "The Anatomy of a Digital Relationship." Based on data from Facebook, their graph shows that March and December are the most split-worthy months. Conversely, break-ups take a vacation in August and September.
A spokesperson for the site told MSN's The Heart Beat:
"We are all busier than ever during the month of December, and with a calendar full of family gatherings, work events and friend's parties, is it possible our relationships get put on the back burner with dire consequences?"
More on MSN Living: The real reasons men shut down
The site also surmises that the impending New Year prompts people to think about their goals:
"We decide what things we'd like to bring with us into the new year, and what things and people are better left in the past. It's the perfect time to establish a clean slate in regards to our love lives."
Handling a holiday breakup? Here are a few tips for coping with yuletide heartache:
Surround yourself with friends and family: Reconnect with those you might have spent less time with while you were in a relationship. At holiday events, focus on the people who love and support you. It will help push you through this tough time.
Start new holiday traditions: And keep the old ones. It's important to keep your traditions intact, but come up with some new ones, too. Instead of dwelling on the past, you'll be making a fresh start.
Volunteer: Nothing will take your mind off of your own troubles like helping others. Sort toys for a shelter, work at a soup kitchen—not only will volunteering give you a sense of satisfaction, you'll be helping those who need it most.
For more statistics, check out this infographic from
We Love Dates
on "The Anatomy of a Digital Relationship:"

Photo: Ghislain & Marie David de Lossy/Getty Images
More Sex & Love on MSN Living:
How to pick a wedding band that works with your engagement ring
Wedding welcome basket shopping list
7 stories of lost wedding rings with happy endings 
Most common holiday arguments—and how to avoid them
love: friendships, dating, sex & marriage
The typical wedding: A white dress, tiered cake, floral centerpieces and a cute flower girl -- you know the drill. Every once in a while, though, a couple trades in tradition for a quirky, never-seen-that-before idea. Here are a few of the most out-there wedding photos that made us do a double take.

There's a lot to love about weddings this fall, like cocktails served in copper Moscow mule mugs, industrial-inspired lighting and pheasant feather details. See what's new!

Do you have to be engaged to sport a ring with bling?

124.6 million haven't gotten hitched.

Even though the national average wedding is $29,858, that's just an average. If you live in a smaller state like Idaho where the average wedding costs $16,159, you may find yourself saving a little more than half of the national spend! Check out some of the other least expensive cities to get married in below:

Summer is winding down, but the ubiquitous summer romance lives on.

For those times when nothing big and horrible happened--but nothing is feeling right either.

He's confident, distinguished and anywhere from 4 to 20 years older than you. Age is just a number, but there's something about older men that we love. Here are eight reasons why being in a relationship with an older man is tops.

While a younger man may have less life experience, that doesn't mean he's not emotionally mature. Here are the eight reasons why being in a relationship with a younger man is tops.

Have you ever wondered what the 'other woman' was thinking?

So fall is coming and you need some romantic inspiration now that long walks on the beach are out of the question. Well look no further! From apple picking to pumpkin carving, these are some great fall date ideas from girls just like you!

Getting bored of the same dinner and movie date night? Take an adorable cue from your favorite celebs and try something new! From dancing to boxing you can't go wrong with these awesome date ideas.