Breakup season: 2 weeks before Christmas
'Tis the season…to split?
Well bah, humbug.
We can't imagine a harder time of year to handle a split, but there are peak seasons for breakups, and, unfortunately, the highest falls around the holidays.
Specifically, many couples split two weeks before Christmas. On the bright side, many new relationships are established around the holidays, too.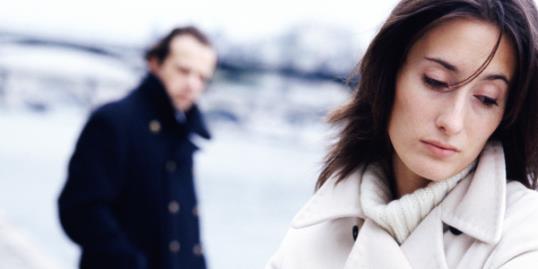 More on MSN Living: 10 foolproof ways to get in the mood
The folks at We Love Dates put together a handy infographic, focusing on "The Anatomy of a Digital Relationship." Based on data from Facebook, their graph shows that March and December are the most split-worthy months. Conversely, break-ups take a vacation in August and September.
A spokesperson for the site told MSN's The Heart Beat:
"We are all busier than ever during the month of December, and with a calendar full of family gatherings, work events and friend's parties, is it possible our relationships get put on the back burner with dire consequences?"
More on MSN Living: The real reasons men shut down
The site also surmises that the impending New Year prompts people to think about their goals:
"We decide what things we'd like to bring with us into the new year, and what things and people are better left in the past. It's the perfect time to establish a clean slate in regards to our love lives."
Handling a holiday breakup? Here are a few tips for coping with yuletide heartache:
Surround yourself with friends and family: Reconnect with those you might have spent less time with while you were in a relationship. At holiday events, focus on the people who love and support you. It will help push you through this tough time.
Start new holiday traditions: And keep the old ones. It's important to keep your traditions intact, but come up with some new ones, too. Instead of dwelling on the past, you'll be making a fresh start.
Volunteer: Nothing will take your mind off of your own troubles like helping others. Sort toys for a shelter, work at a soup kitchen—not only will volunteering give you a sense of satisfaction, you'll be helping those who need it most.
For more statistics, check out this infographic from
We Love Dates
on "The Anatomy of a Digital Relationship:"

Photo: Ghislain & Marie David de Lossy/Getty Images
More Sex & Love on MSN Living:
How to pick a wedding band that works with your engagement ring
Wedding welcome basket shopping list
7 stories of lost wedding rings with happy endings 
Most common holiday arguments—and how to avoid them
love: friendships, dating, sex & marriage
This just in: Guys over 5'10" are twice as likely to stray.

Or how to tell if you've reached THAT point in your bond.

Dating doesn't have to be a daunting task, promise. Here's how to make it fun for you and him.

This just in: A new study shows girls are warriors in the womb.

You can make a pros and cons list...but ultimately you know what works best for you.

Maggie Reyes is a life coach, writer, and the founder of ModernMarried.com. She helps newlyweds re-think what married life can be. Here, she's revealing tricks every newlywed couple needs to know.

Government-supported Vietnamese classes teach women Korean language, customs.

Whether you're into creative artists or uber-preppy bankers, there's something to be said for trying something new.

Sometimes two characters on a TV show or movie can portray being a happy couple effortlessly, or can have lots of fun playing former spouses — especially if they're married to each other in real life! Keep scrolling for six celebrity costars you probably didn't know tied the knot, even after the bloodiest and craziest story lines.

Some couples want nothing more than a laid-back, by-the-book proposal. Then there are the other couples, where the proposal not only needs to be personalized, it also has to be unique and entirely different than the typical restaurant, bended-knee idea. Sound like you? Then get inspired by some of the most creative proposal ideas we've ever seen. If you find something you like, steal it and then modify it to make your proposal something totally unforgettable.

From Nantucket all the way to Cayo Espanto, we've rounded up some of the prettiest beaches to travel to for your honeymoon.

Researchers studied the age-old stereotype that women really are more talkative than men.