Dating Site Lets You Build a Dream Man, Then Find Him
Online dating has never been this customizable.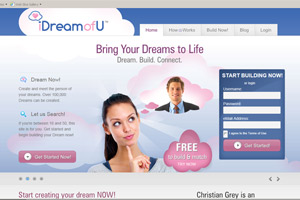 You can customize nearly everything else in life, and now, a new dating site allows you to customize your potential partner, too.
We all have certain physical features we're attracted to, and iDreamofU allows users to build a dream date according to those features. After creating your ideal man or woman, the site then matches you with real members who look similar to the character you've created. Think The Sims meets Match.com.
After registering, users complete basic information about themselves, including what ethnicity they prefer—don't worry, if you don't discriminate, you have the option of creating several avatars.
From there, you choose clothes, facial features and accessories for your dream date. Like long noses? Glasses? Mustaches? There's an array of options available, and once your dream guy or gal looks just right, you submit the photo and iDreamofU's software matches the image with users who look like your creation.
But it's not just about looks, either. The site also asks personality and relationship questions to customize your matches even further. After all, what good is a George Clooney lookalike if he has the personality of The Situation?
Karen Howard, the owner of iDreamofU, had this to say about the brand in a press release:
"IDOU is fun and entertaining in that you can create a person just for the experience or in the hopes of meeting the person you've built. That you can share the person you created with friends through social media is an added bonus."
But it's not just for singles. There's a "build only" option that lets users build the avatar without being matched. So, if you want to just tinker around and maybe recreate your favorite male celebrity, you can do that without making yourself available. The site also seems to have a weird obsession with Fifty Shades of Grey character Christian Grey:
"The [iDreamofU] software allows users to build their version of Christian Grey or anyone else they choose to create," the press release reads.
The homepage also advertises: "Christian Grey is an iDreamofU Away!"
What do you think—is this (mostly) looks-based dating site amusing or absurd?

Tell us on Facebook: Would you take it seriously?
Photo: ©iDreamofU.com
More on love & sex from MSN Living:
24 Secrets of Successful Daters
How to Get Busy When You're Busy
Sweet, Fun and Cheap Date Ideas

Build to high and you won't ever get there! Build yourself, by knowing your good and bad sides first. Except who you are. The things you need to change, should be changed. Be able to except that change. Learn to love and respect yourself. Then find the right man. And vice versa, men should do the same. If you do not know the inside, you sure don't know the outside. She said he said, the eyes, the hair, the walk, the talk, the car, the house etc... does'nt count in these situations. Know yourself and know them, without being 101 questions.
Are you sure you want to delete this comment?
love: friendships, dating, sex & marriage
Forgotten what love is all about? Read this note, and remember.

And a few that aren't so shocking.

If you find yourself doing any of these things, consider changing your behavior or counseling.

From pineapple sculptures made out of sunflowers to bold graphic printed tablecloths, ten trendsetters in the wedding industry shared 100 days' worth of inspiring new wedding details. See The Knot editors' top picks for the coolest and most awe-worthy ideas from the wedding experts.

Those Facebook friends who seem to have perfect lives with flawless mates whom they adore at all times? Even they face tough times like these.

How to flag her little fibs. By Laura Tedesco

A new study on attraction may help explain why fashions change.

As a general rule, any island that offers great weather year-round is going to attract the most visitors in the winter (high season) when we're all trying to escape the snow. Once summer rolls around, many islands see a sharp drop-off in tourism since many people have beach weather right in their own backyards.

And how you can attack the issues together.

A wedding is an exceptionally special day. Sometimes, an opportune photo flub makes the occasion even more memorable. Here are 25 awesome wedding photo bombs.

Somewhere between the first few butterfly-inducing dates and the committed-for-life stage, there's the period of wondering if you're both on the same page about how serious you feel about a future together. If you're not quite at the point of "that talk" but you're looking for a few clues you're heading in that direction, here are some signs he's in it for the long haul as your relationship progresses.

What's that sound? It's white noise blocking out the well-meaning person proclaiming groundbreaking news about where you can meet someone, asking why you're still single, or bugging you about when you're getting married already. Don't be that person. Here are 15 annoying things all single people don't want to hear.