Dating Site Lets You Build a Dream Man, Then Find Him
Online dating has never been this customizable.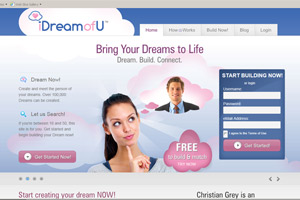 You can customize nearly everything else in life, and now, a new dating site allows you to customize your potential partner, too.
We all have certain physical features we're attracted to, and iDreamofU allows users to build a dream date according to those features. After creating your ideal man or woman, the site then matches you with real members who look similar to the character you've created. Think The Sims meets Match.com.
After registering, users complete basic information about themselves, including what ethnicity they prefer—don't worry, if you don't discriminate, you have the option of creating several avatars.
From there, you choose clothes, facial features and accessories for your dream date. Like long noses? Glasses? Mustaches? There's an array of options available, and once your dream guy or gal looks just right, you submit the photo and iDreamofU's software matches the image with users who look like your creation.
But it's not just about looks, either. The site also asks personality and relationship questions to customize your matches even further. After all, what good is a George Clooney lookalike if he has the personality of The Situation?
Karen Howard, the owner of iDreamofU, had this to say about the brand in a press release:
"IDOU is fun and entertaining in that you can create a person just for the experience or in the hopes of meeting the person you've built. That you can share the person you created with friends through social media is an added bonus."
But it's not just for singles. There's a "build only" option that lets users build the avatar without being matched. So, if you want to just tinker around and maybe recreate your favorite male celebrity, you can do that without making yourself available. The site also seems to have a weird obsession with Fifty Shades of Grey character Christian Grey:
"The [iDreamofU] software allows users to build their version of Christian Grey or anyone else they choose to create," the press release reads.
The homepage also advertises: "Christian Grey is an iDreamofU Away!"
What do you think—is this (mostly) looks-based dating site amusing or absurd?

Tell us on Facebook: Would you take it seriously?
Photo: ©iDreamofU.com
More on love & sex from MSN Living:
24 Secrets of Successful Daters
How to Get Busy When You're Busy
Sweet, Fun and Cheap Date Ideas

Build to high and you won't ever get there! Build yourself, by knowing your good and bad sides first. Except who you are. The things you need to change, should be changed. Be able to except that change. Learn to love and respect yourself. Then find the right man. And vice versa, men should do the same. If you do not know the inside, you sure don't know the outside. She said he said, the eyes, the hair, the walk, the talk, the car, the house etc... does'nt count in these situations. Know yourself and know them, without being 101 questions.
Are you sure you want to delete this comment?
love: friendships, dating, sex & marriage
No sense in wasting your time on someone who will never commit.

There he is, the man of your dreams. He's sitting across from you at the coffee shop or standing at the opposite side of the bar. His eyes meet yours, a quick glance, and then it's back to his drink. Was he giving you a signal?

Remember that time on "30 Rock" when Liz Lemon and her eventual-husband Criss went shopping at Ikea, only to end up in a major fight? We know it couldn't be closer to the truth because we've all been there. In honor of the irritation that can be Ikea, here are the top fights you'll likely encounter.

Love it or hate it, the selfie wields much power.

Dating doesn't have to be a daunting task, promise. Here's how to make it fun for you and him.

One woman's honest journey to divorce will break your heart and inspire you at the same time.

Want to send your date running? Try one these moves.

Two guests arrested in New Jersey.

Celebrities certainly know how to travel in style, so if you're struggling to select a honeymoon destination, look no further than these star-approved hotspots. To make it even easier, we're providing you with hotel recommendations, packing essentials, and tips on what to do and see! So channel your inner celeb at one of these U.S. destinations for an unforgettable vacation!

Tall Twitter users named Wayne, we're on to you!

Should little girls be dreaming of a different kind of "I do"?

Need a reason to pack your bags and get the hell out of here?