Dating Site Lets You Build a Dream Man, Then Find Him
Online dating has never been this customizable.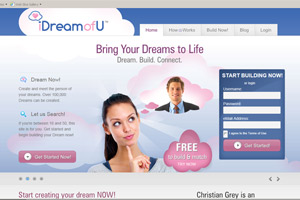 You can customize nearly everything else in life, and now, a new dating site allows you to customize your potential partner, too.
We all have certain physical features we're attracted to, and iDreamofU allows users to build a dream date according to those features. After creating your ideal man or woman, the site then matches you with real members who look similar to the character you've created. Think The Sims meets Match.com.
After registering, users complete basic information about themselves, including what ethnicity they prefer—don't worry, if you don't discriminate, you have the option of creating several avatars.
From there, you choose clothes, facial features and accessories for your dream date. Like long noses? Glasses? Mustaches? There's an array of options available, and once your dream guy or gal looks just right, you submit the photo and iDreamofU's software matches the image with users who look like your creation.
But it's not just about looks, either. The site also asks personality and relationship questions to customize your matches even further. After all, what good is a George Clooney lookalike if he has the personality of The Situation?
Karen Howard, the owner of iDreamofU, had this to say about the brand in a press release:
"IDOU is fun and entertaining in that you can create a person just for the experience or in the hopes of meeting the person you've built. That you can share the person you created with friends through social media is an added bonus."
But it's not just for singles. There's a "build only" option that lets users build the avatar without being matched. So, if you want to just tinker around and maybe recreate your favorite male celebrity, you can do that without making yourself available. The site also seems to have a weird obsession with Fifty Shades of Grey character Christian Grey:
"The [iDreamofU] software allows users to build their version of Christian Grey or anyone else they choose to create," the press release reads.
The homepage also advertises: "Christian Grey is an iDreamofU Away!"
What do you think—is this (mostly) looks-based dating site amusing or absurd?

Tell us on Facebook: Would you take it seriously?
Photo: ©iDreamofU.com
More on love & sex from MSN Living:
24 Secrets of Successful Daters
How to Get Busy When You're Busy
Sweet, Fun and Cheap Date Ideas

Build to high and you won't ever get there! Build yourself, by knowing your good and bad sides first. Except who you are. The things you need to change, should be changed. Be able to except that change. Learn to love and respect yourself. Then find the right man. And vice versa, men should do the same. If you do not know the inside, you sure don't know the outside. She said he said, the eyes, the hair, the walk, the talk, the car, the house etc... does'nt count in these situations. Know yourself and know them, without being 101 questions.
Are you sure you want to delete this comment?
love: friendships, dating, sex & marriage
Here's why dudes without hair make the best boyfriends.

What do you wish you appreciated more when you were flying solo?

"If you're so busy tweeting and Instagraming, you're not paying attention," New York wedding planner Marcy Blum said. "It's almost a cosmic faux pas. People want your energy with them and focused on what they're doing."

The wedding favor, that little thank-you-for-coming gift, has risen to new heights with the bride and groom giving guests a wide range of favors that are meaningful to them.

Generations ago, planning a wedding was 100 percent the bride's job, but in today's age of gender equity, it's a mere 99 percent.

For all the self-help books and advice columns out there (um, keeping reading my advice anyway, please!), there's one tool we all already have in our arsenal for picking a partner that will keep us happy: our gut instincts.

According to a new study from the University of Texas and the University of California, Los Angeles, both men and women have regrets when it comes to sex, but the genders vary greatly when it comes to what they regret specifically.

Spending time alone with your guy is easy, but going public with your plus-one is another thing entirely. Whether it's your crazy relatives at Thanksgiving dinner or awkward convos with your boss at the holiday party, possible pitfalls are everywhere. Keep reading for tips on how to make his grand entrance into your social life a good thing.

Match.com survey reveals the day you're least likely to get spruced up for a date.

Drinking and relationships seem to go hand in hand in a lot of ways. But only in moderation!

Many men will tell you that they have no clue what their wives are thinking.

Spending the holidays with your guy's family for the first time is a huge relationship milestone. But between your nerves, the usual family tension, and your weird Uncle Sal's inappropriate stories, it's also a prime opportunity for total disaster. Read on for 10 of our readers' most embarrassing meet-the-parents moments.