Dating Site Lets You Build a Dream Man, Then Find Him
Online dating has never been this customizable.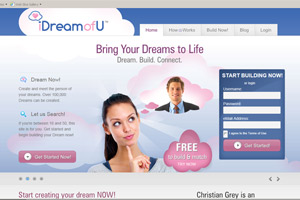 You can customize nearly everything else in life, and now, a new dating site allows you to customize your potential partner, too.
We all have certain physical features we're attracted to, and iDreamofU allows users to build a dream date according to those features. After creating your ideal man or woman, the site then matches you with real members who look similar to the character you've created. Think The Sims meets Match.com.
After registering, users complete basic information about themselves, including what ethnicity they prefer—don't worry, if you don't discriminate, you have the option of creating several avatars.
From there, you choose clothes, facial features and accessories for your dream date. Like long noses? Glasses? Mustaches? There's an array of options available, and once your dream guy or gal looks just right, you submit the photo and iDreamofU's software matches the image with users who look like your creation.
But it's not just about looks, either. The site also asks personality and relationship questions to customize your matches even further. After all, what good is a George Clooney lookalike if he has the personality of The Situation?
Karen Howard, the owner of iDreamofU, had this to say about the brand in a press release:
"IDOU is fun and entertaining in that you can create a person just for the experience or in the hopes of meeting the person you've built. That you can share the person you created with friends through social media is an added bonus."
But it's not just for singles. There's a "build only" option that lets users build the avatar without being matched. So, if you want to just tinker around and maybe recreate your favorite male celebrity, you can do that without making yourself available. The site also seems to have a weird obsession with Fifty Shades of Grey character Christian Grey:
"The [iDreamofU] software allows users to build their version of Christian Grey or anyone else they choose to create," the press release reads.
The homepage also advertises: "Christian Grey is an iDreamofU Away!"
What do you think—is this (mostly) looks-based dating site amusing or absurd?

Tell us on Facebook: Would you take it seriously?
Photo: ©iDreamofU.com
More on love & sex from MSN Living:
24 Secrets of Successful Daters
How to Get Busy When You're Busy
Sweet, Fun and Cheap Date Ideas

Build to high and you won't ever get there! Build yourself, by knowing your good and bad sides first. Except who you are. The things you need to change, should be changed. Be able to except that change. Learn to love and respect yourself. Then find the right man. And vice versa, men should do the same. If you do not know the inside, you sure don't know the outside. She said he said, the eyes, the hair, the walk, the talk, the car, the house etc... does'nt count in these situations. Know yourself and know them, without being 101 questions.
Are you sure you want to delete this comment?
love: friendships, dating, sex & marriage
A little extra effort, will-power and research can help your marriage bloom well into old age.

There's nothing wrong with grabbing Italian food and alternating between watching action films and romantic comedies, but shaking up your going-out routine with an extreme date night can be the ultimate turn on and the best way to keep your relationship exciting.

This just in: Guys over 5'10" are twice as likely to stray.

Or how to tell if you've reached THAT point in your bond.

Dating doesn't have to be a daunting task, promise. Here's how to make it fun for you and him.

This just in: A new study shows girls are warriors in the womb.

You can make a pros and cons list...but ultimately you know what works best for you.

Maggie Reyes is a life coach, writer, and the founder of ModernMarried.com. She helps newlyweds re-think what married life can be. Here, she's revealing tricks every newlywed couple needs to know.

Government-supported Vietnamese classes teach women Korean language, customs.

Whether you're into creative artists or uber-preppy bankers, there's something to be said for trying something new.

Sometimes two characters on a TV show or movie can portray being a happy couple effortlessly, or can have lots of fun playing former spouses — especially if they're married to each other in real life! Keep scrolling for six celebrity costars you probably didn't know tied the knot, even after the bloodiest and craziest story lines.

Some couples want nothing more than a laid-back, by-the-book proposal. Then there are the other couples, where the proposal not only needs to be personalized, it also has to be unique and entirely different than the typical restaurant, bended-knee idea. Sound like you? Then get inspired by some of the most creative proposal ideas we've ever seen. If you find something you like, steal it and then modify it to make your proposal something totally unforgettable.