Happy Proposal Day! Should women pop the question?
The times might be changing, but apparently, some traditions are here to stay.
It's long been tradition for the man to get down on one knee and ask for the woman's hand in marriage. But traditions change, social norms progress, and gender roles evolve. So we can't help but wonder — is it time for women to propose marriage? Isn't it OK for ladies to pop the question?
Surprisingly, most people say no.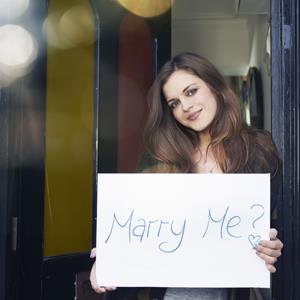 More on MSN Living: GQ's foolproof guide to online dating
The University of California recently conducted a study about gender roles among 277 of its students.  Two-thirds of subjects said the man should "definitely" be the one to propose marriage in a relationship. Only 2.8 percent of women said they would want to do the proposing — and they weren't even completely confident. Those women said they would only "kind of" want to be the one to pop the question.
Not a single man in the survey said they would prefer the woman to propose. And not a single student, male or female, "definitely" wanted the woman to propose.
"Kind of" was as close as it got.
More on MSN Living: Men reveal 7 biggest first date complaints
"No one, not a single person, expressed that type of a preference, which was surprising," researcher Rachael Robnett told LiveScience. She also pointed out that the University is liberal leaning, and the students have flexible views on gender roles.
In this case, tradition wins.
"A really commonly cited [explanation] was a desire to adhere to gender-role traditions, so this is something that is coming through very explicitly, straight from the mouths of our participants," Robnett added.
LiveScience conducted its own informal poll, and we were surprised that only 2.19 percent of readers said the woman should propose marriage. But to be fair, the majority (63 percent) responded: "Either one — it's a free country." Still, 33.92 percent stuck to the tradition that only the man should propose.
Although men and women alike seem to agree on this issue, some refer to this outlook as "benevolent sexism" — what LiveScience describes as, "attitudes that women should be cherished, protected and given special treatment."
A possibly less benevolent argument is that women proposing "castrates men of their last traditional role as the one who wears the pants." As one AskMen.com contributor put it:
"Proposing…is our last vestige of dominance over women. There are more women in college than men, their numbers continue to grow in the workforce and now they want to own us—because that's what marriage is, ownership."
In that case, neither gender popping the question sounds terribly romantic. And don't even get us started on the college and workforce bit.
What do you think — is it out of the question for women to pop the question? Or does this tradition need a gender transformation?
More from The Heart Beat:
In honor of 'Proposal Day': Engagement by the numbers
Bride and groom adopt new last name
Proposal planners help guys pop the question
Love content like this? Friend us on Facebook, follow us on Twitter and find us on Pinterest.
Photo: National Proposal Day / Tara Moore/Getty Images
love: friendships, dating, sex & marriage
This winter, it's all about mixing unexpected seasonal elements with elegant neutral details and a hint of sparkle and sequins. Take a look.

Here's why dudes without hair make the best boyfriends.

What do you wish you appreciated more when you were flying solo?

"If you're so busy tweeting and Instagraming, you're not paying attention," New York wedding planner Marcy Blum said. "It's almost a cosmic faux pas. People want your energy with them and focused on what they're doing."

The wedding favor, that little thank-you-for-coming gift, has risen to new heights with the bride and groom giving guests a wide range of favors that are meaningful to them.

Generations ago, planning a wedding was 100 percent the bride's job, but in today's age of gender equity, it's a mere 99 percent.

For all the self-help books and advice columns out there (um, keeping reading my advice anyway, please!), there's one tool we all already have in our arsenal for picking a partner that will keep us happy: our gut instincts.

According to a new study from the University of Texas and the University of California, Los Angeles, both men and women have regrets when it comes to sex, but the genders vary greatly when it comes to what they regret specifically.

Spending time alone with your guy is easy, but going public with your plus-one is another thing entirely. Whether it's your crazy relatives at Thanksgiving dinner or awkward convos with your boss at the holiday party, possible pitfalls are everywhere. Keep reading for tips on how to make his grand entrance into your social life a good thing.

Match.com survey reveals the day you're least likely to get spruced up for a date.

Drinking and relationships seem to go hand in hand in a lot of ways. But only in moderation!

Many men will tell you that they have no clue what their wives are thinking.