Happy Proposal Day! Should women pop the question?
The times might be changing, but apparently, some traditions are here to stay.
It's long been tradition for the man to get down on one knee and ask for the woman's hand in marriage. But traditions change, social norms progress, and gender roles evolve. So we can't help but wonder — is it time for women to propose marriage? Isn't it OK for ladies to pop the question?
Surprisingly, most people say no.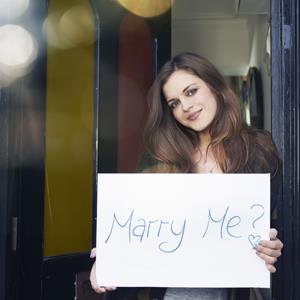 More on MSN Living: GQ's foolproof guide to online dating
The University of California recently conducted a study about gender roles among 277 of its students.  Two-thirds of subjects said the man should "definitely" be the one to propose marriage in a relationship. Only 2.8 percent of women said they would want to do the proposing — and they weren't even completely confident. Those women said they would only "kind of" want to be the one to pop the question.
Not a single man in the survey said they would prefer the woman to propose. And not a single student, male or female, "definitely" wanted the woman to propose.
"Kind of" was as close as it got.
More on MSN Living: Men reveal 7 biggest first date complaints
"No one, not a single person, expressed that type of a preference, which was surprising," researcher Rachael Robnett told LiveScience. She also pointed out that the University is liberal leaning, and the students have flexible views on gender roles.
In this case, tradition wins.
"A really commonly cited [explanation] was a desire to adhere to gender-role traditions, so this is something that is coming through very explicitly, straight from the mouths of our participants," Robnett added.
LiveScience conducted its own informal poll, and we were surprised that only 2.19 percent of readers said the woman should propose marriage. But to be fair, the majority (63 percent) responded: "Either one — it's a free country." Still, 33.92 percent stuck to the tradition that only the man should propose.
Although men and women alike seem to agree on this issue, some refer to this outlook as "benevolent sexism" — what LiveScience describes as, "attitudes that women should be cherished, protected and given special treatment."
A possibly less benevolent argument is that women proposing "castrates men of their last traditional role as the one who wears the pants." As one AskMen.com contributor put it:
"Proposing…is our last vestige of dominance over women. There are more women in college than men, their numbers continue to grow in the workforce and now they want to own us—because that's what marriage is, ownership."
In that case, neither gender popping the question sounds terribly romantic. And don't even get us started on the college and workforce bit.
What do you think — is it out of the question for women to pop the question? Or does this tradition need a gender transformation?
More from The Heart Beat:
In honor of 'Proposal Day': Engagement by the numbers
Bride and groom adopt new last name
Proposal planners help guys pop the question
Love content like this? Friend us on Facebook, follow us on Twitter and find us on Pinterest.
Photo: National Proposal Day / Tara Moore/Getty Images
love: friendships, dating, sex & marriage
Whether you're into creative artists or uber-preppy bankers, there's something to be said for trying something new.

Sometimes two characters on a TV show or movie can portray being a happy couple effortlessly, or can have lots of fun playing former spouses — especially if they're married to each other in real life! Keep scrolling for six celebrity costars you probably didn't know tied the knot, even after the bloodiest and craziest story lines.

Some couples want nothing more than a laid-back, by-the-book proposal. Then there are the other couples, where the proposal not only needs to be personalized, it also has to be unique and entirely different than the typical restaurant, bended-knee idea. Sound like you? Then get inspired by some of the most creative proposal ideas we've ever seen. If you find something you like, steal it and then modify it to make your proposal something totally unforgettable.

From Nantucket all the way to Cayo Espanto, we've rounded up some of the prettiest beaches to travel to for your honeymoon.

Researchers studied the age-old stereotype that women really are more talkative than men.

'There is a science behind attraction,' SingldOut says.

One minute you're happy and in love, the next he's delivering the "It's not you, it's me" speech. Why? We have the scoop on the real reasons most couples split up.

Want to keep your wedding budget in check? Start by checking out this list of the 10 things that could end up costing you a lot more than you anticipated.

The proposal-filled site How He Asked has shared its top 10 most emotional proposal photos with us, so have your tissues handy. We're suckers for a good proposal story, and these ones are truly tear-worthy. Check them out now, and watch your heart grow (at least) three sizes!

How to do weddings: Yet another foreign (and expensive) aspect of adulthood that you have to learn the hard way. But have no fear! Click through for some must-have wedding tips.

As part of the 2014 Brides Best Honeymoon awards, we're counting down the best places for newlyweds to stay in the Mainland U.S. From luxe resorts in the Napa Valley to hotel oases in the Sedona Desert, you're guaranteed a memorable stay no matter which resort you choose.

For him they're NBD, so don't stress.