Happy Proposal Day! Should women pop the question?
The times might be changing, but apparently, some traditions are here to stay.
It's long been tradition for the man to get down on one knee and ask for the woman's hand in marriage. But traditions change, social norms progress, and gender roles evolve. So we can't help but wonder — is it time for women to propose marriage? Isn't it OK for ladies to pop the question?
Surprisingly, most people say no.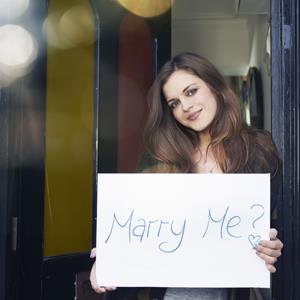 More on MSN Living: GQ's foolproof guide to online dating
The University of California recently conducted a study about gender roles among 277 of its students.  Two-thirds of subjects said the man should "definitely" be the one to propose marriage in a relationship. Only 2.8 percent of women said they would want to do the proposing — and they weren't even completely confident. Those women said they would only "kind of" want to be the one to pop the question.
Not a single man in the survey said they would prefer the woman to propose. And not a single student, male or female, "definitely" wanted the woman to propose.
"Kind of" was as close as it got.
More on MSN Living: Men reveal 7 biggest first date complaints
"No one, not a single person, expressed that type of a preference, which was surprising," researcher Rachael Robnett told LiveScience. She also pointed out that the University is liberal leaning, and the students have flexible views on gender roles.
In this case, tradition wins.
"A really commonly cited [explanation] was a desire to adhere to gender-role traditions, so this is something that is coming through very explicitly, straight from the mouths of our participants," Robnett added.
LiveScience conducted its own informal poll, and we were surprised that only 2.19 percent of readers said the woman should propose marriage. But to be fair, the majority (63 percent) responded: "Either one — it's a free country." Still, 33.92 percent stuck to the tradition that only the man should propose.
Although men and women alike seem to agree on this issue, some refer to this outlook as "benevolent sexism" — what LiveScience describes as, "attitudes that women should be cherished, protected and given special treatment."
A possibly less benevolent argument is that women proposing "castrates men of their last traditional role as the one who wears the pants." As one AskMen.com contributor put it:
"Proposing…is our last vestige of dominance over women. There are more women in college than men, their numbers continue to grow in the workforce and now they want to own us—because that's what marriage is, ownership."
In that case, neither gender popping the question sounds terribly romantic. And don't even get us started on the college and workforce bit.
What do you think — is it out of the question for women to pop the question? Or does this tradition need a gender transformation?
More from The Heart Beat:
In honor of 'Proposal Day': Engagement by the numbers
Bride and groom adopt new last name
Proposal planners help guys pop the question
Love content like this? Friend us on Facebook, follow us on Twitter and find us on Pinterest.
Photo: National Proposal Day / Tara Moore/Getty Images
love: friendships, dating, sex & marriage
Only 2 percent of bridesmaids will actually wear their dresses again (plus more fun facts you didn't know).

When even their president is being caught sneaking around behind his partner's back, it is perhaps unsurprising to find the French topping a poll for infidelity, alongside the equally hot-blooded Italians.

They're not NBD, and they can put a real dent in your marriage.

You probably don't even realize you're doing it. Nix this little habit for a stronger bond.

We're not making this up. Some couples are looking for ways to include marijuana in their wedding day plans – from cannabis reception centerpieces to special brownies at the bridal shower. And while we don't expect it to become as popular as, say, the signature drink at cocktail hour, many of the Colorado and Washington state-based wedding planners and experts we talked to gave us reason to believe that we can expect to see more of it over the next year.

Researchers found that couples who live together for at least four years prior to marriage are more likely to stay together.

The great outdoors provides a glorious backdrop — and a wealth of decorating inspiration — for an unforgettable New Hampshire wedding. For the most impact in an outdoor setting, use intense colors.

Let your guests dine in style! From galvanized buckets to glass hurricanes, these ideas for floral arrangements, candle groupings, and more will put the finishing touches on your big day.

From Sandra Bullock to Britney Spears, find out just how much Hollywood's highest-paid female stars shelled out to their exes.

By Rachel Gillman Photos: Thinkstock

Stereotypes you might have heard about women: We can't make up our minds, we need to discuss all our feelings with our friends for endless amounts of time before making decisions, we're overthinkers. Oh, wait, it turns out that's men!