Happy Proposal Day! Should women pop the question?
The times might be changing, but apparently, some traditions are here to stay.
It's long been tradition for the man to get down on one knee and ask for the woman's hand in marriage. But traditions change, social norms progress, and gender roles evolve. So we can't help but wonder — is it time for women to propose marriage? Isn't it OK for ladies to pop the question?
Surprisingly, most people say no.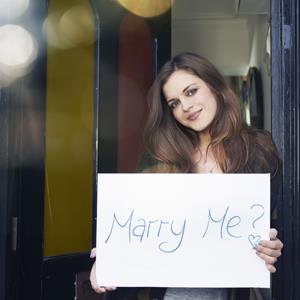 More on MSN Living: GQ's foolproof guide to online dating
The University of California recently conducted a study about gender roles among 277 of its students.  Two-thirds of subjects said the man should "definitely" be the one to propose marriage in a relationship. Only 2.8 percent of women said they would want to do the proposing — and they weren't even completely confident. Those women said they would only "kind of" want to be the one to pop the question.
Not a single man in the survey said they would prefer the woman to propose. And not a single student, male or female, "definitely" wanted the woman to propose.
"Kind of" was as close as it got.
More on MSN Living: Men reveal 7 biggest first date complaints
"No one, not a single person, expressed that type of a preference, which was surprising," researcher Rachael Robnett told LiveScience. She also pointed out that the University is liberal leaning, and the students have flexible views on gender roles.
In this case, tradition wins.
"A really commonly cited [explanation] was a desire to adhere to gender-role traditions, so this is something that is coming through very explicitly, straight from the mouths of our participants," Robnett added.
LiveScience conducted its own informal poll, and we were surprised that only 2.19 percent of readers said the woman should propose marriage. But to be fair, the majority (63 percent) responded: "Either one — it's a free country." Still, 33.92 percent stuck to the tradition that only the man should propose.
Although men and women alike seem to agree on this issue, some refer to this outlook as "benevolent sexism" — what LiveScience describes as, "attitudes that women should be cherished, protected and given special treatment."
A possibly less benevolent argument is that women proposing "castrates men of their last traditional role as the one who wears the pants." As one AskMen.com contributor put it:
"Proposing…is our last vestige of dominance over women. There are more women in college than men, their numbers continue to grow in the workforce and now they want to own us—because that's what marriage is, ownership."
In that case, neither gender popping the question sounds terribly romantic. And don't even get us started on the college and workforce bit.
What do you think — is it out of the question for women to pop the question? Or does this tradition need a gender transformation?
More from The Heart Beat:
In honor of 'Proposal Day': Engagement by the numbers
Bride and groom adopt new last name
Proposal planners help guys pop the question
Love content like this? Friend us on Facebook, follow us on Twitter and find us on Pinterest.
Photo: National Proposal Day / Tara Moore/Getty Images
love: friendships, dating, sex & marriage
A new study on attraction may help explain why fashions change.

As a general rule, any island that offers great weather year-round is going to attract the most visitors in the winter (high season) when we're all trying to escape the snow. Once summer rolls around, many islands see a sharp drop-off in tourism since many people have beach weather right in their own backyards.

And how you can attack the issues together.

A wedding is an exceptionally special day. Sometimes, an opportune photo flub makes the occasion even more memorable. Here are 25 awesome wedding photo bombs.

Somewhere between the first few butterfly-inducing dates and the committed-for-life stage, there's the period of wondering if you're both on the same page about how serious you feel about a future together. If you're not quite at the point of "that talk" but you're looking for a few clues you're heading in that direction, here are some signs he's in it for the long haul as your relationship progresses.

What's that sound? It's white noise blocking out the well-meaning person proclaiming groundbreaking news about where you can meet someone, asking why you're still single, or bugging you about when you're getting married already. Don't be that person. Here are 15 annoying things all single people don't want to hear.

With just a few days left before the big day, you already have a mile-long checklist of to-dos—now meet the don'ts! From impromptu skin treatments to all-night movie marathons, here are 11 things to avoid at all costs.

A new study shows that watching and discussing romantic films can drastically reduce your chance of divorce. These flicks more than fit the bill.

These seemingly innocent phrases still have the power to wound… big time.

Making "I do" last forever is one of the biggest challenges you'll ever face—and it's normal to worry about how you'll do it. But, if your connection involves any of these things, rest assured that you're in it for the long run.

Ultimately, as hard as it may seem at the beginning, a marital affair can be a turning point.

Five months after the Boston Marathon bombing, The Knot reached out to Rebekah Gregory and Pete DiMartino and offered to throw them a dream wedding. They said yes, and on April 4, 2014, the two married at the Biltmore Estate in Asheville, North Carolina. Rebekah and Pete exchanged vows on the tennis lawn amidst the cherry tree blossoms and then celebrated with all of their friends and family at a beautiful reception tent right in front of the estate. All of the details were perfectly executed by a team of talented and generous wedding industry pros, including celebrity wedding planner Marcy Blum. Here, a few highlights from Rebekah and Pete's wedding day.