Man writes book to propose to girlfriend
He wrote a book in her honor, then popped the question at the library.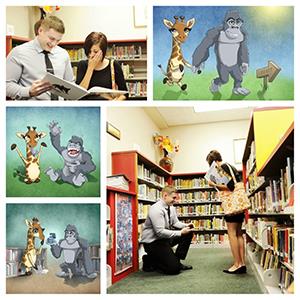 We love a creatively sweet proposal story, and this one certainly fits the bill.
Reddit user Ppaul9 uploaded a photo of his proposal to his girlfriend, which took place in the children's section of a library. 
MSN Living Heart Beat: True love stories: Couple remarries 30 years after divorce

He explained in the photo's caption:
"To propose to my girlfriend, I wrote this book about our relationship, had it illustrated, and printed. I had her stumble across it at the library and read it to me. When she got to the right page I got on my knee and asked if she would marry me. She never saw it coming. What do you think?"
Personally, we think it's brilliant. The book told the story of a gorilla and a giraffe who fell in love and lived together happily. At the end of the story were the words: "My dearest giraffe, Will you marry me?"
MSN Living Heart Beat: Couple meets for the first time after years of dating

With tears in her eyes, she said yes. The Reddit user further explained that his girlfriend is always on the search for children's books for her nieces and nephews, so he convinced her to look in the library, where his story was waiting.
Congrats to the wildly happy couple.
More from The Heart Beat:
Childhood friends wed, re-create adorable photo
Love letter delivered after nearly 70 years
Subscribe to The Heart Beat | Friend us on Facebook, follow us on Twitter and find us on Pinterest.
love: friendships, dating, sex & marriage
The outlandish things we do for love have no limits; just ask these guys. Who's hugged the longest? Kissed the longest? Been on the most expensive date? Take a look below as we count down the world's most loving record-breakers.

If you just got engaged, congrats! This is seriously exciting news that deserves lots of congratulatory hugs, "oohing" and "ahhing" over the ring and plenty of bubbly. To make sure you get the right response from friends, family and coworkers, avoid announcing your engagement like this…

Ladies, give yourself the best gift of all this season: The NYC Taxi Driver 2014 Calendar. By Michelle Toglia

Pheromones may be the key to finding your perfect match.

Her partner? Wine? Downtime? Find out where it all ranks.

This time of year, we dust off our holiday traditions of special songs, stories, events and food to make our season bright. Here's a look into the traditional, unique and quirky holiday traditions of some famous couples.

Look, I looooove engagement season for obvious reasons, but even I can admit I'm like, "Really, AGAIN?" when yet ANOTHER engagement ring pops up in my news feed. Seriously, there were two this weekend. (Congrats, Gemma and Danny!)

We asked real men and women (and a few first-base experts, too) to give us the cardinal rules of kissing, tell us what makes someone a good kisser and more. So whether you're leaning in for kiss No. 1 or 1,000, read on.by Devin Tomb

Not quite sure which diamond shape suits your personality? We're here to help.

Dating can lead to all kinds of tricky situations. To help you navigate even the most awkward moments, we've compiled our 50 best dating tips—some new, some old—given to us by experts, moms, women like you, and even Justin Timberlake.

Customers as Madison's new Snuggle House can snuggle with professional cuddlers for $60 an hour.

Can you believe it was only about 15 years ago that engagement ring shopping meant a time-consuming slog from jewelry boutique to jewelry boutique? Thank goodness for the internet; nowadays, it's easy to do all that legwork online.