'Hookup culture' may be a myth
A new study shows how much sex contemporary college students are actually having. It's less than you think.
Despite popular perception and films like "Spring Breakers," not every college student is having wild no-strings-attached sex.
A new study presented at the American Sociological Association shows that the "hookup culture" storyline might be a myth and that college kids aren't having any more sex than they did in the 1990s, reports The Atlantic Wire.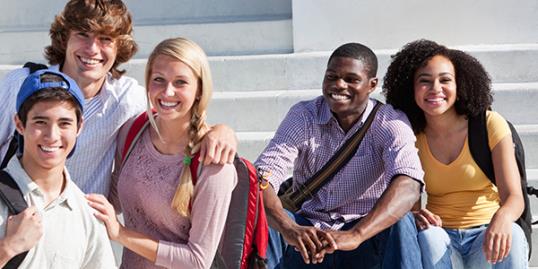 More on MSN Living: Hooking up: Five rules for booty calls
In the study, Martin A. Monto, a professor of sociology at the University of Portland, compared national data on two pools of students who'd completed at least one year of college: the first from 1988 to 1996, the second the 2002 to 2010.
Monto found "no evidence of substantial changes in sexual behavior that would support the proposition that there is a new or pervasive 'hookup culture' among contemporary college students."
More on Technobabble: Survey: Most not looking for casual sex online
So how much sex are contemporary college students having?  Fifty-nine percent say they have sex weekly or more often, and 32 percent say they've had sex with more than one person over the past year.
The biggest difference in modern sexual behavior is that students are more likely to get physical with friends or casual partners — think a "friends with benefits" type scenario, versus long-term companions.
Read the complete story on The Atlantic Wire.
Tell us: What do you think about this study?
Bing: How much sex in a relationship is normal?
More from The Heart Beat: 
Love letter delivered after nearly 70 years
Choose your own ... phone sex adventure?
Coffee shop lets customers pay with a kiss
Subscribe to The Heart Beat | Friend us on Facebook, follow us on Twitter and find us on Pinterest.
Photo: kali9/Getty Images
love: friendships, dating, sex & marriage
The outlandish things we do for love have no limits; just ask these guys. Who's hugged the longest? Kissed the longest? Been on the most expensive date? Take a look below as we count down the world's most loving record-breakers.

If you just got engaged, congrats! This is seriously exciting news that deserves lots of congratulatory hugs, "oohing" and "ahhing" over the ring and plenty of bubbly. To make sure you get the right response from friends, family and coworkers, avoid announcing your engagement like this…

Ladies, give yourself the best gift of all this season: The NYC Taxi Driver 2014 Calendar. By Michelle Toglia

Pheromones may be the key to finding your perfect match.

Her partner? Wine? Downtime? Find out where it all ranks.

This time of year, we dust off our holiday traditions of special songs, stories, events and food to make our season bright. Here's a look into the traditional, unique and quirky holiday traditions of some famous couples.

Look, I looooove engagement season for obvious reasons, but even I can admit I'm like, "Really, AGAIN?" when yet ANOTHER engagement ring pops up in my news feed. Seriously, there were two this weekend. (Congrats, Gemma and Danny!)

We asked real men and women (and a few first-base experts, too) to give us the cardinal rules of kissing, tell us what makes someone a good kisser and more. So whether you're leaning in for kiss No. 1 or 1,000, read on.by Devin Tomb

Not quite sure which diamond shape suits your personality? We're here to help.

Dating can lead to all kinds of tricky situations. To help you navigate even the most awkward moments, we've compiled our 50 best dating tips—some new, some old—given to us by experts, moms, women like you, and even Justin Timberlake.

Customers as Madison's new Snuggle House can snuggle with professional cuddlers for $60 an hour.

Can you believe it was only about 15 years ago that engagement ring shopping meant a time-consuming slog from jewelry boutique to jewelry boutique? Thank goodness for the internet; nowadays, it's easy to do all that legwork online.