'Hookup culture' may be a myth
A new study shows how much sex contemporary college students are actually having. It's less than you think.
Despite popular perception and films like "Spring Breakers," not every college student is having wild no-strings-attached sex.
A new study presented at the American Sociological Association shows that the "hookup culture" storyline might be a myth and that college kids aren't having any more sex than they did in the 1990s, reports The Atlantic Wire.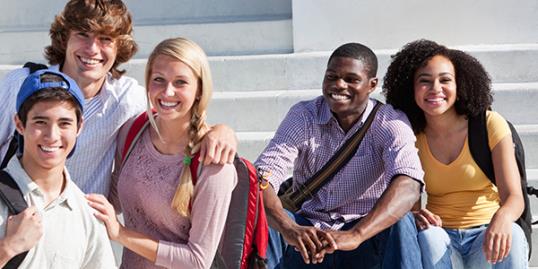 More on MSN Living: Hooking up: Five rules for booty calls
In the study, Martin A. Monto, a professor of sociology at the University of Portland, compared national data on two pools of students who'd completed at least one year of college: the first from 1988 to 1996, the second the 2002 to 2010.
Monto found "no evidence of substantial changes in sexual behavior that would support the proposition that there is a new or pervasive 'hookup culture' among contemporary college students."
More on Technobabble: Survey: Most not looking for casual sex online
So how much sex are contemporary college students having?  Fifty-nine percent say they have sex weekly or more often, and 32 percent say they've had sex with more than one person over the past year.
The biggest difference in modern sexual behavior is that students are more likely to get physical with friends or casual partners — think a "friends with benefits" type scenario, versus long-term companions.
Read the complete story on The Atlantic Wire.
Tell us: What do you think about this study?
Bing: How much sex in a relationship is normal?
More from The Heart Beat: 
Love letter delivered after nearly 70 years
Choose your own ... phone sex adventure?
Coffee shop lets customers pay with a kiss
Subscribe to The Heart Beat | Friend us on Facebook, follow us on Twitter and find us on Pinterest.
Photo: kali9/Getty Images
love: friendships, dating, sex & marriage
While we do love crazy, funny and over-the-top engagements, sometimes there's just nothing like a proposal with a heartfelt story behind it (warning: you might need some tissues). We've rounded up some of the most romantic wedding proposals from couples across the country, so keep scrolling for seven of our favorites:

As much as you'd like to think your guests will love every single aspect of your wedding, the truth is you really can't please everyone. However, you can try to avoid ticking them off. Here's how.

You'd think brides and grooms who celebrate their nuptials with 50 guests have an equal shot at wedded bliss as those who invite 500, but apparently not.

Because some things are just better with a buddy (whom you happen to be dating).

They're smart, funny, and adorable, but are you a good match?

Fight the urge to sign her up for OkCupid and read this instead.

We know you have good intentions, but...please...stop.

You can't say we didn't warn you. Every month is Movember when you're dating a guy with a beard. And while the scruffy look can be hot, there are some very real, err, challenges that come with the territory. Don't believe us? Well…

Follow these steps to slash your wedding budget—not your fun—in half.

It won't all be cake and flowers, but it can be the best year of your life together so far.

Expert tips on moving past those oh-so-familiar arguments.