Couple Finds Lost Wedding Photos After Earthquake
Good news amid the wreckage
Eighteen months after an earthquake destroyed their home, two newlyweds from New Zealand have uncovered some good news.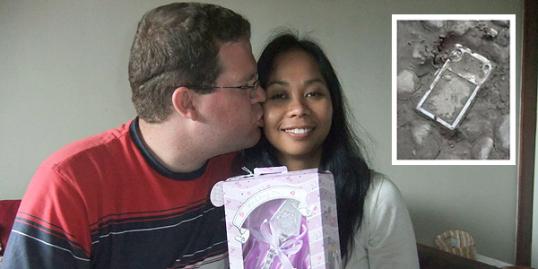 On Feb. 20, 2011, Fen Jeremias and Martin Burley tied the knot. They then left for a honeymoon. Upon their return to their neighborhood of Ferrymead in Christchurch, New Zealand, they found their home damaged by a massive 6.3-magnitude earthquake. In his rush to flee the danger zone, Burley dropped the digital camera which contained pictures of the most important day of their lives.
"We didn't actually notice we lost the camera at the time," Burley said. The last six months of photos were included on the camera, including the couple's wedding and their two-day honeymoon at Governors Bay.
Related: 50 Things Everyone Should Know About Getting Married
Just last week, the couple returned to the remains of their home and began examining the destruction. Then, they noticed something — it seemed to stand out amid the mud and debris. Burley told New Zealand's Stuff:
"You could just see the outline and I thought, 'What is that?' Then I looked closer and it was the camera."
Related: 50 Unique Engagement Rings
While the body of the camera was destroyed, the memory card was salvageable. They plugged the card into his computer, and after a couple of tries, the 2.5 gigabytes of photos opened for them.
Burley believes the recent bad weather likely "churned the driveway up," making the camera visible atop the gravel.
"I really didn't expect to find it there at all. Everyone's pretty amazed."
Photo: Courtesy of Martin Burley
Bing: Get wedding photo ideas.
More Sex & Love on MSN Living:
30 Diamond Engagement Rings So Sparkly You'll Need Sunglasses
5 Signs a Guy Is Toxic
5 Sexy Steps to Get Out of Your Date Rut
love: friendships, dating, sex & marriage
Forgotten what love is all about? Read this note, and remember.

And a few that aren't so shocking.

If you find yourself doing any of these things, consider changing your behavior or counseling.

From pineapple sculptures made out of sunflowers to bold graphic printed tablecloths, ten trendsetters in the wedding industry shared 100 days' worth of inspiring new wedding details. See The Knot editors' top picks for the coolest and most awe-worthy ideas from the wedding experts.

Those Facebook friends who seem to have perfect lives with flawless mates whom they adore at all times? Even they face tough times like these.

How to flag her little fibs. By Laura Tedesco

A new study on attraction may help explain why fashions change.

As a general rule, any island that offers great weather year-round is going to attract the most visitors in the winter (high season) when we're all trying to escape the snow. Once summer rolls around, many islands see a sharp drop-off in tourism since many people have beach weather right in their own backyards.

And how you can attack the issues together.

A wedding is an exceptionally special day. Sometimes, an opportune photo flub makes the occasion even more memorable. Here are 25 awesome wedding photo bombs.

Somewhere between the first few butterfly-inducing dates and the committed-for-life stage, there's the period of wondering if you're both on the same page about how serious you feel about a future together. If you're not quite at the point of "that talk" but you're looking for a few clues you're heading in that direction, here are some signs he's in it for the long haul as your relationship progresses.

What's that sound? It's white noise blocking out the well-meaning person proclaiming groundbreaking news about where you can meet someone, asking why you're still single, or bugging you about when you're getting married already. Don't be that person. Here are 15 annoying things all single people don't want to hear.