Couple Finds Lost Wedding Photos After Earthquake
Good news amid the wreckage
Eighteen months after an earthquake destroyed their home, two newlyweds from New Zealand have uncovered some good news.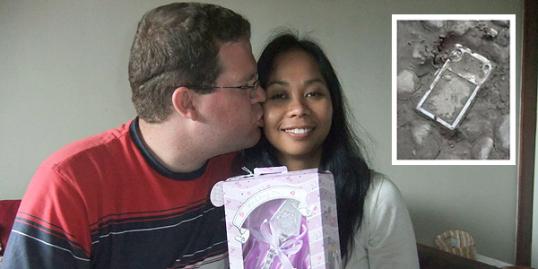 On Feb. 20, 2011, Fen Jeremias and Martin Burley tied the knot. They then left for a honeymoon. Upon their return to their neighborhood of Ferrymead in Christchurch, New Zealand, they found their home damaged by a massive 6.3-magnitude earthquake. In his rush to flee the danger zone, Burley dropped the digital camera which contained pictures of the most important day of their lives.
"We didn't actually notice we lost the camera at the time," Burley said. The last six months of photos were included on the camera, including the couple's wedding and their two-day honeymoon at Governors Bay.
Related: 50 Things Everyone Should Know About Getting Married
Just last week, the couple returned to the remains of their home and began examining the destruction. Then, they noticed something — it seemed to stand out amid the mud and debris. Burley told New Zealand's Stuff:
"You could just see the outline and I thought, 'What is that?' Then I looked closer and it was the camera."
Related: 50 Unique Engagement Rings
While the body of the camera was destroyed, the memory card was salvageable. They plugged the card into his computer, and after a couple of tries, the 2.5 gigabytes of photos opened for them.
Burley believes the recent bad weather likely "churned the driveway up," making the camera visible atop the gravel.
"I really didn't expect to find it there at all. Everyone's pretty amazed."
Photo: Courtesy of Martin Burley
Bing: Get wedding photo ideas.
More Sex & Love on MSN Living:
30 Diamond Engagement Rings So Sparkly You'll Need Sunglasses
5 Signs a Guy Is Toxic
5 Sexy Steps to Get Out of Your Date Rut
love: friendships, dating, sex & marriage
The typical wedding: A white dress, tiered cake, floral centerpieces and a cute flower girl -- you know the drill. Every once in a while, though, a couple trades in tradition for a quirky, never-seen-that-before idea. Here are a few of the most out-there wedding photos that made us do a double take.

There's a lot to love about weddings this fall, like cocktails served in copper Moscow mule mugs, industrial-inspired lighting and pheasant feather details. See what's new!

Do you have to be engaged to sport a ring with bling?

124.6 million haven't gotten hitched.

Even though the national average wedding is $29,858, that's just an average. If you live in a smaller state like Idaho where the average wedding costs $16,159, you may find yourself saving a little more than half of the national spend! Check out some of the other least expensive cities to get married in below:

Summer is winding down, but the ubiquitous summer romance lives on.

For those times when nothing big and horrible happened--but nothing is feeling right either.

He's confident, distinguished and anywhere from 4 to 20 years older than you. Age is just a number, but there's something about older men that we love. Here are eight reasons why being in a relationship with an older man is tops.

While a younger man may have less life experience, that doesn't mean he's not emotionally mature. Here are the eight reasons why being in a relationship with a younger man is tops.

Have you ever wondered what the 'other woman' was thinking?

So fall is coming and you need some romantic inspiration now that long walks on the beach are out of the question. Well look no further! From apple picking to pumpkin carving, these are some great fall date ideas from girls just like you!

Getting bored of the same dinner and movie date night? Take an adorable cue from your favorite celebs and try something new! From dancing to boxing you can't go wrong with these awesome date ideas.