Couple Finds Lost Wedding Photos After Earthquake
Good news amid the wreckage
Eighteen months after an earthquake destroyed their home, two newlyweds from New Zealand have uncovered some good news.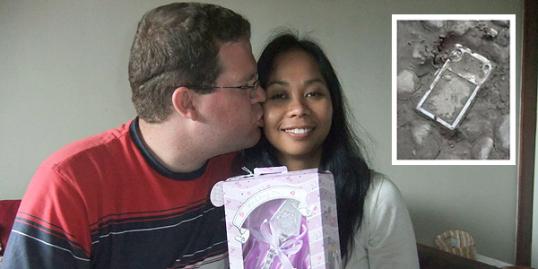 On Feb. 20, 2011, Fen Jeremias and Martin Burley tied the knot. They then left for a honeymoon. Upon their return to their neighborhood of Ferrymead in Christchurch, New Zealand, they found their home damaged by a massive 6.3-magnitude earthquake. In his rush to flee the danger zone, Burley dropped the digital camera which contained pictures of the most important day of their lives.
"We didn't actually notice we lost the camera at the time," Burley said. The last six months of photos were included on the camera, including the couple's wedding and their two-day honeymoon at Governors Bay.
Related: 50 Things Everyone Should Know About Getting Married
Just last week, the couple returned to the remains of their home and began examining the destruction. Then, they noticed something — it seemed to stand out amid the mud and debris. Burley told New Zealand's Stuff:
"You could just see the outline and I thought, 'What is that?' Then I looked closer and it was the camera."
Related: 50 Unique Engagement Rings
While the body of the camera was destroyed, the memory card was salvageable. They plugged the card into his computer, and after a couple of tries, the 2.5 gigabytes of photos opened for them.
Burley believes the recent bad weather likely "churned the driveway up," making the camera visible atop the gravel.
"I really didn't expect to find it there at all. Everyone's pretty amazed."
Photo: Courtesy of Martin Burley
Bing: Get wedding photo ideas.
More Sex & Love on MSN Living:
30 Diamond Engagement Rings So Sparkly You'll Need Sunglasses
5 Signs a Guy Is Toxic
5 Sexy Steps to Get Out of Your Date Rut
love: friendships, dating, sex & marriage
Love it or hate it, the selfie wields much power.

Talk about some blurred lines.

Come on people, it's not that hard to mind your own business.

No sense in wasting your time on someone who will never commit.

There he is, the man of your dreams. He's sitting across from you at the coffee shop or standing at the opposite side of the bar. His eyes meet yours, a quick glance, and then it's back to his drink. Was he giving you a signal?

Remember that time on "30 Rock" when Liz Lemon and her eventual-husband Criss went shopping at Ikea, only to end up in a major fight? We know it couldn't be closer to the truth because we've all been there. In honor of the irritation that can be Ikea, here are the top fights you'll likely encounter.

Dating doesn't have to be a daunting task, promise. Here's how to make it fun for you and him.

One woman's honest journey to divorce will break your heart and inspire you at the same time.

Want to send your date running? Try one these moves.

Two guests arrested in New Jersey.

Celebrities certainly know how to travel in style, so if you're struggling to select a honeymoon destination, look no further than these star-approved hotspots. To make it even easier, we're providing you with hotel recommendations, packing essentials, and tips on what to do and see! So channel your inner celeb at one of these U.S. destinations for an unforgettable vacation!

Tall Twitter users named Wayne, we're on to you!