Couple Finds Lost Wedding Photos After Earthquake
Good news amid the wreckage
Eighteen months after an earthquake destroyed their home, two newlyweds from New Zealand have uncovered some good news.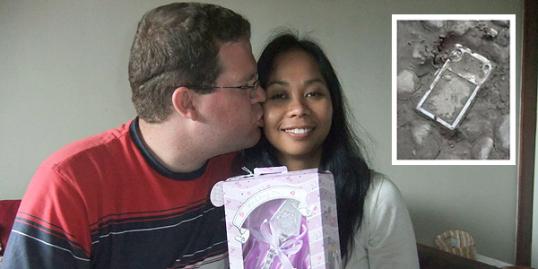 On Feb. 20, 2011, Fen Jeremias and Martin Burley tied the knot. They then left for a honeymoon. Upon their return to their neighborhood of Ferrymead in Christchurch, New Zealand, they found their home damaged by a massive 6.3-magnitude earthquake. In his rush to flee the danger zone, Burley dropped the digital camera which contained pictures of the most important day of their lives.
"We didn't actually notice we lost the camera at the time," Burley said. The last six months of photos were included on the camera, including the couple's wedding and their two-day honeymoon at Governors Bay.
Related: 50 Things Everyone Should Know About Getting Married
Just last week, the couple returned to the remains of their home and began examining the destruction. Then, they noticed something — it seemed to stand out amid the mud and debris. Burley told New Zealand's Stuff:
"You could just see the outline and I thought, 'What is that?' Then I looked closer and it was the camera."
Related: 50 Unique Engagement Rings
While the body of the camera was destroyed, the memory card was salvageable. They plugged the card into his computer, and after a couple of tries, the 2.5 gigabytes of photos opened for them.
Burley believes the recent bad weather likely "churned the driveway up," making the camera visible atop the gravel.
"I really didn't expect to find it there at all. Everyone's pretty amazed."
Photo: Courtesy of Martin Burley
Bing: Get wedding photo ideas.
More Sex & Love on MSN Living:
30 Diamond Engagement Rings So Sparkly You'll Need Sunglasses
5 Signs a Guy Is Toxic
5 Sexy Steps to Get Out of Your Date Rut
love: friendships, dating, sex & marriage
Brad Pitt and Angelina Jolie finally took the plunge, but marriage isn't always a good choice for everyone.

Learn how these surprising tactics can really improve your relationship.

Use these tips to up your chances of finding love.

Find out how paired-off ladies might feel lacking—and how you can make your relationship satisfying.

These signals are seriously subtle, but they can give you real insight into what's going through your husband's mind.

Check which changes are necessary to stay happy together.

We know some of this may sound obvious, but these simple statements can make both of you happier.

Making your relationship more secure, connected, and intimate doesn't have to feel overwhelming. Try these expert tips and reap the rewards now—and in the long run.

For those times when nothing big and horrible happened--but nothing is feeling right either.

What's more fun than animals in weddings? We've rounded up eight of the cutest.

Your puppy is all over your Instagram, Facebook and fridge, so there's no reason not to include him in your engagement pictures too. The best engagement photos give viewers a peek into your life. If you're a dog owner, take this opportunity to show off your pooch, like these 22 couples did! And we can't thank them enough.

Our married blogger gets real about checking out other guys when you're taken.