Many couples rarely address each other by their actual first names
Does it feel weird to address your partner by name?
Honey, baby, sweetie—there are plenty of names we bestow upon our significant others. But oddly enough, many couples rarely address each other by their actual first names.
The Heart Beat asked 10 random people about their relationship behavior. Nine out of ten revealed that they use a nickname rather than a first name when referring to each other. And in fact, the "one in 10" guy who said his partner calls him by his first name later bashfully admitted:
"Okay. Sometimes I'm known as Bubba."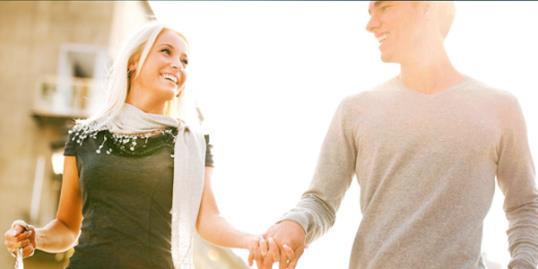 More on MSN Living: Readers share their funniest, cheesiest and best pickup lines
Experts say we give our partners pet names because, as children, we used monikers to identify the people with whom we felt most secure—Ma, Dad, Nana, Paw-paw etc.
"So we find our own term of endearment for the person we love the most," Colleen Morris, a family therapist & counselor told The Heart Beat.
But a few experts have argued that using pet names can be harmful to a relationship. In fact, Maggie Arana and Julienne Davis wrote a book about it: "Stop Calling Him Honey and Start Having Sex: How Changing Your Everyday Habits Will Make You Hot for Each Other All Over Again."
Arana and Davis argue that using pet names dehumanizes and desexualizes a relationship.
More on MSN Living: MSN Living readers share engagement rings
But it does feel a bit awkward to address a partner by a first name once you've gotten used to their pet name. "Thanks, Brian," doesn't come attached with the same natural affection as "Thanks, Babe."
One Los Angeleno we interviewed, Angelica Navarro, went so far as to say "it seems disrespectful" to address a significant other by their first name, as it "makes it seem like you're mad at them."
"It doesn't seem like it should be weird, but it can be," agreed Cory Vore. He's been married for four years and jokes, "My wife was born with a pet name. Her name is Daisy."
"Words like 'honey' and 'babe' say to our partner, 'you are special and important to me,'" Morris told us, explaining why it can feel weird to use a partner's real name. "Our first name, on the other hand, is known and used by everyone."
In short, pet names are symbolic of intimacy shared between you and your partner.
But Morris warns that, yes, there are some instances in which using a pet name can harm a relationship.
"If a pet name has the effect of belittling the partner or robbing them of equal power in the relationship, or [if it's] used to manipulate your partner, it becomes very unhealthy."
Morris adds that people can also feel "vulnerable, embarrassed, disrespected or even violated" when their pet names are exposed in public.
Overall, however, she disagrees with Arana and Davis' contention.
"It is my belief that pet names do not desexualize or depersonalize a relationship. Research tells us that having a shared language as a couple strengthens a relationship."
But of course, every couple is different. Pet names might be your preferred language; first names might make you feel intimate, too. If it works for you, we say keep it up, babycakes.
Bing: Funny pet names
More from The Heart Beat:

True love stories: Husband helps wife remember their love story
New wedding trend: The anti-invite
China's 'fake-marriage market' a growing trend
Love content like this? Friend us on Facebook, follow us on Twitter and find us on Pinterest 
Photo: Kristian Sekulic/Getty Images

Growing up, my first name was only used in anger so it's been a mental shift for me to use my spouse's unless I'm making a point. We're both actually really good about using our first names with each other but I still get that "uh oh" feeling when I say his or he says mine. This should also have been explored in the article.

Are you sure you want to delete this comment?
love: friendship, dating, sex & marriage
What's worse than getting snubbed while proposing? Having your heart broken in front of countless strangers.

We asked brides on TheKnot.com to tell all -- and they did. Here, five of the most likely culprits and advice for how to deal with your drama-causing guests along the way.

This short course in flirting will not only teach you how to flirt better but also how to tell when someone is flirting with you—and how to respond. Have fun.

Gatsby glamour doesn't have to just live on the big screen! Embrace the trendy (yet timeless) art deco style with sequins, pearls, feathers and geometric patterns. Check out these art deco ideas and achieve the feel of 1920s decadence. By the way, all of these are affordable, except for the $600 hairpiece which is a splurge, but a knockout. Shop the look!

Wondering if your summer love will last? Here are 15 signs if your seasonal love is fleeting or for real.

Sixteen years after "Titanic's" release—and 101 years after the historic ship's notorious sinking—our hearts still go on for star-crossed lovers Rose DeWitt Bukater (Kate Winslet) and Jack Dawson (Leonardo DiCaprio). We rounded up some of our favorite ill-fated, but oh-so-romantic affairs on film, from "Gone with the Wind" to "Moulin Rouge!".

Flirting shouldn't be retired once you've got the ring. We asked relationship expert Harlan Cohen, as well as real husbands, the best way to keep the sparks flying.

When we're annoyed by male behavior, we turn to columnist Aaron Traister. His logic may be strange, but we have to admit, it's pretty helpful. Here, he answers our many questions for guys.

Author Amanda Robb talks to clinical psychologist David Schnarch, Ph.D., author of Passionate Marriage: Keeping Love and Intimacy Alive in Committed Relationships and Intimacy and Desire: Awaken the Passion in Your Relationship, to discover the ways she can relight the fire in her own relationship. What she learned just might help you wake up your own libido.

The average wedding costs $28,000. Think that's pricey? You're in for a surprise. We've rounded up some of the most expensive weddings of all time. See if you can guess how much was dropped on these over-the-top affairs, then click through to Bing to see if you're right.

A guide to staying together forever…straight from divorce lawyers! They know what tears couples apart, and they'll tell you how to avoid it.

We've come across some odd tales of lost love. Here's our list of the weirdest reasons people have divorced.