Married couples reveal their sex secrets
Husbands like dirty talk and wives want compliments.
Sex isn't everything, but most couples agree—it's crucial to a happy relationship.
In a survey for iVillage, 93 percent of respondents agreed that a healthy sex life is important. In fact, more than half of men and 40 percent of women said it was "extremely important."
The site recently released the results of their 2013 Married Sex survey. Between sexting, flirting and dirty talk, this survey might bust some common stereotypes about married sex. Here are eight highlights from the poll.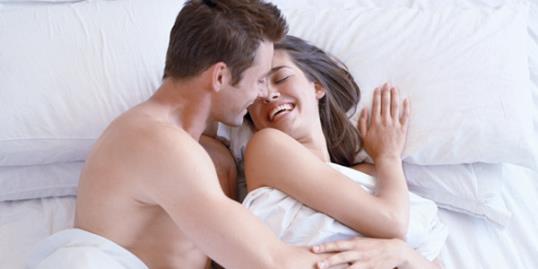 More on MSN Living: The ultimate wedding etiquette guide
Sex is better after marriage: …But before having kids. A third of both men and women reported an improvement in their lovemaking after tying the knot. But 52 percent of women and 49 percent of men say the sex was hotter before the kids. There is hope, however—eight percent of wives and 22 percent of husbands reported having better sex after the kids. And overall, 80 percent of husbands polled are currently "very happy or happy" with their sex life, compared with 60 percent of wives.
Husbands like the dirty talk: Forty-six percent of men said that "dirty talk" was their biggest turn on. The most common turn on, however, was "sexy clothes." Women prefer receiving compliments to get in the mood. Forty-nine percent of wives said their partner complimenting them was a good way to get the fire started.
More on MSN Living: The science behind a great marriage
Sometimes sex is an obligation: "Fifty-seven percent of women and 39 percent of men report having sex out of obligation at least sometimes," iVillage reports. But obligatory sex might not be as bad as it sounds. Clinton Power, founder of Australia Counseling, told MSN Living's The Heart Beat:
"Many people don't feel like sex, but once they start and their arousal levels increase, then they feel the desire. So it's important not to always say no just because you don't feel like it. The research suggests that many people can enjoy very satisfying sex even when they don't have the desire, but they start anyway."
Men marry their best sex: But most women don't. Sixty-eight percent of men reported marrying the best sex of their life, compared to 45 percent of women.
Husbands are bigger flirts: And they're more likely to sext their wives. Thirty-two percent of men have sent a salacious text message to their spouse. Only 20 percent of wives have done the same. Husbands are also three times more likely than their wives to leave a hot voicemail. They're twice as likely to "Facebook a sexy note." Thirty-six percent of husbands send dirty emails to their partners, compared with just 18 percent of wives.
Wives underestimate sexual satisfaction: Fifty-five percent of wives think their husbands are satisfied with their sex lives, but 77 percent of husbands said they were sex-happy. However, the discrepancy contrasted for men. Seventy-nine percent of husbands think their wives are sexually satisfied, but only 60 percent of women say they actually are.
Bing: Boomer divorces soar
Wives want more foreplay. Thirty-five percent of women said they wish their partner would spend more time on foreplay. Women also want their partners to last longer (28 percent) and have more oral sex (22 percent).
Husbands cheat more: They're also less trusting. Twenty-eight percent of husbands admitted to cheating, compared with only 13 percent of women. Interestingly, 34 percent of men have checked their wife's cellphone for cheating evidence, and only 20 percent of women have snooped. Men are also much more likely to have an affair if there was no chance of getting caught (32 percent vs. 13 percent of women).  iVillage also asked each sex who they'd cheat with. Thirty-nine percent of women said it would be an old flame. Twenty-one percent of men wanted a hot celebrity and 20 percent said they'd cheat with a friend's spouse. Yikes.
What do you think—is sex crucial to a happy marriage? Do these stats ring true for you?
More from The Heart Beat:

8 most common reasons for divorce
Revealed: The hardest marriage vow to keep
Longest kiss ever: Couple locks lips for 58 hours
Love content like this? Friend us on Facebook, follow us on Twitter and find us on Pinterest.
Photo: Sex secrets / Stockbyte/Getty Images
love: friendships, dating, sex & marriage
The typical wedding: A white dress, tiered cake, floral centerpieces and a cute flower girl -- you know the drill. Every once in a while, though, a couple trades in tradition for a quirky, never-seen-that-before idea. Here are a few of the most out-there wedding photos that made us do a double take.

There's a lot to love about weddings this fall, like cocktails served in copper Moscow mule mugs, industrial-inspired lighting and pheasant feather details. See what's new!

Do you have to be engaged to sport a ring with bling?

124.6 million haven't gotten hitched.

Even though the national average wedding is $29,858, that's just an average. If you live in a smaller state like Idaho where the average wedding costs $16,159, you may find yourself saving a little more than half of the national spend! Check out some of the other least expensive cities to get married in below:

Summer is winding down, but the ubiquitous summer romance lives on.

For those times when nothing big and horrible happened--but nothing is feeling right either.

He's confident, distinguished and anywhere from 4 to 20 years older than you. Age is just a number, but there's something about older men that we love. Here are eight reasons why being in a relationship with an older man is tops.

While a younger man may have less life experience, that doesn't mean he's not emotionally mature. Here are the eight reasons why being in a relationship with a younger man is tops.

Have you ever wondered what the 'other woman' was thinking?

So fall is coming and you need some romantic inspiration now that long walks on the beach are out of the question. Well look no further! From apple picking to pumpkin carving, these are some great fall date ideas from girls just like you!

Getting bored of the same dinner and movie date night? Take an adorable cue from your favorite celebs and try something new! From dancing to boxing you can't go wrong with these awesome date ideas.