True love stories: 5 that started on Valentine's Day
Lonely on Valentine's Day? Here are five inspirational stories of romance.
If there's ever a time to overload on romance, today is the day.
They say you never know when you'll meet your future partner--for some couples, that moment falls on a suitable holiday. The Heart Beat has rounded up five true love stories that started on Valentine's Day. Have some candy hearts and enjoy.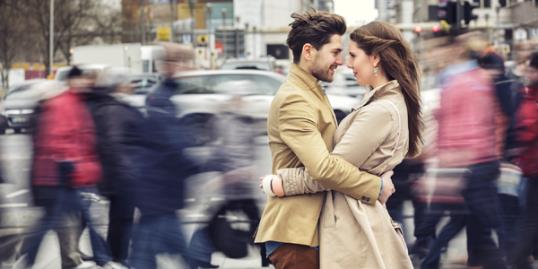 More on MSN Living: 10 tips for a sexy and romantic Valentine's Day
A tough gift to beat
James Jones and Melissa DeGeso met on Valentine's Day 2011.
They hit it off, tied the knot, and two years later, Melissa has given James a Valentine's Day gift he'll have a tough time topping.
After suffering from renal failure for some time, James found out he was in need of a kidney transplant. Thankfully, his wife Melissa was a match.
"There wasn't any reservation, or never did I ever fathom the idea I wouldn't be," she told CF News. "That's the funny part. I never thought, 'Oh, what if I don't match?' I just assumed I would."
More on MSN Living: Best Valentine's Day gifts on Pinterest
On Monday, three days before Valentine's Day, Melissa had her kidney transplanted at a Florida hospital. Her husband expressed his lifelong gratitude:
"It's one of those things where I'll continue to reciprocate this for the rest of my life, because you'll never be able to give her anything that's going to be able to match life."
Computer dating
Carol and Dallas Glassburn met through a computer dating service in 1970.
"I thought, 'Well, what have I got to lose? I can try it and see what happens,'" Carol told Indiana's WSBT.
It was called "Date a Mate," and Dallas was specifically looking for a date for Valentine's Day.
Bing: What are celebs doing for Valentine's Day?
"She wasn't the first one I called," he admitted. But she was the first one he called who didn't have a date for Valentine's Day.
But what started as a desire to not be alone on "Singles Awareness Day" ended in a lifelong marriage.  The two have now been married for over 40 years.
"I think it did a great job," the couple's son, Chris, said of the dating service. "I think it matched them very well."
Platinum love
Hilda and Tommy Franklin met on Valentine's Day 1942. Tommy was stationed with the army in a town in Leicestershire, England. He told the Banbury Guardian:
"Hilda and her sisters were walking along a road when I walked up to them and told them I had lost my way. But the didn't know I had been stationed in Oadby for about two to three months!"
Despite his sneaky courtship, the couple fell in love and married. Hilda stayed with Tommy's parents for the rest of the Second World War. After the war, the couple purchased their first home together.
Last year, Hilda and Tommy Franklin celebrated 70 years of marriage--their platinum wedding anniversary. They have three daughters, six grandchildren and one great-grandchild.
A childhood promise
On a playground in third grade, Nadine and Alan Smeltzer made a promise that they would someday marry each other. They sealed the vow with a kiss. It was Valentine's Day, and they also swapped cookies and cards.
But young love rarely lasts, and the childhood sweethearts soon lost touch.
But 43 years later, fate brought them back together. Nadine and Alan were matched on an online dating site, and for a while, neither of them realized they already knew each other.
"The man looked very familiar, and we spoke on the phone several times and chatted online," Nadine told The Heart Beat. "I began by looking through all of my old school class photos, and finally realized who the man was."
Soon after their reunion, the couple tied the knot—keeping their childhood promise.
Amid the ruins
Lauren Panepinto and Ryan Barker met amid the Mayan ruins in Mexico. Both were on a Mexican cruise that docked for guests to explore the history around them. It was Valentine's Day, and upon meeting, the two hit it off.
There was only one problem—Ryan lived in Chicago, and Lauren was from Staten Island. They spent a year in a long-distance relationship until Ryan decided to make the move. He packed two duffel bags and moved to New York.
Three years after dating, Ryan decided to propose. He got down on one knee at the beach.
"I'm yelling at him, 'Get up, there are people on the beach and they're going to think you're proposing to me,'" Lauren told the New York Daily News.
When he said the magic words, Lauren immediately burst into tears before saying yes.
More from The Heart Beat:
10 romantic facts about Valentine's Day
A brief history of Valentine's Day
We'll spend $18.6 billion this Valentine's Day
Love content like this? Friend us on Facebook, follow us on Twitter and find us on Pinterest.
Photo: Thomas_EyeDesign/Get​ty Images
love: friendships, dating, sex & marriage
Here's why dudes without hair make the best boyfriends.

What do you wish you appreciated more when you were flying solo?

"If you're so busy tweeting and Instagraming, you're not paying attention," New York wedding planner Marcy Blum said. "It's almost a cosmic faux pas. People want your energy with them and focused on what they're doing."

The wedding favor, that little thank-you-for-coming gift, has risen to new heights with the bride and groom giving guests a wide range of favors that are meaningful to them.

Generations ago, planning a wedding was 100 percent the bride's job, but in today's age of gender equity, it's a mere 99 percent.

For all the self-help books and advice columns out there (um, keeping reading my advice anyway, please!), there's one tool we all already have in our arsenal for picking a partner that will keep us happy: our gut instincts.

According to a new study from the University of Texas and the University of California, Los Angeles, both men and women have regrets when it comes to sex, but the genders vary greatly when it comes to what they regret specifically.

Spending time alone with your guy is easy, but going public with your plus-one is another thing entirely. Whether it's your crazy relatives at Thanksgiving dinner or awkward convos with your boss at the holiday party, possible pitfalls are everywhere. Keep reading for tips on how to make his grand entrance into your social life a good thing.

Match.com survey reveals the day you're least likely to get spruced up for a date.

Drinking and relationships seem to go hand in hand in a lot of ways. But only in moderation!

Many men will tell you that they have no clue what their wives are thinking.

Spending the holidays with your guy's family for the first time is a huge relationship milestone. But between your nerves, the usual family tension, and your weird Uncle Sal's inappropriate stories, it's also a prime opportunity for total disaster. Read on for 10 of our readers' most embarrassing meet-the-parents moments.