Which states have the lowest divorce rates?
Good news for East Coasters.
No married person will tell you that keeping the knot tied is easy, but hard work notwithstanding, one key to a lasting union might just be geographic location.
According to new data released by the U.S. Census Bureau, your marriage might have a better chance of enduring if you reside somewhere in the northeastern part of the country.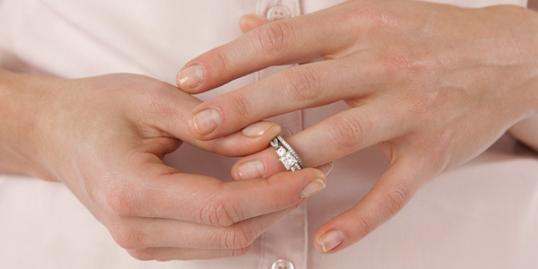 The Bureau released the 2011 American Community Survey just last month, and in it, New Jersey was revealed as the state with the lowest percentage of residents 18 and older who are divorced, the New York Times reports. New York came in at a close second.
In New Jersey, just 9.1 percent of adults are divorced, compared with almost 52 percent of its residents 18 and older who are married. Susan L. Brown, co-director of the National Center for Family and Marriage Research, told the Times:

"The composition of New Jersey married individuals is quite favorable across several indicators, providing some evidence for the low divorce rate."
Naomi Cahn, a professor at George Washington University Law School, further explained the data:
"Marriages are more likely to last for longer periods of time when people marry at an older age, have a higher education and earn more, and New Jersey scores high on these three criteria. New Jerseyans are more likely than residents of most states to delay marriage until after they complete college and graduate school. There are fewer divorces in New Jersey because there are fewer risk factors."
Basically, New Jersey residents are likely to postpone marriage until they're "emotionally and financially ready," as Deborah Carr, a sociology professor at Rutgers, puts it.
The same must be true for residents of New York, Connecticut, Delaware and Massachusetts, as those states all ranked low in percentages of divorced adults. In fact, from New York down to South Carolina, the East Coast in general had a rate of less than 12 percent. Minnesota, Wisconsin, Iowa and Illinois also saw low percentages.
And Nevada may be the state of the quickie wedding, but when it comes to lasting marriages, couples don't fare so well. Nevada had the highest percentage of divorce, at 14.7. Wyoming, Florida, Kentucky and Tennessee were all over 13.5 percent.
The state of the economy has also played a key role in U.S. divorce rates. Mel Schwartz, a psychotherapist who has studied and written on the topic of divorce, told The Heart Beat:
"Divorce is far less a stigma than it used to be. However, the current economic conditions may force many people to remain unhappily married due to financial constraints."
And that would explain why divorce is less common in New Jersey than the rest of the country. As Carr told the Times:
"New Jersey is among the wealthier states in the nation, and economic stability also contributes to marital stability."
Bing: Which A-list actor is currently embroiled in a divorce?
Photo: Vstock LLC/Getty Images
More Sex & Love on MSN Living:
10 Reasons He Hasn't Asked You to Marry Him
10 Things He Should Do to Make You Happy
What His Date Style Says About Him
8 Words That Give a Liar Away
6 Fascinating Facts About Exes

love: friendships, dating, sex & marriage
Hopeless romantics and cringe-worthy chick flicks would tell you that it doesn't matter what you do on the date, as long as you're together. But they're wrong. Dead wrong. Women use your date ideas to size you up, says matchmaker Rachel DeAlto, author of "Flirt Fearlessly." "You absolutely will be judged based on the date you plan. There are so many subconscious impressions that we take in while dating." Gulp. Here are 10 terrible ideas that can land you on the no-lay list—and simple swaps to keep her happy. By K. Aleisha Fetters

Here are 15 signs we've been on "The Bachelor" bandwagon—all 27 seasons of it—for (possibly) longer than we'd care to admit.

In the grand tradition of celebrating love, we've chosen some of the mushiest, sweetest, and most memorable scenes to hit the big or small screen. From marriage proposals to unexpected serenades, these moments will make you believe in love (and want someone to cuddle up with, stat).

How to flag her little fibs. By Laura Tedesco

Revealr is a new iPhone app that allows those looking for love to hear their possible matches before they see them.

A new poll reveals 59 percent of the country supports same-sex marriage.

Celebrity engagements are so much fun to follow because every detail is bound to be over-the-top — from the proposal (like when Kanye rented out an entire stadium to propose to Kim) to the huge, sparkly engagement ring and, of course, the wedding. Plus, as trendsetters, celebs can be a source of inspiration even if you can't afford a million dollar ring. Here are our celebrity wedding predictions for 2014.

If you've ever been to a club—like, ever, even once—you are not going to be shocked to hear that women get a lot of unwanted, aggressive attention. But when you read the findings of this study on how often and why it happens, it might make you feel downright sick to your stomach.

No matter your current relationship status or past relationship fails, get a fresh start this month, with these tips for spring cleaning your love life.

Forget the rules you've always heard—it's time to start making your own.

Are you in an affair without knowing it? Unless you're a swinger, having sex with someone else counts as cheating. But then there's the fuzzy area between friendship and infidelity—and chances are, your girlfriend sees those shades of gray as more black and white than you do. "Men aren't as attuned to identifying ambiguous behaviors as cheating as women are," says Daniel Kruger, Ph.D., a University of Michigan psychologist, who's studied gender differences in definitions of infidelity. In other words, what you consider totally innocent could be her deal breaker.

We spoke with relationship therapist Rachel A. Sussman, author of "The Breakup Bible," for her tips on how regular girls can survive a split like an A-lister.