Which States Have the Lowest Divorce Rates?
Good news for East Coasters
No married person will tell you that keeping the knot tied is easy, but hard work notwithstanding, one key to a lasting union might just be geographic location.
According to new data released by the U.S. Census Bureau, your marriage might have a better chance of enduring if you reside somewhere in the northeastern part of the country.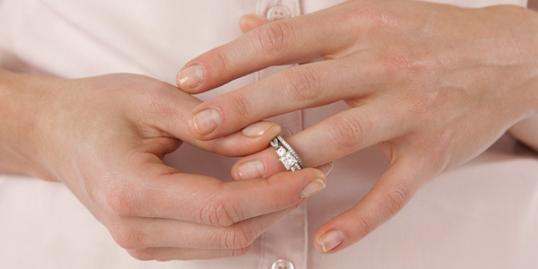 The Bureau released the 2011 American Community Survey just last month, and in it, New Jersey was revealed as the state with the lowest percentage of residents 18 and older who are divorced, the New York Times reports. New York came in at a close second.
In New Jersey, just 9.1 percent of adults are divorced, compared with almost 52 percent of its residents 18 and older who are married. Susan L. Brown, co-director of the National Center for Family and Marriage Research, told the Times:

"The composition of New Jersey married individuals is quite favorable across several indicators, providing some evidence for the low divorce rate."
Naomi Cahn, a professor at George Washington University Law School, further explained the data:
"Marriages are more likely to last for longer periods of time when people marry at an older age, have a higher education and earn more, and New Jersey scores high on these three criteria. New Jerseyans are more likely than residents of most states to delay marriage until after they complete college and graduate school. There are fewer divorces in New Jersey because there are fewer risk factors."
Basically, New Jersey residents are likely to postpone marriage until they're "emotionally and financially ready," as Deborah Carr, a sociology professor at Rutgers, puts it.
The same must be true for residents of New York, Connecticut, Delaware and Massachusetts, as those states all ranked low in percentages of divorced adults. In fact, from New York down to South Carolina, the East Coast in general had a rate of less than 12 percent. Minnesota, Wisconsin, Iowa and Illinois also saw low percentages.
And Nevada may be the state of the quickie wedding, but when it comes to lasting marriages, couples don't fare so well. Nevada had the highest percentage of divorce, at 14.7. Wyoming, Florida, Kentucky and Tennessee were all over 13.5 percent.
The state of the economy has also played a key role in U.S. divorce rates. Mel Schwartz, a psychotherapist who has studied and written on the topic of divorce, told The Heart Beat:
"Divorce is far less a stigma than it used to be. However, the current economic conditions may force many people to remain unhappily married due to financial constraints."
And that would explain why divorce is less common in New Jersey than the rest of the country. As Carr told the Times:
"New Jersey is among the wealthier states in the nation, and economic stability also contributes to marital stability."
Bing: Which A-list actor is currently embroiled in a divorce?
Photo: Vstock LLC/Getty Images
More Sex & Love on MSN Living:
10 Reasons He Hasn't Asked You to Marry Him
10 Things He Should Do to Make You Happy
What His Date Style Says About Him
8 Words That Give a Liar Away
6 Fascinating Facts About Exes

love: friendship, dating, sex & marriage
What's worse than getting snubbed while proposing? Having your heart broken in front of countless strangers.

We asked brides on TheKnot.com to tell all -- and they did. Here, five of the most likely culprits and advice for how to deal with your drama-causing guests along the way.

This short course in flirting will not only teach you how to flirt better but also how to tell when someone is flirting with you—and how to respond. Have fun.

Gatsby glamour doesn't have to just live on the big screen! Embrace the trendy (yet timeless) art deco style with sequins, pearls, feathers and geometric patterns. Check out these art deco ideas and achieve the feel of 1920s decadence. By the way, all of these are affordable, except for the $600 hairpiece which is a splurge, but a knockout. Shop the look!

Wondering if your summer love will last? Here are 15 signs if your seasonal love is fleeting or for real.

Sixteen years after "Titanic's" release—and 101 years after the historic ship's notorious sinking—our hearts still go on for star-crossed lovers Rose DeWitt Bukater (Kate Winslet) and Jack Dawson (Leonardo DiCaprio). We rounded up some of our favorite ill-fated, but oh-so-romantic affairs on film, from "Gone with the Wind" to "Moulin Rouge!".

Flirting shouldn't be retired once you've got the ring. We asked relationship expert Harlan Cohen, as well as real husbands, the best way to keep the sparks flying.

When we're annoyed by male behavior, we turn to columnist Aaron Traister. His logic may be strange, but we have to admit, it's pretty helpful. Here, he answers our many questions for guys.

Author Amanda Robb talks to clinical psychologist David Schnarch, Ph.D., author of Passionate Marriage: Keeping Love and Intimacy Alive in Committed Relationships and Intimacy and Desire: Awaken the Passion in Your Relationship, to discover the ways she can relight the fire in her own relationship. What she learned just might help you wake up your own libido.

The average wedding costs $28,000. Think that's pricey? You're in for a surprise. We've rounded up some of the most expensive weddings of all time. See if you can guess how much was dropped on these over-the-top affairs, then click through to Bing to see if you're right.

A guide to staying together forever…straight from divorce lawyers! They know what tears couples apart, and they'll tell you how to avoid it.

We've come across some odd tales of lost love. Here's our list of the weirdest reasons people have divorced.