6 love lessons we can learn from the guys
They might know a thing or two the ladies don't.
As collegiettes, we like to think we're better than guys. We dress better than guys do, we're more organized than they are, and we're definitely cleaner than they are, so it doesn't seem like boys could really have much to teach us (besides maybe how to best recover from a hangover without showering). But if we take a look at how they approach relationships in particular, it appears that they might, in fact, know a thing or two that we don't.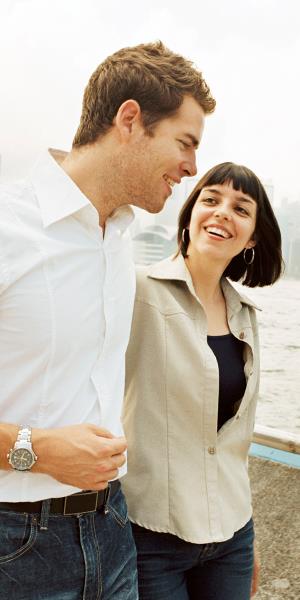 We're not saying they're geniuses when it comes to love and relationships, but we have to admit that they do have a few good tricks up their sleeves. We've been taking notes, so here are the best lessons that the guys have taught us and how you can incorporate them into your own relationships.
1. Stop overthinking things.
Guys are constantly accused of being ignorant and insensitive when it comes to relationships, but often, they're just taking things at face value. They tend not to possess the "read between the lines" mindset that sometimes rules our collegiette world. He takes your actions and your words at their face value, and doesn't attach any kind of fabricated, implied meaning to them. "I don't really dwell on things like I think girls do. If I'm having a conversation with a girl, I expect that what she's saying is the truth, so I don't overthink it," says Cory from Boston College. In contrast, we can drive ourselves crazy when a guy doesn't text us back within five minutes and we'll automatically assume that he has zero intention of hooking up with us again. Our minds go a mile a minute making assumptions about what the double period in his last text message could possibly mean  — relax, it's just the way he's signifying a pause in his thought process. Or it's just a typo.
2. Always be straightforward and candid.
In the same way that guys don't overthink the things that we do, they don't embed hidden messages or mysterious codes in their sentences for us to figure out. Instead, they're very candid so they're clear about what they want and don't want. "If I want to hang out with you, you'll know; if I don't, you'll know too. I can't stand when girls think they can mess with my head  — it just makes her come off as a b*tch," says Cory. If you're confused about what he's interested in, just ask and expect an unembellished answer. The same goes for you, so be clear about what you're looking for in a relationship and don't play the guessing game. It'll only end in disappointment.
3. Be clear if you want (or don't want) a relationship.
If you're lying about whether or not you want to be in a relationship with someone, you're only going to hurt yourself. When you start hooking up with someone, be clear about what you're looking for  — whether it's just a hook-up or a boyfriend/girlfriend​ deal. Guys like to get those things out in the open before they get involved with a girl, so it's only fair for you to put your intentions out there, too. Nothing's worse than a hook-up that turns into unrequited feelings, so it's important to be vocal early on and let him know exactly what you want  — that's presuming, surely, that you know what you want yourself.
4. If you want to spend time with your friends, spend time with your friends.
When you tell him you're happy for him to have guys' night, he's going to seize that opportunity (and you should, too). If both of you can establish positive relationships with one another's friends, then there should be no sense of jealousy when one of you wants to just spend some time with your besties. "As much as I want to hang out with her, I need guy time, too," says one anonymous guy at Emory. "And I'd never want to keep her away from her girlfriends either. It's not a big deal if we spend a few nights a week apart  — she'd probably get sick of me any more than that!" He's allowed to meet with his buds at the bar for game night (and doesn't need you texting him every five minutes, by the way), just as much as you're allowed to go out for a crazy karaoke "girls' night" with your BFFs. He surely doesn't need to be a part of that.
5. Take a break from constant texting.
You know those conversations that are flirty for the sake of flirting and don't really say anything at all? The ones that extend way beyond their expiration date, totally lack substance and just need to end, like, now? Avoid awkward back-and-forth flirtatious texting by putting down your phone for a little while. It's OK to only text a couple of times a week; it's OK to only talk to him to make plans and then end the conversation; it's OK to initiate a quick "hello" and not go beyond that. "There's nothing I dislike more than having a conversation with a girl that continues way past its expiration date," says Michael from Union College. Guys tend to be simplistic and frank in their text messages, and they don't fill space/time with nonsense that doesn't matter. They just end the conversation. Just because you're "texting him" or "have been hanging out with him" or are "hooking up with him," that doesn't mean you need to be doing all of those things all of the time. Just put the phone down and let it breathe.
6. Enjoy the date you're on (and stop worrying about the next one).
Instead of thinking about how he might try to impress you on your next date, focus on getting through the current one. Maybe you should stop tapping your foot. Maybe you shouldn't be mindlessly twirling your hair. Maybe you should notice the spinach  between your teeth. Whatever you're thinking should have to do with the date at hand, not the date that may or may not happen in the future. Guys have the ability to live in the moment (albeit, sometimes to the point of stupidity) and that's definitely something that we (lovers of Instagram) should learn to live by.
For three more love lessons we can learn from the guys and more love advice, check out HerCampus.com!
Photo: Jacobs Stock Photography/Getty Images

love: friendships, dating, sex & marriage
Here's why dudes without hair make the best boyfriends.

What do you wish you appreciated more when you were flying solo?

"If you're so busy tweeting and Instagraming, you're not paying attention," New York wedding planner Marcy Blum said. "It's almost a cosmic faux pas. People want your energy with them and focused on what they're doing."

The wedding favor, that little thank-you-for-coming gift, has risen to new heights with the bride and groom giving guests a wide range of favors that are meaningful to them.

Generations ago, planning a wedding was 100 percent the bride's job, but in today's age of gender equity, it's a mere 99 percent.

For all the self-help books and advice columns out there (um, keeping reading my advice anyway, please!), there's one tool we all already have in our arsenal for picking a partner that will keep us happy: our gut instincts.

According to a new study from the University of Texas and the University of California, Los Angeles, both men and women have regrets when it comes to sex, but the genders vary greatly when it comes to what they regret specifically.

Spending time alone with your guy is easy, but going public with your plus-one is another thing entirely. Whether it's your crazy relatives at Thanksgiving dinner or awkward convos with your boss at the holiday party, possible pitfalls are everywhere. Keep reading for tips on how to make his grand entrance into your social life a good thing.

Match.com survey reveals the day you're least likely to get spruced up for a date.

Drinking and relationships seem to go hand in hand in a lot of ways. But only in moderation!

Many men will tell you that they have no clue what their wives are thinking.

Spending the holidays with your guy's family for the first time is a huge relationship milestone. But between your nerves, the usual family tension, and your weird Uncle Sal's inappropriate stories, it's also a prime opportunity for total disaster. Read on for 10 of our readers' most embarrassing meet-the-parents moments.