Who cheats more: Women or men?
Women are cheating more than ever, according to new research.
By Madeline Haller, Women's Health
Sure, it may seem like infidelity is a guy thing. But according to research from the Archives of Sexual Behavior, women are just about as guilty of straying, and in fact, they're cheating more than ever.
Researchers had 918 men and women fill out an online questionnaire on whether or not they've cheated on their partners and why they did it. The results show that 19 percent of women admitted to straying outside their relationship -- that's up 5 percentage points from the National Science Foundation's General Social Survey in 2010.
Men aren't much better: 23 percent of them reported cheating, up 4 percent since 2010.
While men still outpace women, it's alarming to see these numbers on the rise for both sexes. According to Dr. Sheri Meyers, a marriage and family therapist and author of
Chatting or Cheating: How to Detect Infidelity, Rebuild Love, and Affair-Proof Your Relationship
, it's not just attractive men that lure us from our relationships, but rather, it's relationship discontent that leads us to stray. In fact, Meyers says the most common reasons for infidelity are feeling lonely and disconnected from your partner;
lack of communication
; love and attention deficit; boredom; a sexual disconnect; or lack of intimacy.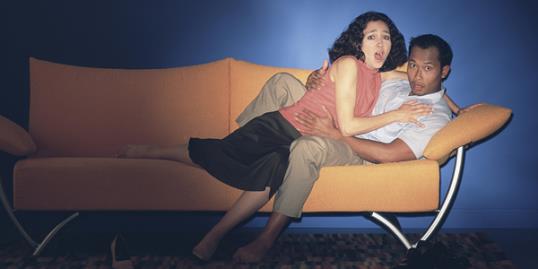 And it doesn't help that a new study published in the journal Hormones and Behavior found that certain points in our cycles make us even more likely to doubt the dude we're dating -- particularly if he's not over-the-top sexy.
In the study, women were significantly more likely to find fault with their partners and feel less close to them during the high-fertility period than the low-fertility period of their cycles.
So what should you do if (or perhaps, when) the grass looks greener on the other side? Put that temptation to rest with these ways to prevent cheating.
This content originally appeared as "Who cheats more: Women or men?" on Women's Health.
Photo: White Packert/Getty Images
Bing: Cheating signs
More from Women's Health:
One guy spills: 'Why I've stayed loyal for 23 years'
Why both men and women are straying from marriage
Maximize your sexual pleasure
love: friendships, dating, sex & marriage
It's not that you don't find every little thing about your partner endearing and adorable; it's just that it would have been really, really nice if that map could have been consulted three hours ago.

The typical wedding: A white dress, tiered cake, floral centerpieces and a cute flower girl -- you know the drill. Every once in a while, though, a couple trades in tradition for a quirky, never-seen-that-before idea. Here are a few of the most out-there wedding photos that made us do a double take.

There's a lot to love about weddings this fall, like cocktails served in copper Moscow mule mugs, industrial-inspired lighting and pheasant feather details. See what's new!

Do you have to be engaged to sport a ring with bling?

124.6 million haven't gotten hitched.

Even though the national average wedding is $29,858, that's just an average. If you live in a smaller state like Idaho where the average wedding costs $16,159, you may find yourself saving a little more than half of the national spend! Check out some of the other least expensive cities to get married in below:

Summer is winding down, but the ubiquitous summer romance lives on.

For those times when nothing big and horrible happened--but nothing is feeling right either.

He's confident, distinguished and anywhere from 4 to 20 years older than you. Age is just a number, but there's something about older men that we love. Here are eight reasons why being in a relationship with an older man is tops.

While a younger man may have less life experience, that doesn't mean he's not emotionally mature. Here are the eight reasons why being in a relationship with a younger man is tops.

Have you ever wondered what the 'other woman' was thinking?

So fall is coming and you need some romantic inspiration now that long walks on the beach are out of the question. Well look no further! From apple picking to pumpkin carving, these are some great fall date ideas from girls just like you!