Who cheats more: Women or men?
Women are cheating more than ever, according to new research.
By Madeline Haller, Women's Health
Sure, it may seem like infidelity is a guy thing. But according to research from the Archives of Sexual Behavior, women are just about as guilty of straying, and in fact, they're cheating more than ever.
Researchers had 918 men and women fill out an online questionnaire on whether or not they've cheated on their partners and why they did it. The results show that 19 percent of women admitted to straying outside their relationship -- that's up 5 percentage points from the National Science Foundation's General Social Survey in 2010.
Men aren't much better: 23 percent of them reported cheating, up 4 percent since 2010.
While men still outpace women, it's alarming to see these numbers on the rise for both sexes. According to Dr. Sheri Meyers, a marriage and family therapist and author of
Chatting or Cheating: How to Detect Infidelity, Rebuild Love, and Affair-Proof Your Relationship
, it's not just attractive men that lure us from our relationships, but rather, it's relationship discontent that leads us to stray. In fact, Meyers says the most common reasons for infidelity are feeling lonely and disconnected from your partner;
lack of communication
; love and attention deficit; boredom; a sexual disconnect; or lack of intimacy.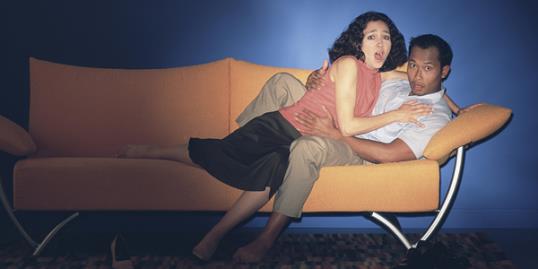 And it doesn't help that a new study published in the journal Hormones and Behavior found that certain points in our cycles make us even more likely to doubt the dude we're dating -- particularly if he's not over-the-top sexy.
In the study, women were significantly more likely to find fault with their partners and feel less close to them during the high-fertility period than the low-fertility period of their cycles.
So what should you do if (or perhaps, when) the grass looks greener on the other side? Put that temptation to rest with these ways to prevent cheating.
This content originally appeared as "Who cheats more: Women or men?" on Women's Health.
Photo: White Packert/Getty Images
Bing: Cheating signs
More from Women's Health:
One guy spills: 'Why I've stayed loyal for 23 years'
Why both men and women are straying from marriage
Maximize your sexual pleasure
love: friendships, dating, sex & marriage
Two guests arrested in New Jersey.

Celebrities certainly know how to travel in style, so if you're struggling to select a honeymoon destination, look no further than these star-approved hotspots. To make it even easier, we're providing you with hotel recommendations, packing essentials, and tips on what to do and see! So channel your inner celeb at one of these U.S. destinations for an unforgettable vacation!

Tall Twitter users named Wayne, we're on to you!

Should little girls be dreaming of a different kind of "I do"?

Need a reason to pack your bags and get the hell out of here?

After your return from your honeymoon, your marriage officially starts and with that come some changes. It's not to say that the honeymoon phase is over, but you'll have to get some things situated in order to have your marriage start off on the right foot. We tapped the expert advice of wedding planner and reality TV star David Tutera and love and career coach Charreah Jackson to dish on six things you must do to have a successful first month of marriage — from wedding-related logistics to wrap up to relationship rules to set.

Owner of Weddings in Vieques, a destination-wedding planning company off the coast of Puerto Rico, Sandy Malone has helped countless couples plan their big day since 2007. Here, the veteran planner is sharing some expert advice for free: She's sharing the top eight things you have to do right after you get engaged.

Is the idea of a big bridal bash just not your thing? Or perhaps you and your fiancé are just the super spontaneous type, so why not make your next beach vacation your nuptials as well? If you're thinking of eloping but have questions on the mind, we're here to help. We tapped elopement and wedding planner Lindsey Nickel, founder of Events, Etc., for her top dos and don'ts for getting hitched on the sly.

Easy everyday ways to keep the love alive.

Expert tips on moving past those oh-so-familiar arguments.

Sometimes you have to do things you don't want to do, like hang out with his lame friends. You're not always in the mood to nurse a beer silently while he and his boys argue about who's going to die next on "Game of Thrones" — but tomorrow he's sitting through a seven-girl brunch. So.

Why holding on to your partner's mistakes will end up hurting you.