Who cheats more: Women or men?
Women are cheating more than ever, according to new research.
By Madeline Haller, Women's Health
Sure, it may seem like infidelity is a guy thing. But according to research from the Archives of Sexual Behavior, women are just about as guilty of straying, and in fact, they're cheating more than ever.
Researchers had 918 men and women fill out an online questionnaire on whether or not they've cheated on their partners and why they did it. The results show that 19 percent of women admitted to straying outside their relationship -- that's up 5 percentage points from the National Science Foundation's General Social Survey in 2010.
Men aren't much better: 23 percent of them reported cheating, up 4 percent since 2010.
While men still outpace women, it's alarming to see these numbers on the rise for both sexes. According to Dr. Sheri Meyers, a marriage and family therapist and author of
Chatting or Cheating: How to Detect Infidelity, Rebuild Love, and Affair-Proof Your Relationship
, it's not just attractive men that lure us from our relationships, but rather, it's relationship discontent that leads us to stray. In fact, Meyers says the most common reasons for infidelity are feeling lonely and disconnected from your partner;
lack of communication
; love and attention deficit; boredom; a sexual disconnect; or lack of intimacy.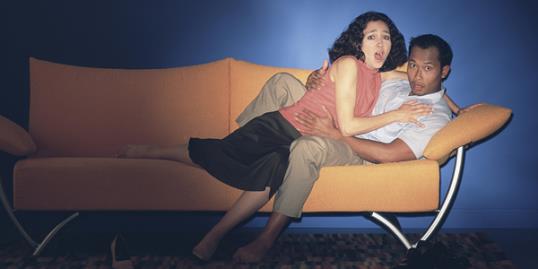 And it doesn't help that a new study published in the journal Hormones and Behavior found that certain points in our cycles make us even more likely to doubt the dude we're dating -- particularly if he's not over-the-top sexy.
In the study, women were significantly more likely to find fault with their partners and feel less close to them during the high-fertility period than the low-fertility period of their cycles.
So what should you do if (or perhaps, when) the grass looks greener on the other side? Put that temptation to rest with these ways to prevent cheating.
This content originally appeared as "Who cheats more: Women or men?" on Women's Health.
Photo: White Packert/Getty Images
Bing: Cheating signs
More from Women's Health:
One guy spills: 'Why I've stayed loyal for 23 years'
Why both men and women are straying from marriage
Maximize your sexual pleasure
love: friendships, dating, sex & marriage
Drinking and relationships seem to go hand in hand in a lot of ways. But only in moderation!

Many men will tell you that they have no clue what their wives are thinking.

Spending the holidays with your guy's family for the first time is a huge relationship milestone. But between your nerves, the usual family tension, and your weird Uncle Sal's inappropriate stories, it's also a prime opportunity for total disaster. Read on for 10 of our readers' most embarrassing meet-the-parents moments.

Want a classic round stone but an extra special setting? These stunning rings are not your average solitaire.

All year long we laugh and cry along to some of the cutest, funniest and most creative proposals on the Internet. We've seen it all -- from marching bands to every kind of flash mob you can imagine. Here, we've narrowed down our favorites from this year.

John F. Kennedy reigned with his wife Jackie in the Washington golden age known as Camelot. They were young, beautiful and seemingly the perfect couple. But behind the scenes, it was a totally different story. JFK's affairs were as legendary as some of his conquests.