Revealed: The hardest marriage vow to keep
Couples share the toughest part of saying "I do."
Who doesn't get goose bumps when couples exchange wedding vows? It's impossible not to be moved when two people promise their lives together, in sickness and in health, for better or for worse.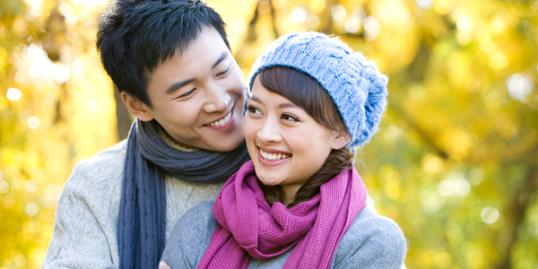 But it's all too easy to forget the significance of those vows in the middle of an ugly marital spat. And according to a recent survey, some vows are harder to keep than others.
More on MSN Living: Strangest dating trends of 2012
CBS News polled a random sample of 1,100 adults across the country and asked their thoughts on marriage, love, sex and relationships. One of those questions was: "Which one of these marriage vows is the hardest to keep?" The top answer varied between men and women.
Thirty-two percent of women found "for better or for worse" to be the toughest vow, while the highest percentage of men (27 percent), found it most difficult "to be faithful."
More on MSN Living: 8 most common reasons for divorce
Conversely, 25 percent of women also found "to be faithful" a tough vow to keep, while 23 percent of men had trouble with "for better or for worse."
Sixteen percent of women said "in sickness and in health" was the hardest vow, compared with a close 17 percent for men. Eighteen percent of men and 12 percent of women said "for richer, for poorer" was the biggest struggle.
But the survey didn't stop at marriage vows. They also asked couples which aspect of living with their partner they found most annoying. Thirty-six percent of respondents said "TV choices" drove them crazy, while 16 percent said household chores caused many annoyances.
Bing: Find out who got engaged over the holidays.
Sharing a bathroom came in third, followed by sharing a bed.
And the old stereotype about annoying in-laws may be officially outdated. Seventy-one percent of those polled said they get along well with their significant other's family.
Love at first sight? Fifty-eight percent of married people believe in it, as do 66 percent of unmarried couples in a relationship. Singles are split on the phenomenon—only 48 percent buy it.
What do you think—do these findings ring true? What do you think is the hardest marriage vow to keep?
Photo: Lane Oatey/Getty Images
More from The Heart Beat:
Is online dating causing divorce rates to rise?
Poll: Women don't marry the best sex of their lives
7 lost wedding ring stories with happy endings

love: friendship, dating, sex & marriage
The perfect wedding toast is a work of oratory art. It can't be too short (cheers!) and it can't drone on and on. It has to be funny but it also has to be sentimental. So if you've been tasked with toasting the newlyweds, prepare to prep -- and whatever you do, avoid these toasting faux pas!

Those little quirks you think are endearing may be turning your guy off.

We've made picking your palette a breeze! Just find your favorite hue and choose one of the cool combos below.

Get inspired with these twelve ideas for a fantastic, fun summer wedding!

What's worse than getting snubbed while proposing? Having your heart broken in front of countless strangers.

Want your I do's to be totally you? From pre-wedding cocktails to Mad Lib vows, here are 25 ways to make your ceremony as unforgettable as your reception.

Summer love can be sweet. But it tends to be fast, feverish and often fleeting. In a season where emotions run hot, here are some rules to help avoid heartbreak.

We asked brides on TheKnot.com to tell all -- and they did. Here, five of the most likely culprits and advice for how to deal with your drama-causing guests along the way.

This short course in flirting will not only teach you how to flirt better but also how to tell when someone is flirting with you—and how to respond. Have fun.

Gatsby glamour doesn't have to just live on the big screen! Embrace the trendy (yet timeless) art deco style with sequins, pearls, feathers and geometric patterns. Check out these art deco ideas and achieve the feel of 1920s decadence. By the way, all of these are affordable, except for the $600 hairpiece which is a splurge, but a knockout. Shop the look!

Who says a special outing with the hubby has to empty your wallet? These fresh, fun activities require no cash at all, so work your way down the list.

Wondering if your summer love will last? Here are 15 signs if your seasonal love is fleeting or for real.