Study: Couples cuddle eight times a week
Hug it out, cuddle muffin.
While there are a ton of statistics and studies on how often the average couple copulates, cuddling is generally an uncharted territory of relationship research.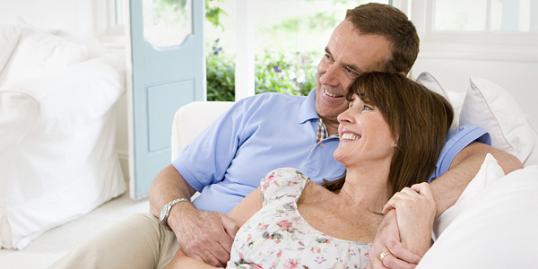 But the University of Michigan may have broken new ground when it comes to the science of cuddling. Researchers conducted a study asking over 500 men and women, all in relationships, about their cuddling behavior—everything from frequency, location, duration and quality. They found that the average couple cozies up at least eight times a week.
Reported in the Archives of Sexual Behavior, the study found cuddle sessions usually last for just over 45 minutes. Forty-seven minutes and 36 seconds, to be exact. Researchers also discovered that one in six cuddles leads to sex.
So what exactly constitutes a cuddle? The study defined it as an "intimate, physical and loving contact that does not involve sexual behavior and that involves some degree of whole body touching, not just hand to hand or lips to lips."
Unsurprisingly, the study found that women enjoy cuddling more than men. Then again, perhaps that is surprising.
Related: 50 things everyone should know about getting married
The sofa, armchair and bed were the most popular places to snuggle up, and couples are most likely to cuddle in the evening, watching TV.
Related: 50 unique engagement rings
And before you write off the science of cuddling as silly—physical, non-sexual embrace is quite important to a relationship. Dr. Sari van Anders, one of the study's researchers, told MSN's The Heart Beat:
"Other scientists have reported that intimacy is important for long-term relationships, and cuddling seems to factor into that as people reported cuddling for love and intimacy reasons."
Photo: Andrew Olney/Getty Images
More Sex & Love on MSN Living:
30 diamond engagement rings so sparkly you'll need sunglasses
5 signs a guy is toxic
5 sexy steps to get out of your date rut
love: friendships, dating, sex & marriage
This just in: A new study shows girls are warriors in the womb.

You can make a pros and cons list...but ultimately you know what works best for you.

Maggie Reyes is a life coach, writer, and the founder of ModernMarried.com. She helps newlyweds re-think what married life can be. Here, she's revealing tricks every newlywed couple needs to know.

Government-supported Vietnamese classes teach women Korean language, customs.

Whether you're into creative artists or uber-preppy bankers, there's something to be said for trying something new.

Sometimes two characters on a TV show or movie can portray being a happy couple effortlessly, or can have lots of fun playing former spouses — especially if they're married to each other in real life! Keep scrolling for six celebrity costars you probably didn't know tied the knot, even after the bloodiest and craziest story lines.

Some couples want nothing more than a laid-back, by-the-book proposal. Then there are the other couples, where the proposal not only needs to be personalized, it also has to be unique and entirely different than the typical restaurant, bended-knee idea. Sound like you? Then get inspired by some of the most creative proposal ideas we've ever seen. If you find something you like, steal it and then modify it to make your proposal something totally unforgettable.

From Nantucket all the way to Cayo Espanto, we've rounded up some of the prettiest beaches to travel to for your honeymoon.

Researchers studied the age-old stereotype that women really are more talkative than men.

'There is a science behind attraction,' SingldOut says.

One minute you're happy and in love, the next he's delivering the "It's not you, it's me" speech. Why? We have the scoop on the real reasons most couples split up.

Want to keep your wedding budget in check? Start by checking out this list of the 10 things that could end up costing you a lot more than you anticipated.