Study: Couples cuddle eight times a week
Hug it out, cuddle muffin.
While there are a ton of statistics and studies on how often the average couple copulates, cuddling is generally an uncharted territory of relationship research.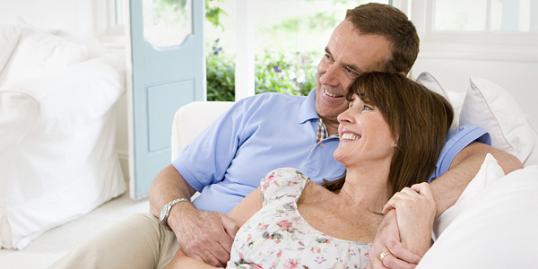 But the University of Michigan may have broken new ground when it comes to the science of cuddling. Researchers conducted a study asking over 500 men and women, all in relationships, about their cuddling behavior—everything from frequency, location, duration and quality. They found that the average couple cozies up at least eight times a week.
Reported in the Archives of Sexual Behavior, the study found cuddle sessions usually last for just over 45 minutes. Forty-seven minutes and 36 seconds, to be exact. Researchers also discovered that one in six cuddles leads to sex.
So what exactly constitutes a cuddle? The study defined it as an "intimate, physical and loving contact that does not involve sexual behavior and that involves some degree of whole body touching, not just hand to hand or lips to lips."
Unsurprisingly, the study found that women enjoy cuddling more than men. Then again, perhaps that is surprising.
Related: 50 things everyone should know about getting married
The sofa, armchair and bed were the most popular places to snuggle up, and couples are most likely to cuddle in the evening, watching TV.
Related: 50 unique engagement rings
And before you write off the science of cuddling as silly—physical, non-sexual embrace is quite important to a relationship. Dr. Sari van Anders, one of the study's researchers, told MSN's The Heart Beat:
"Other scientists have reported that intimacy is important for long-term relationships, and cuddling seems to factor into that as people reported cuddling for love and intimacy reasons."
Photo: Andrew Olney/Getty Images
More Sex & Love on MSN Living:
30 diamond engagement rings so sparkly you'll need sunglasses
5 signs a guy is toxic
5 sexy steps to get out of your date rut
love: friendships, dating, sex & marriage
LinkedUp connects to your LinkedIn profile to find you a date.

Plus, some report having no one at all they feel close to.

It's wedding season! Let's take a look back at when these stunning celebs put on gorgeous gowns and held beautiful bouquets in support of their friends' and family members' big days.

A new study says we're more open to consensual non-monogamy now than ever before — but does it work?

5 steps to being happy together in the long run.

There has been an exponential increase in the number of people who are questioning their marriage.

We're willing to bet that if you're not already grappling with these wedding-related snags, you will be soon.

Pull out the tissues for these personalized wedding vows.

Forgotten what love is all about? Read this note, and remember.

And a few that aren't so shocking.

If you find yourself doing any of these things, consider changing your behavior or counseling.

From pineapple sculptures made out of sunflowers to bold graphic printed tablecloths, ten trendsetters in the wedding industry shared 100 days' worth of inspiring new wedding details. See The Knot editors' top picks for the coolest and most awe-worthy ideas from the wedding experts.