Poll suggests men are more traditional than women about the first date
That awkward moment when the bill arrives…
Ah, the question of the moment—who should pay for the first date? Traditional dating rituals are being challenged, as only half of women think men should be the ones to pull out their wallets.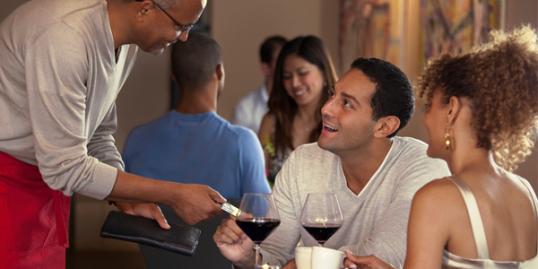 Surprisingly, it's men themselves who think they should pick up the tab—a whopping 74 percent of men think it's the guy's responsibility to pay for a first date. This is according to a recent poll from dating site Cupid.com, which explored first date financial behavior.
Related: Sexy things that may not be
The site surveyed 2,500 of its members, asking them questions such as, "What would make you spend more [on a first date]," and "What's your biggest first date extravagance?"
Let's take a look at the answer to the latter, because I'm a little confused.
According to the survey results, 29 percent of men say that their biggest first-date expense is a hotel room. I have a feeling these guys may not be on the same page as the rest of us about the meaning of the word "date."
Related: 6 fascinating facts about exes
At any rate, yes—there was a nearly 25 percent difference of opinion between men and women about paying for the first date. This was especially surprising considering the results of a separate poll, which found that guys are sick of picking up the tab.
As for the other statistics, 35 percent of men polled in Cupid.com's survey say they'd pay extra to get their date into bed, and 45 percent say they'd pay less if they felt as if the date wasn't going well. Five percent of men polled say they've put down money for a first date helicopter ride.
On the women's side, 39 percent of ladies say they'd spend more to impress a first date, and 24 percent say they'd spend more just to avoid the awkward moment when the bill arrives.
Refreshingly, the majority of both sexes say there's too much emphasis on money when it comes to the first date. And 90 percent of both men and women agree—personality is more important than anything money could buy.
What do you think—should men still pay for the first date? What's your biggest first-date splurge?
Photo: Ariel Skelley/Getty Images
Bing: Great first-date ideas.
More Sex & Love on MSN Living:
Scariest marriage proposals
What his date style says about him
Little gestures she wished you'd do
10 things he should do to make you happy
love: friendships, dating, sex & marriage
Two steps forward, one giant fight afterward?

If you've been hiding any of this stuff, it's time to fess up.

The outlandish things we do for love have no limits; just ask these guys. Who's hugged the longest? Kissed the longest? Been on the most expensive date? Take a look below as we count down the world's most loving record-breakers.

If you just got engaged, congrats! This is seriously exciting news that deserves lots of congratulatory hugs, "oohing" and "ahhing" over the ring and plenty of bubbly. To make sure you get the right response from friends, family and coworkers, avoid announcing your engagement like this…

Ladies, give yourself the best gift of all this season: The NYC Taxi Driver 2014 Calendar. By Michelle Toglia

Pheromones may be the key to finding your perfect match.

Her partner? Wine? Downtime? Find out where it all ranks.

This time of year, we dust off our holiday traditions of special songs, stories, events and food to make our season bright. Here's a look into the traditional, unique and quirky holiday traditions of some famous couples.

Look, I looooove engagement season for obvious reasons, but even I can admit I'm like, "Really, AGAIN?" when yet ANOTHER engagement ring pops up in my news feed. Seriously, there were two this weekend. (Congrats, Gemma and Danny!)

We asked real men and women (and a few first-base experts, too) to give us the cardinal rules of kissing, tell us what makes someone a good kisser and more. So whether you're leaning in for kiss No. 1 or 1,000, read on.by Devin Tomb

Not quite sure which diamond shape suits your personality? We're here to help.

Dating can lead to all kinds of tricky situations. To help you navigate even the most awkward moments, we've compiled our 50 best dating tips—some new, some old—given to us by experts, moms, women like you, and even Justin Timberlake.