Poll suggests men are more traditional than women about the first date
That awkward moment when the bill arrives…
Ah, the question of the moment—who should pay for the first date? Traditional dating rituals are being challenged, as only half of women think men should be the ones to pull out their wallets.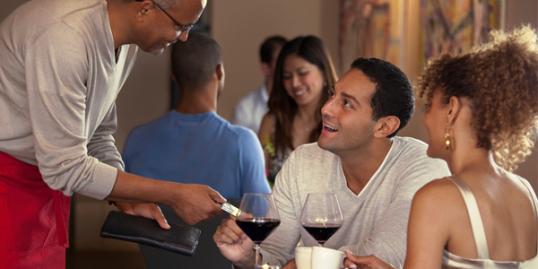 Surprisingly, it's men themselves who think they should pick up the tab—a whopping 74 percent of men think it's the guy's responsibility to pay for a first date. This is according to a recent poll from dating site Cupid.com, which explored first date financial behavior.
Related: Sexy things that may not be
The site surveyed 2,500 of its members, asking them questions such as, "What would make you spend more [on a first date]," and "What's your biggest first date extravagance?"
Let's take a look at the answer to the latter, because I'm a little confused.
According to the survey results, 29 percent of men say that their biggest first-date expense is a hotel room. I have a feeling these guys may not be on the same page as the rest of us about the meaning of the word "date."
Related: 6 fascinating facts about exes
At any rate, yes—there was a nearly 25 percent difference of opinion between men and women about paying for the first date. This was especially surprising considering the results of a separate poll, which found that guys are sick of picking up the tab.
As for the other statistics, 35 percent of men polled in Cupid.com's survey say they'd pay extra to get their date into bed, and 45 percent say they'd pay less if they felt as if the date wasn't going well. Five percent of men polled say they've put down money for a first date helicopter ride.
On the women's side, 39 percent of ladies say they'd spend more to impress a first date, and 24 percent say they'd spend more just to avoid the awkward moment when the bill arrives.
Refreshingly, the majority of both sexes say there's too much emphasis on money when it comes to the first date. And 90 percent of both men and women agree—personality is more important than anything money could buy.
What do you think—should men still pay for the first date? What's your biggest first-date splurge?
Photo: Ariel Skelley/Getty Images
Bing: Great first-date ideas.
More Sex & Love on MSN Living:
Scariest marriage proposals
What his date style says about him
Little gestures she wished you'd do
10 things he should do to make you happy
love: friendships, dating, sex & marriage
How to flag her little fibs. By Laura Tedesco

A new study on attraction may help explain why fashions change.

As a general rule, any island that offers great weather year-round is going to attract the most visitors in the winter (high season) when we're all trying to escape the snow. Once summer rolls around, many islands see a sharp drop-off in tourism since many people have beach weather right in their own backyards.

And how you can attack the issues together.

A wedding is an exceptionally special day. Sometimes, an opportune photo flub makes the occasion even more memorable. Here are 25 awesome wedding photo bombs.

Somewhere between the first few butterfly-inducing dates and the committed-for-life stage, there's the period of wondering if you're both on the same page about how serious you feel about a future together. If you're not quite at the point of "that talk" but you're looking for a few clues you're heading in that direction, here are some signs he's in it for the long haul as your relationship progresses.

What's that sound? It's white noise blocking out the well-meaning person proclaiming groundbreaking news about where you can meet someone, asking why you're still single, or bugging you about when you're getting married already. Don't be that person. Here are 15 annoying things all single people don't want to hear.

With just a few days left before the big day, you already have a mile-long checklist of to-dos—now meet the don'ts! From impromptu skin treatments to all-night movie marathons, here are 11 things to avoid at all costs.

A new study shows that watching and discussing romantic films can drastically reduce your chance of divorce. These flicks more than fit the bill.

These seemingly innocent phrases still have the power to wound… big time.

Making "I do" last forever is one of the biggest challenges you'll ever face—and it's normal to worry about how you'll do it. But, if your connection involves any of these things, rest assured that you're in it for the long run.

Ultimately, as hard as it may seem at the beginning, a marital affair can be a turning point.