Poll suggests men are more traditional than women about the first date
That awkward moment when the bill arrives…
Ah, the question of the moment—who should pay for the first date? Traditional dating rituals are being challenged, as only half of women think men should be the ones to pull out their wallets.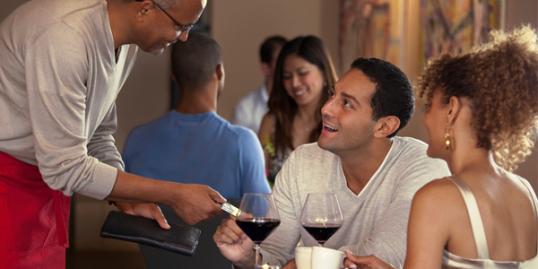 Surprisingly, it's men themselves who think they should pick up the tab—a whopping 74 percent of men think it's the guy's responsibility to pay for a first date. This is according to a recent poll from dating site Cupid.com, which explored first date financial behavior.
Related: Sexy things that may not be
The site surveyed 2,500 of its members, asking them questions such as, "What would make you spend more [on a first date]," and "What's your biggest first date extravagance?"
Let's take a look at the answer to the latter, because I'm a little confused.
According to the survey results, 29 percent of men say that their biggest first-date expense is a hotel room. I have a feeling these guys may not be on the same page as the rest of us about the meaning of the word "date."
Related: 6 fascinating facts about exes
At any rate, yes—there was a nearly 25 percent difference of opinion between men and women about paying for the first date. This was especially surprising considering the results of a separate poll, which found that guys are sick of picking up the tab.
As for the other statistics, 35 percent of men polled in Cupid.com's survey say they'd pay extra to get their date into bed, and 45 percent say they'd pay less if they felt as if the date wasn't going well. Five percent of men polled say they've put down money for a first date helicopter ride.
On the women's side, 39 percent of ladies say they'd spend more to impress a first date, and 24 percent say they'd spend more just to avoid the awkward moment when the bill arrives.
Refreshingly, the majority of both sexes say there's too much emphasis on money when it comes to the first date. And 90 percent of both men and women agree—personality is more important than anything money could buy.
What do you think—should men still pay for the first date? What's your biggest first-date splurge?
Photo: Ariel Skelley/Getty Images
Bing: Great first-date ideas.
More Sex & Love on MSN Living:
Scariest marriage proposals
What his date style says about him
Little gestures she wished you'd do
10 things he should do to make you happy
love: friendships, dating, sex & marriage
Why holding on to your partner's mistakes will end up hurting you.

A little extra effort, will power and research can help your marriage bloom well into old age.

These are the conversations all betrothed couples should take the time to have before they get hitched.

Brace yourself, this is uncomfortable.

There's nothing wrong with grabbing Italian food and alternating between watching action films and romantic comedies, but shaking up your going-out routine with an extreme date night can be the ultimate turn on and the best way to keep your relationship exciting.

This just in: Guys over 5'10" are twice as likely to stray.

Or how to tell if you've reached THAT point in your bond.

Dating doesn't have to be a daunting task, promise. Here's how to make it fun for you and him.

This just in: A new study shows girls are warriors in the womb.

You can make a pros and cons list...but ultimately you know what works best for you.

Maggie Reyes is a life coach, writer, and the founder of ModernMarried.com. She helps newlyweds re-think what married life can be. Here, she's revealing tricks every newlywed couple needs to know.

Government-supported Vietnamese classes teach women Korean language, customs.