Poll suggests men are more traditional than women about the first date
That awkward moment when the bill arrives…
Ah, the question of the moment—who should pay for the first date? Traditional dating rituals are being challenged, as only half of women think men should be the ones to pull out their wallets.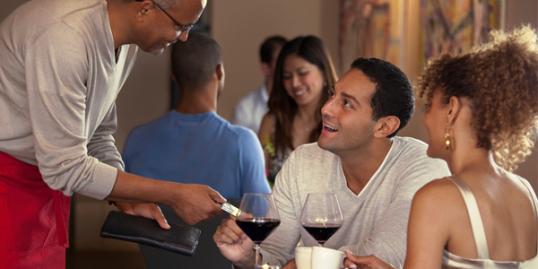 Surprisingly, it's men themselves who think they should pick up the tab—a whopping 74 percent of men think it's the guy's responsibility to pay for a first date. This is according to a recent poll from dating site Cupid.com, which explored first date financial behavior.
Related: Sexy things that may not be
The site surveyed 2,500 of its members, asking them questions such as, "What would make you spend more [on a first date]," and "What's your biggest first date extravagance?"
Let's take a look at the answer to the latter, because I'm a little confused.
According to the survey results, 29 percent of men say that their biggest first-date expense is a hotel room. I have a feeling these guys may not be on the same page as the rest of us about the meaning of the word "date."
Related: 6 fascinating facts about exes
At any rate, yes—there was a nearly 25 percent difference of opinion between men and women about paying for the first date. This was especially surprising considering the results of a separate poll, which found that guys are sick of picking up the tab.
As for the other statistics, 35 percent of men polled in Cupid.com's survey say they'd pay extra to get their date into bed, and 45 percent say they'd pay less if they felt as if the date wasn't going well. Five percent of men polled say they've put down money for a first date helicopter ride.
On the women's side, 39 percent of ladies say they'd spend more to impress a first date, and 24 percent say they'd spend more just to avoid the awkward moment when the bill arrives.
Refreshingly, the majority of both sexes say there's too much emphasis on money when it comes to the first date. And 90 percent of both men and women agree—personality is more important than anything money could buy.
What do you think—should men still pay for the first date? What's your biggest first-date splurge?
Photo: Ariel Skelley/Getty Images
Bing: Great first-date ideas.
More Sex & Love on MSN Living:
Scariest marriage proposals
What his date style says about him
Little gestures she wished you'd do
10 things he should do to make you happy
love: friendships, dating, sex & marriage
It's not that you don't find every little thing about your partner endearing and adorable; it's just that it would have been really, really nice if that map could have been consulted three hours ago.

The typical wedding: A white dress, tiered cake, floral centerpieces and a cute flower girl -- you know the drill. Every once in a while, though, a couple trades in tradition for a quirky, never-seen-that-before idea. Here are a few of the most out-there wedding photos that made us do a double take.

There's a lot to love about weddings this fall, like cocktails served in copper Moscow mule mugs, industrial-inspired lighting and pheasant feather details. See what's new!

Do you have to be engaged to sport a ring with bling?

124.6 million haven't gotten hitched.

Even though the national average wedding is $29,858, that's just an average. If you live in a smaller state like Idaho where the average wedding costs $16,159, you may find yourself saving a little more than half of the national spend! Check out some of the other least expensive cities to get married in below:

Summer is winding down, but the ubiquitous summer romance lives on.

For those times when nothing big and horrible happened--but nothing is feeling right either.

He's confident, distinguished and anywhere from 4 to 20 years older than you. Age is just a number, but there's something about older men that we love. Here are eight reasons why being in a relationship with an older man is tops.

While a younger man may have less life experience, that doesn't mean he's not emotionally mature. Here are the eight reasons why being in a relationship with a younger man is tops.

Have you ever wondered what the 'other woman' was thinking?

So fall is coming and you need some romantic inspiration now that long walks on the beach are out of the question. Well look no further! From apple picking to pumpkin carving, these are some great fall date ideas from girls just like you!