Study: Confidence before marriage leads to a happy union
Don't just walk down the aisle—strut!
We recently found out that having cold feet before marriage leads to divorce. Similarly, new research shows that pre-marriage confidence could be the key to a better union down the road.
If you're sure about your walk down the aisle before you actually walk down the aisle, chances are, you'll be more invested in your marriage a few years later. This is according to researchers from the University of Alberta, who studied the relationship behavior of 610 newlywed couples over a four-year period.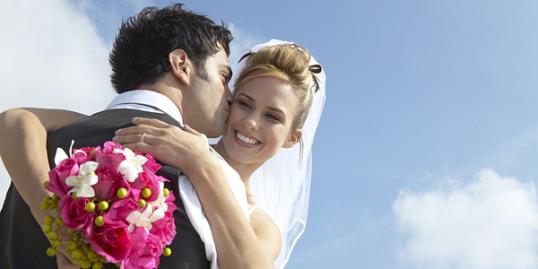 Related: Sexy things that may not be
In a press release, researcher Matt Johnson confirmed:
"Those who are more confident in getting married are willing to invest in their relationships."
Of the confident couples, Johnson found that, three years later, they were spending more time together than the couples who had doubts before their wedding. Perhaps confidence also builds up immunity to the dreaded three-year itch.
Related: 6 fascinating facts about exes
Speaking of splitting, what was the fate of those couples with cold feet? In line with the University of California study, which found that pre-wedding jitters lead to divorce, Johnson found that couples with doubts going into a marriage were less happy after 18 months.
For couples positive about their vows, this study may only serve to echo their confidence. Perhaps the real lesson here is for those doubtful of their marital duties. It's easy to brush off cold feet, but if recent research is any indication, that's not the way to go.
Johnson adds:
"It is tempting to push those concerns down and just go with the flow, but couples need to remember, the doubts you are having are there for a reason and dealing with them will be beneficial."
Photo: Digital Vision/Getty Images
Bing: How to keep your marriage strong
More Sex & Love on MSN Living:
Scariest marriage proposals
What his date style says about him
Little gestures she wishes you'd do
10 things he should do to make you happy
love: friendships, dating, sex & marriage
It's wedding season! Let's take a look back at when these stunning celebs put on gorgeous gowns and held beautiful bouquets in support of their friends' and family members' big days.

A new study says we're more open to consensual non-monogamy now than ever before — but does it work?

5 steps to being happy together in the long run.

There has been an exponential increase in the number of people who are questioning their marriage.

We're willing to bet that if you're not already grappling with these wedding-related snags, you will be soon.

Pull out the tissues for these personalized wedding vows.

Forgotten what love is all about? Read this note, and remember.

And a few that aren't so shocking.

If you find yourself doing any of these things, consider changing your behavior or counseling.

From pineapple sculptures made out of sunflowers to bold graphic printed tablecloths, ten trendsetters in the wedding industry shared 100 days' worth of inspiring new wedding details. See The Knot editors' top picks for the coolest and most awe-worthy ideas from the wedding experts.

Those Facebook friends who seem to have perfect lives with flawless mates whom they adore at all times? Even they face tough times like these.

How to flag her little fibs. By Laura Tedesco