Study: Confidence before marriage leads to a happy union
Don't just walk down the aisle—strut!
We recently found out that having cold feet before marriage leads to divorce. Similarly, new research shows that pre-marriage confidence could be the key to a better union down the road.
If you're sure about your walk down the aisle before you actually walk down the aisle, chances are, you'll be more invested in your marriage a few years later. This is according to researchers from the University of Alberta, who studied the relationship behavior of 610 newlywed couples over a four-year period.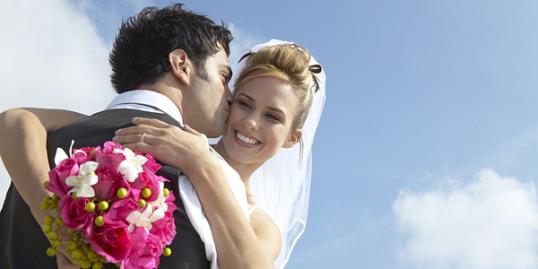 Related: Sexy things that may not be
In a press release, researcher Matt Johnson confirmed:
"Those who are more confident in getting married are willing to invest in their relationships."
Of the confident couples, Johnson found that, three years later, they were spending more time together than the couples who had doubts before their wedding. Perhaps confidence also builds up immunity to the dreaded three-year itch.
Related: 6 fascinating facts about exes
Speaking of splitting, what was the fate of those couples with cold feet? In line with the University of California study, which found that pre-wedding jitters lead to divorce, Johnson found that couples with doubts going into a marriage were less happy after 18 months.
For couples positive about their vows, this study may only serve to echo their confidence. Perhaps the real lesson here is for those doubtful of their marital duties. It's easy to brush off cold feet, but if recent research is any indication, that's not the way to go.
Johnson adds:
"It is tempting to push those concerns down and just go with the flow, but couples need to remember, the doubts you are having are there for a reason and dealing with them will be beneficial."
Photo: Digital Vision/Getty Images
Bing: How to keep your marriage strong
More Sex & Love on MSN Living:
Scariest marriage proposals
What his date style says about him
Little gestures she wishes you'd do
10 things he should do to make you happy
love: friendships, dating, sex & marriage
Love it or hate it, the selfie wields much power.

Talk about some blurred lines.

Come on people, it's not that hard to mind your own business.

No sense in wasting your time on someone who will never commit.

There he is, the man of your dreams. He's sitting across from you at the coffee shop or standing at the opposite side of the bar. His eyes meet yours, a quick glance, and then it's back to his drink. Was he giving you a signal?

Remember that time on "30 Rock" when Liz Lemon and her eventual-husband Criss went shopping at Ikea, only to end up in a major fight? We know it couldn't be closer to the truth because we've all been there. In honor of the irritation that can be Ikea, here are the top fights you'll likely encounter.

Dating doesn't have to be a daunting task, promise. Here's how to make it fun for you and him.

One woman's honest journey to divorce will break your heart and inspire you at the same time.

Want to send your date running? Try one these moves.

Two guests arrested in New Jersey.

Celebrities certainly know how to travel in style, so if you're struggling to select a honeymoon destination, look no further than these star-approved hotspots. To make it even easier, we're providing you with hotel recommendations, packing essentials, and tips on what to do and see! So channel your inner celeb at one of these U.S. destinations for an unforgettable vacation!

Tall Twitter users named Wayne, we're on to you!