'Dating School' Teaches Singles How to Find Love
Reading, writing and … courtship?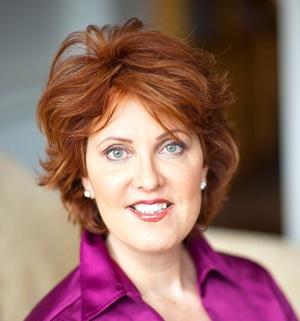 Not having much luck meeting people? Mystified as to why you're alone on a Friday night despite putting yourself out there? Tired of going out with duds? It might be time to get a degree in dating.
Dating expert Paula Rosdol is an American in London who has founded the "School of Love," a service that teaches Courtship 101 — everything from attitude to sex appeal. She's educated more than 150 women, and some men, in the fine art of online dating.
"Even with your best efforts, finding the right partner can be a frustrating, time-consuming process. Sometimes it's downright unnerving, even demoralizing. It's no wonder many people give up…" Paula's website reads.

She tells The Heart Beat that the biggest struggle singles often encounter is finding the "right mate, not the perfect mate:"
"Given that we often choose the wrong men or women, surely it would make more sense to seek someone who is 'good enough' rather than always seeking 'the best.'"
At the School of Love, students are put in the driver's seat, where they're given "the confidence to navigate today's challenging dating terrain."
So who's an ideal candidate? Paula gave the Mirror one example of an online dating profile gone wrong:
"I have a client in her mid-30s who came to me saying, I get the dates but men just want take me to bed straight away. So I looked at her profile. She had eight typos in her copy, she talked about how she loved partying and going to gigs, and her photo made her look cheap, which she wasn't in person. She was sending out the wrong message."
As a student, you would learn everything from emailing effectively to selecting a unique screen name. And because this is school, there is, of course, homework.
"You'll also receive supporting materials, recommended readings, and a summary report of recommendations," the website reads.
Related video: 5 Ways to Strengthen Your Relationship
Paula, a former marketing consultant, offers a variety of sessions at her school. In these sessions, she interviews her students to discover what their dating goals are. From there, she helps them with "image, energy & attitude makeover." According to the website:
"Attracting your ideal partner often starts with feeling attractive and confident yourself. We'll review your best assets, and look at making internal and external changes, to help you feel, act and look your best."
Paula has a stylist and makeup artist on hand to assist with these changes. She explains that, like it or not, for women, successful dating starts with appearance. She told the Mirror:
"Feminists out there are going to have to bite the bullet, because this is how men are built. They're visual, while women are aural... we love to hear romantic words."
That's not the only tip feminists may take umbrage with. Paula also advises her female clients not to make the first move. She tells us:

"For women, I find that a passive approach is more productive."
Paula advises her clients to start with Match.com, simply because it's the largest of online dating sites. But she points out that there are plenty of niche dating sites for more specific needs.

And sometimes, you just have to go offline. After dating 125 men herself, Paula finally met her future husband through a friend of a friend.
"You can't just pin your hopes on the ­Internet. You have to use several channels including friends and work."
Finally, Rosdol was kind enough to give The Heart Beat some tuition-free lessons in love:
Be determined, not easily disappointed.   Believe you can have the type relationship you want at whatever life stage you're at, and by going online you're taking appropriate action. Understand that you will encounter all types of people — some good and some not-so-good — so keep your spirits up by knowing, as the old saying goes, you got to be in the game to win.  
 Use an attractive and recent photo. The biggest complaint of online daters over 40 is outdated photos that make one appear younger, thinner and more attractive. Use a professional quality image that presents you at your best but also truly reflects who and what you are at your stage in life.
 Redefine your 'type'. Paradoxically, casting your net wider as you age can lead to meeting more, not less, appropriate singles who can enhance your life.   For example, instead of searching online for someone within five years of your age, increase your range to 10 years on either side. Also be more flexible on looks, including height and weight, as well as income and profession.
 Aim to create interest. Use your provider to communicate in a positive, upbeat and brief manner what's different about yourself and why you're an obvious choice amongst the crowd. Many older online singles are looking for people who are emotionally sorted, fit and active, with the flexibility and means to pursue a variety of interests and the willingness to welcome another into a one's life.
 Less is more. Keep your profile short and simple, refusing to get carried with an exposé of your life history. Instead, in two or three sentences, focus on what you have to bring to that special person and relationship. 
 Embrace online etiquette. If you're a woman, it's perfectly fine to be proactive and contact a man first with a "wink" or short message to spur him to view your profile. If you're a man, realize that many people are wary of married men online so make it known that you're single. If you receive a thoughtful email but aren't interested in connecting with the person, you can opt to reply with a kind message such as, "Thank you for your interest but I don't believe we're a good match. I wish you the very best with your search."  
 Realize the differences between the sexes. When it comes to online dating, what women want is not necessarily what men want, and vice versa. Both sexes look for realistic, attractive photos. Men, however, want brief profiles and emails as well as limited hassle. Women prefer to know more, including what a man does for work and play.
Be street smart. The years have earned you the ability to use your common and sixth sense to alert you to "red flags" that signal potential problems or dangers. For example, if someone professes to be well educated but can't string together a proper sentence, there may be other inconsistencies waiting to be discovered. Or, if after one round of emails, someone wants to know your sexual and financial history, don't answer and move on.
Keep it light — and brief. Save heavy discussions about life's disappointments and frustrations for your life coach or friends. Don't waste time on strings of long emails or deep telephone conversations. Meet casually ASAP for a coffee or a drink. Remember, the sole purpose of online dating is to get a face-to-face meeting to learn if you "click" and want to see each other again.
 Relax. When finally meeting, know the only decision that either of you are looking to make is "Shall we meet up again?" — not whether you are going to spend the rest of your life together!
Photo: Courtesy of Paula Rosdol

More love and sex on MSN Living:
Crazy Marriage Proposals
Weird Wild World of Modern Love
Most Romantic Date Destinations in America
25 Reasons Why Married Sex Is Better
love: friendships, dating, sex & marriage
Brad Pitt and Angelina Jolie finally took the plunge, but marriage isn't always a good choice for everyone.

Learn how these surprising tactics can really improve your relationship.

Use these tips to up your chances of finding love.

Find out how paired-off ladies might feel lacking—and how you can make your relationship satisfying.

These signals are seriously subtle, but they can give you real insight into what's going through your husband's mind.

Check which changes are necessary to stay happy together.

We know some of this may sound obvious, but these simple statements can make both of you happier.

Making your relationship more secure, connected, and intimate doesn't have to feel overwhelming. Try these expert tips and reap the rewards now—and in the long run.

For those times when nothing big and horrible happened--but nothing is feeling right either.

What's more fun than animals in weddings? We've rounded up eight of the cutest.

Your puppy is all over your Instagram, Facebook and fridge, so there's no reason not to include him in your engagement pictures too. The best engagement photos give viewers a peek into your life. If you're a dog owner, take this opportunity to show off your pooch, like these 22 couples did! And we can't thank them enough.

Our married blogger gets real about checking out other guys when you're taken.