Poll: Women don't marry the best sex of their lives
Your wife might have some explaining to do.
Bad news, husbands. Although you may consider yourself to be your wife's most exciting sex partner, chances are the honor actually lies with one of her ex-lovers.
A recent study from iVillage found that less than half of married women describe their husband as their best sex ever. Fifty-two percent of those surveyed said an ex was better in bed than their current spouse. Sound dismal? That's not the worst of it.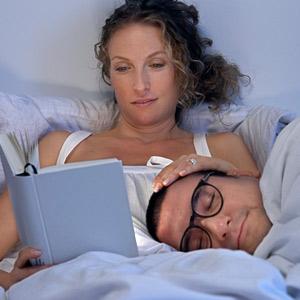 More on MSN Living: 10 men in your life you may be overlooking
The website surveyed 2,000 married women with a 60/40 split of those with and without children.
If the lackluster sex isn't bad enough, the poll found that 66 percent of married women would rather read a book, watch a movie or take a nap than have sex with a spouse.
More on MSN Living: 9 myths about men
Some might describe their sex lives as stale, but according to the survey, married women are quite content with this boring bedroom behavior.
"The iVillage study shows that not all housewives are desperate – surprisingly they are quite content and fulfilled with their predictable sex lives," said editor Liz Zack in a press release. "Perhaps that's because sex is not a priority when it comes to personal time. Today's married women lead such busy lives that they consider rest and relaxation a better self indulgence."
The New York Post recently cited the study in a story titled, "Nobody marries their best sex ever." Sex therapist Sari Cooper told the Post that she talks to many women who are concerned that their husbands don't match up to sexual escapades of the past. But Cooper explains:
"Your best sexual relationship has likely been with the person who was most unstable and most volatile, but was very passionate. That's like riding a roller coaster. That's passion. But if you have a family, riding a roller coaster isn't that great for kids."
Photo: Christoph Wilhelm/Getty Images
More Sex & Love on MSN Living:
The Essence most eligible bachelors
15 (guy approved!) ways to have the best first date ever
50 signs he's not that into you
20 'annoying' girl things he secretly loves about you
love: friendships, dating, sex & marriage
Here's why dudes without hair make the best boyfriends.

What do you wish you appreciated more when you were flying solo?

"If you're so busy tweeting and Instagraming, you're not paying attention," New York wedding planner Marcy Blum said. "It's almost a cosmic faux pas. People want your energy with them and focused on what they're doing."

The wedding favor, that little thank-you-for-coming gift, has risen to new heights with the bride and groom giving guests a wide range of favors that are meaningful to them.

Generations ago, planning a wedding was 100 percent the bride's job, but in today's age of gender equity, it's a mere 99 percent.

For all the self-help books and advice columns out there (um, keeping reading my advice anyway, please!), there's one tool we all already have in our arsenal for picking a partner that will keep us happy: our gut instincts.

According to a new study from the University of Texas and the University of California, Los Angeles, both men and women have regrets when it comes to sex, but the genders vary greatly when it comes to what they regret specifically.

Spending time alone with your guy is easy, but going public with your plus-one is another thing entirely. Whether it's your crazy relatives at Thanksgiving dinner or awkward convos with your boss at the holiday party, possible pitfalls are everywhere. Keep reading for tips on how to make his grand entrance into your social life a good thing.

Match.com survey reveals the day you're least likely to get spruced up for a date.

Drinking and relationships seem to go hand in hand in a lot of ways. But only in moderation!

Many men will tell you that they have no clue what their wives are thinking.

Spending the holidays with your guy's family for the first time is a huge relationship milestone. But between your nerves, the usual family tension, and your weird Uncle Sal's inappropriate stories, it's also a prime opportunity for total disaster. Read on for 10 of our readers' most embarrassing meet-the-parents moments.