Poll: Women don't marry the best sex of their lives
Your wife might have some explaining to do.
Bad news, husbands. Although you may consider yourself to be your wife's most exciting sex partner, chances are the honor actually lies with one of her ex-lovers.
A recent study from iVillage found that less than half of married women describe their husband as their best sex ever. Fifty-two percent of those surveyed said an ex was better in bed than their current spouse. Sound dismal? That's not the worst of it.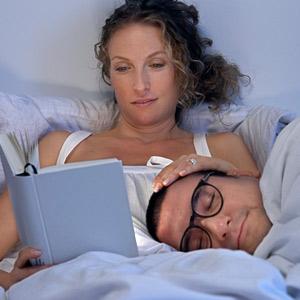 More on MSN Living: 10 men in your life you may be overlooking
The website surveyed 2,000 married women with a 60/40 split of those with and without children.
If the lackluster sex isn't bad enough, the poll found that 66 percent of married women would rather read a book, watch a movie or take a nap than have sex with a spouse.
More on MSN Living: 9 myths about men
Some might describe their sex lives as stale, but according to the survey, married women are quite content with this boring bedroom behavior.
"The iVillage study shows that not all housewives are desperate – surprisingly they are quite content and fulfilled with their predictable sex lives," said editor Liz Zack in a press release. "Perhaps that's because sex is not a priority when it comes to personal time. Today's married women lead such busy lives that they consider rest and relaxation a better self indulgence."
The New York Post recently cited the study in a story titled, "Nobody marries their best sex ever." Sex therapist Sari Cooper told the Post that she talks to many women who are concerned that their husbands don't match up to sexual escapades of the past. But Cooper explains:
"Your best sexual relationship has likely been with the person who was most unstable and most volatile, but was very passionate. That's like riding a roller coaster. That's passion. But if you have a family, riding a roller coaster isn't that great for kids."
Photo: Christoph Wilhelm/Getty Images
More Sex & Love on MSN Living:
The Essence most eligible bachelors
15 (guy approved!) ways to have the best first date ever
50 signs he's not that into you
20 'annoying' girl things he secretly loves about you
love: friendships, dating, sex & marriage
It's not that you don't find every little thing about your partner endearing and adorable; it's just that it would have been really, really nice if that map could have been consulted three hours ago.

The typical wedding: A white dress, tiered cake, floral centerpieces and a cute flower girl -- you know the drill. Every once in a while, though, a couple trades in tradition for a quirky, never-seen-that-before idea. Here are a few of the most out-there wedding photos that made us do a double take.

There's a lot to love about weddings this fall, like cocktails served in copper Moscow mule mugs, industrial-inspired lighting and pheasant feather details. See what's new!

Do you have to be engaged to sport a ring with bling?

124.6 million haven't gotten hitched.

Even though the national average wedding is $29,858, that's just an average. If you live in a smaller state like Idaho where the average wedding costs $16,159, you may find yourself saving a little more than half of the national spend! Check out some of the other least expensive cities to get married in below:

Summer is winding down, but the ubiquitous summer romance lives on.

For those times when nothing big and horrible happened--but nothing is feeling right either.

He's confident, distinguished and anywhere from 4 to 20 years older than you. Age is just a number, but there's something about older men that we love. Here are eight reasons why being in a relationship with an older man is tops.

While a younger man may have less life experience, that doesn't mean he's not emotionally mature. Here are the eight reasons why being in a relationship with a younger man is tops.

Have you ever wondered what the 'other woman' was thinking?

So fall is coming and you need some romantic inspiration now that long walks on the beach are out of the question. Well look no further! From apple picking to pumpkin carving, these are some great fall date ideas from girls just like you!