Poll: Women don't marry the best sex of their lives
Your wife might have some explaining to do.
Bad news, husbands. Although you may consider yourself to be your wife's most exciting sex partner, chances are the honor actually lies with one of her ex-lovers.
A recent study from iVillage found that less than half of married women describe their husband as their best sex ever. Fifty-two percent of those surveyed said an ex was better in bed than their current spouse. Sound dismal? That's not the worst of it.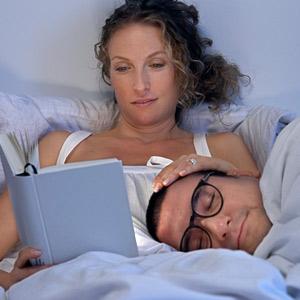 More on MSN Living: 10 men in your life you may be overlooking
The website surveyed 2,000 married women with a 60/40 split of those with and without children.
If the lackluster sex isn't bad enough, the poll found that 66 percent of married women would rather read a book, watch a movie or take a nap than have sex with a spouse.
More on MSN Living: 9 myths about men
Some might describe their sex lives as stale, but according to the survey, married women are quite content with this boring bedroom behavior.
"The iVillage study shows that not all housewives are desperate – surprisingly they are quite content and fulfilled with their predictable sex lives," said editor Liz Zack in a press release. "Perhaps that's because sex is not a priority when it comes to personal time. Today's married women lead such busy lives that they consider rest and relaxation a better self indulgence."
The New York Post recently cited the study in a story titled, "Nobody marries their best sex ever." Sex therapist Sari Cooper told the Post that she talks to many women who are concerned that their husbands don't match up to sexual escapades of the past. But Cooper explains:
"Your best sexual relationship has likely been with the person who was most unstable and most volatile, but was very passionate. That's like riding a roller coaster. That's passion. But if you have a family, riding a roller coaster isn't that great for kids."
Photo: Christoph Wilhelm/Getty Images
More Sex & Love on MSN Living:
The Essence most eligible bachelors
15 (guy approved!) ways to have the best first date ever
50 signs he's not that into you
20 'annoying' girl things he secretly loves about you
love: friendships, dating, sex & marriage
It's wedding season! Let's take a look back at when these stunning celebs put on gorgeous gowns and held beautiful bouquets in support of their friends' and family members' big days.

A new study says we're more open to consensual non-monogamy now than ever before — but does it work?

5 steps to being happy together in the long run.

There has been an exponential increase in the number of people who are questioning their marriage.

We're willing to bet that if you're not already grappling with these wedding-related snags, you will be soon.

Pull out the tissues for these personalized wedding vows.

Forgotten what love is all about? Read this note, and remember.

And a few that aren't so shocking.

If you find yourself doing any of these things, consider changing your behavior or counseling.

From pineapple sculptures made out of sunflowers to bold graphic printed tablecloths, ten trendsetters in the wedding industry shared 100 days' worth of inspiring new wedding details. See The Knot editors' top picks for the coolest and most awe-worthy ideas from the wedding experts.

Those Facebook friends who seem to have perfect lives with flawless mates whom they adore at all times? Even they face tough times like these.

How to flag her little fibs. By Laura Tedesco