Poll: Women don't marry the best sex of their lives
Your wife might have some explaining to do.
Bad news, husbands. Although you may consider yourself to be your wife's most exciting sex partner, chances are the honor actually lies with one of her ex-lovers.
A recent study from iVillage found that less than half of married women describe their husband as their best sex ever. Fifty-two percent of those surveyed said an ex was better in bed than their current spouse. Sound dismal? That's not the worst of it.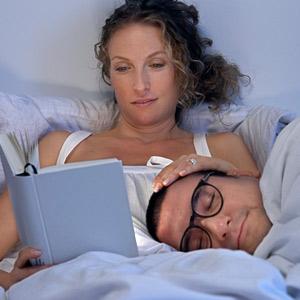 More on MSN Living: 10 men in your life you may be overlooking
The website surveyed 2,000 married women with a 60/40 split of those with and without children.
If the lackluster sex isn't bad enough, the poll found that 66 percent of married women would rather read a book, watch a movie or take a nap than have sex with a spouse.
More on MSN Living: 9 myths about men
Some might describe their sex lives as stale, but according to the survey, married women are quite content with this boring bedroom behavior.
"The iVillage study shows that not all housewives are desperate – surprisingly they are quite content and fulfilled with their predictable sex lives," said editor Liz Zack in a press release. "Perhaps that's because sex is not a priority when it comes to personal time. Today's married women lead such busy lives that they consider rest and relaxation a better self indulgence."
The New York Post recently cited the study in a story titled, "Nobody marries their best sex ever." Sex therapist Sari Cooper told the Post that she talks to many women who are concerned that their husbands don't match up to sexual escapades of the past. But Cooper explains:
"Your best sexual relationship has likely been with the person who was most unstable and most volatile, but was very passionate. That's like riding a roller coaster. That's passion. But if you have a family, riding a roller coaster isn't that great for kids."
Photo: Christoph Wilhelm/Getty Images
More Sex & Love on MSN Living:
The Essence most eligible bachelors
15 (guy approved!) ways to have the best first date ever
50 signs he's not that into you
20 'annoying' girl things he secretly loves about you
love: friendships, dating, sex & marriage
While we do love crazy, funny and over-the-top engagements, sometimes there's just nothing like a proposal with a heartfelt story behind it (warning: you might need some tissues). We've rounded up some of the most romantic wedding proposals from couples across the country, so keep scrolling for seven of our favorites:

As much as you'd like to think your guests will love every single aspect of your wedding, the truth is you really can't please everyone. However, you can try to avoid ticking them off. Here's how.

You'd think brides and grooms who celebrate their nuptials with 50 guests have an equal shot at wedded bliss as those who invite 500, but apparently not.

Because some things are just better with a buddy (whom you happen to be dating).

They're smart, funny, and adorable, but are you a good match?

Fight the urge to sign her up for OkCupid and read this instead.

We know you have good intentions, but...please...stop.

You can't say we didn't warn you. Every month is Movember when you're dating a guy with a beard. And while the scruffy look can be hot, there are some very real, err, challenges that come with the territory. Don't believe us? Well…

Follow these steps to slash your wedding budget—not your fun—in half.

It won't all be cake and flowers, but it can be the best year of your life together so far.

Expert tips on moving past those oh-so-familiar arguments.