Majority of porn viewers watch at work
Well, here's an embarrassing way to get fired.
There's a time and place for everything, and pornography enthusiasts may need to be reminded of this adage.
According to Dr. Christopher Ahlers, a sex therapist from Berlin, a staggering amount of people views porn from their work computers.
"Modern viewing of porn is no longer something in which strange individuals are engaged in quiet rooms in video booths," Ahlers said.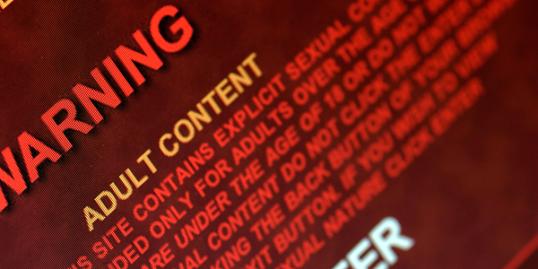 More on MSN Living: 10 men in your life you may be overlooking
Apparently, titillating videos are now enjoyed in cubicles around the world. At an Austrian conference on sexual behaviors, Ahlers claimed that of the 60 million people who log on daily to a free pornography website, about two-thirds of them are logging on from an office computer.
Ahler's claim isn't out of left field. The Washington Times reported that in 2009, an investigation at the National Science Foundation found that a senior executive spent a total of 331 days checking out porn on his government-issued computer. What's more, Bloomberg revealed that a memo written by the Pentagon ordered employees to stop "engaging in inappropriate content at work." The memo added that employees were "accessing Web sites and transmitting messages containing pornographic or sexually explicit images." I'm all for online surf breaks, but we may be getting just a little too comfortable with our at-work Internet habits.
More on MSN Living: 9 myths about men
According to Ahlers, while the first wave of the public's porn viewing seems to happen during office hours, the second daily wave occurs after dark.
"The second peak is from viewers at home after midnight," Ahlers explained. Definitely a more suitable venue.
Other studies have confirmed that excessive pornography habits do cause relationship issues. And with Ahler's recent claim, porn may be causing problems for people in the workplace as well. A 2011 ruling by the U.S. Court of Appeals says employees can legally be fired for looking at pornography on an office computer.
I suppose the phrase "NSFW" exists for a reason.
Photo: Martyn Vickery/Alamy
Bing: Find out which female sports star is getting divorced.
More Sex & Love on MSN Living:
The Essence most eligible bachelors
15 (guy approved!) ways to have the best first date ever
50 signs he's not that into you
20 'annoying' girl things he secretly loves about you
love: friendships, dating, sex & marriage
Why holding on to your partner's mistakes will end up hurting you.

A little extra effort, will power and research can help your marriage bloom well into old age.

These are the conversations all betrothed couples should take the time to have before they get hitched.

Brace yourself, this is uncomfortable.

There's nothing wrong with grabbing Italian food and alternating between watching action films and romantic comedies, but shaking up your going-out routine with an extreme date night can be the ultimate turn on and the best way to keep your relationship exciting.

This just in: Guys over 5'10" are twice as likely to stray.

Or how to tell if you've reached THAT point in your bond.

Dating doesn't have to be a daunting task, promise. Here's how to make it fun for you and him.

This just in: A new study shows girls are warriors in the womb.

You can make a pros and cons list...but ultimately you know what works best for you.

Maggie Reyes is a life coach, writer, and the founder of ModernMarried.com. She helps newlyweds re-think what married life can be. Here, she's revealing tricks every newlywed couple needs to know.

Government-supported Vietnamese classes teach women Korean language, customs.