Study: It Takes Men 20 Minutes or Less to Decide If They Want a Second Date
There's no formula for love, but there are some fundamental factors for a successful first date.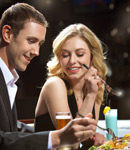 by Kristin Wong
Most of us have been there -- days after what you thought was the perfect first date, and your phone has never been more silent.
Or conversely, you made the worst first date impression imaginable, and the next day, you get a surprising text. Heck, maybe even years later, you're walking down the aisle with your bad first date.
From first dates to long term love, there's nothing particularly new about men and women having strikingly different perspectives. We've all seen 90s stand-up comedy.
But a new study from the University of Texas shows just how differently men and women view new relationships. The study finds that, the more attractive a woman is, the more a man thinks she's interested in him. Women, on the other hand, usually underestimate a man's attraction toward them.
A handful of men were interviewed here about their perspectives on a first date. And probably the most interesting find is, it takes singles 20 minutes or less to decide whether they want a second date with someone.
So set your timers, put on a big smile, and find out what men are looking for from their first dates.
But first, what turns them off:
- Complaining (if work sucks, leave it there)
- Talking about your baggage (no ex talk)
- Babbling (stick to a topic you're both interested in)
- Plastic surgery (keep the face lift under wraps)
And on a more positive note, here are the factors that make men want a second date:
- Smiling (be friendly and approachable)
- Sincerity (being yourself goes a long way)
- Compliments (who doesn't love a compliment?)
- Light, casual touching (just don't get too carried away, or your first date might turn into a one night stand!)

love: friendships, dating, sex & marriage
While we do love crazy, funny and over-the-top engagements, sometimes there's just nothing like a proposal with a heartfelt story behind it (warning: you might need some tissues). We've rounded up some of the most romantic wedding proposals from couples across the country, so keep scrolling for seven of our favorites:

As much as you'd like to think your guests will love every single aspect of your wedding, the truth is you really can't please everyone. However, you can try to avoid ticking them off. Here's how.

You'd think brides and grooms who celebrate their nuptials with 50 guests have an equal shot at wedded bliss as those who invite 500, but apparently not.

Because some things are just better with a buddy (whom you happen to be dating).

They're smart, funny, and adorable, but are you a good match?

Fight the urge to sign her up for OkCupid and read this instead.

We know you have good intentions, but...please...stop.

You can't say we didn't warn you. Every month is Movember when you're dating a guy with a beard. And while the scruffy look can be hot, there are some very real, err, challenges that come with the territory. Don't believe us? Well…

Follow these steps to slash your wedding budget—not your fun—in half.

It won't all be cake and flowers, but it can be the best year of your life together so far.

Expert tips on moving past those oh-so-familiar arguments.