Study: It Takes Men 20 Minutes or Less to Decide If They Want a Second Date
There's no formula for love, but there are some fundamental factors for a successful first date.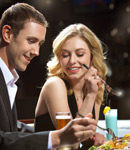 by Kristin Wong
Most of us have been there -- days after what you thought was the perfect first date, and your phone has never been more silent.
Or conversely, you made the worst first date impression imaginable, and the next day, you get a surprising text. Heck, maybe even years later, you're walking down the aisle with your bad first date.
From first dates to long term love, there's nothing particularly new about men and women having strikingly different perspectives. We've all seen 90s stand-up comedy.
But a new study from the University of Texas shows just how differently men and women view new relationships. The study finds that, the more attractive a woman is, the more a man thinks she's interested in him. Women, on the other hand, usually underestimate a man's attraction toward them.
A handful of men were interviewed here about their perspectives on a first date. And probably the most interesting find is, it takes singles 20 minutes or less to decide whether they want a second date with someone.
So set your timers, put on a big smile, and find out what men are looking for from their first dates.
But first, what turns them off:
- Complaining (if work sucks, leave it there)
- Talking about your baggage (no ex talk)
- Babbling (stick to a topic you're both interested in)
- Plastic surgery (keep the face lift under wraps)
And on a more positive note, here are the factors that make men want a second date:
- Smiling (be friendly and approachable)
- Sincerity (being yourself goes a long way)
- Compliments (who doesn't love a compliment?)
- Light, casual touching (just don't get too carried away, or your first date might turn into a one night stand!)

love: friendships, dating, sex & marriage
No sense in wasting your time on someone who will never commit.

There he is, the man of your dreams. He's sitting across from you at the coffee shop or standing at the opposite side of the bar. His eyes meet yours, a quick glance, and then it's back to his drink. Was he giving you a signal?

Remember that time on "30 Rock" when Liz Lemon and her eventual-husband Criss went shopping at Ikea, only to end up in a major fight? We know it couldn't be closer to the truth because we've all been there. In honor of the irritation that can be Ikea, here are the top fights you'll likely encounter.

Love it or hate it, the selfie wields much power.

Dating doesn't have to be a daunting task, promise. Here's how to make it fun for you and him.

One woman's honest journey to divorce will break your heart and inspire you at the same time.

Want to send your date running? Try one these moves.

Two guests arrested in New Jersey.

Celebrities certainly know how to travel in style, so if you're struggling to select a honeymoon destination, look no further than these star-approved hotspots. To make it even easier, we're providing you with hotel recommendations, packing essentials, and tips on what to do and see! So channel your inner celeb at one of these U.S. destinations for an unforgettable vacation!

Tall Twitter users named Wayne, we're on to you!

Should little girls be dreaming of a different kind of "I do"?

Need a reason to pack your bags and get the hell out of here?