Are Fewer Women Keeping Maiden Names?
Before the feminist movement went into full swing, keeping a maiden name in marriage was a steep uphill battle.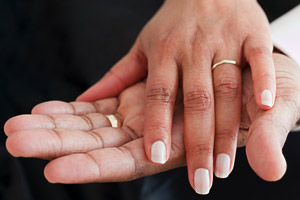 by Rich Maloof
The cause could have used a little push in the PR department to gain traction among women, truth be told. You know what would have helped? Don't call it a "maiden" name. "Maiden" conjures an image of a frumpy young woman in a frock carrying a pail of water from a well. Not quite what suffragist Lucy Stone had in mind, we're pretty sure, when she reclaimed her maiden name after 14 months of marriage. Then again, that was in 1856. Frocks were still pretty hip.
An article in today's Star Tribune out of Minneapolis makes a noteworthy observation, if not an entirely convincing one. With a nod to a survey posted on the wedding site TheKnot concluding that 86 percent of brides have been adopting their groom's last name, the Trib claims that fewer women today are choosing to keep their maiden names.
Why the apparent change when women proudly, sometimes defiantly, claimed their own names as knots were tied through the 1970s, 1980s and 1990s? Some familiar pros (sense of unity; simplicity; easier for kids) and cons (professional identity; connection to the past) are outlined in the article, while a few less politically correct motivators went unspoken.
Family history also plays a role -- and potentially cuts both ways. In a nostalgic look back over their parents' marriages, engaged couples often consider how they'd like to recreate the bond their folks made a generation ago; before 1975, according to a Harvard study referenced in the article, only 2 to 4 percent of women kept their names. On the other hand, a woman seeking some distance from her family -- particularly from a bad dad -- may all the more eagerly embrace a new surname. Dropping the patronymic can serve the purpose of slamming a door that a woman wants shut.
Not to be underestimated is the simple benefit of a good-sounding name over a moniker you've had to live down all lifelong. Who can be blamed for swapping out a Butkis for a Brandywine or a Coxe for a Caramello? Anyone with an uncomfortable tag seldom even makes a play for the hyphen. While hyphenating last names together is a hallmark of equality-correctness​, drawing a line between names seems more a separation than a pairing. Plus, those people get really cramped up writing holiday cars.
The Tribune article also cites a conservative shift in values, but that doesn't sit quite right. On the contrary, with the empowerment of women has come a laying down of arms. The battle for equality was honorably fought, and it's been won. Perhaps the trend is an indication that fewer women today feel their identity is threatened by having a husband. The name game is one they simply do need to play.
love: friendships, dating, sex & marriage
Or how to tell if you've reached THAT point in your bond.

Dating doesn't have to be a daunting task, promise. Here's how to make it fun for you and him.

This just in: A new study shows girls are warriors in the womb.

You can make a pros and cons list...but ultimately you know what works best for you.

Maggie Reyes is a life coach, writer, and the founder of ModernMarried.com. She helps newlyweds re-think what married life can be. Here, she's revealing tricks every newlywed couple needs to know.

Government-supported Vietnamese classes teach women Korean language, customs.

Whether you're into creative artists or uber-preppy bankers, there's something to be said for trying something new.

Sometimes two characters on a TV show or movie can portray being a happy couple effortlessly, or can have lots of fun playing former spouses — especially if they're married to each other in real life! Keep scrolling for six celebrity costars you probably didn't know tied the knot, even after the bloodiest and craziest story lines.

Some couples want nothing more than a laid-back, by-the-book proposal. Then there are the other couples, where the proposal not only needs to be personalized, it also has to be unique and entirely different than the typical restaurant, bended-knee idea. Sound like you? Then get inspired by some of the most creative proposal ideas we've ever seen. If you find something you like, steal it and then modify it to make your proposal something totally unforgettable.

From Nantucket all the way to Cayo Espanto, we've rounded up some of the prettiest beaches to travel to for your honeymoon.

Researchers studied the age-old stereotype that women really are more talkative than men.

'There is a science behind attraction,' SingldOut says.