Study: BMW Drivers More Likely to Cheat
I knew Toyotas were more dependable.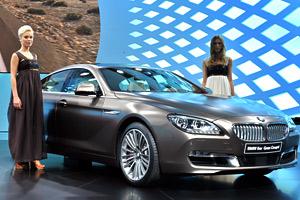 "Guilty pleasures are bought. The finer pleasures can be leased."
That's the slogan behind BMW's recent print ad campaign. Coincidentally, according to a new study, people who drive Bimmers are twice as likely to commit adultery.The study was done by extra-marital dating site, Illicit Encounters, who surveyed 640,000 of their members. Of those affair-seeking users, 19.21 percent of them claimed to drive a BMW. And in fact, the top five cars driven by cheaters were all on the pricey side:
Audi (8.79 percent)
Mercedes (8.23 percent)
Jaguar (6.59 percent)
Land Rover (4.94 percent)
One could argue that wealth has nothing to do with it, and the study is faulty because wealthy people are more likely to pay to join a cheater's website (although 'Gold Membership' is free for ladies)--the poor folks just hit up Craigslist, or wherever else they can get their "guilty pleasures" for free. If those people were surveyed, I'm sure there would be some not-so-luxury cars in the mix.
But extra-marital relationship expert Rosie Freeman-Jones insists there's a link between success and cheating:
"Successful people are often risk-takers, and have got to where they are by setting their standards high. However, these people are also less likely to settle for unsatisfying relationships or monotony."
Other studies have found that the wealthy are more prone to unethical behavior. Researchers at the University of California, Berkeley led a series of experiments that found that people who had a higher socioeconomic status were more likely to cheat to win a prize, take candy from kids and pocket extra change handed to them in error.
"If you occupy a more insular world, you're less likely to be sensitive to the needs of others," said the study's lead author Paul Piff.
While the study didn't specifically point out adultery, the researchers did conclude that self-interest often increases as socioeconomic status increases. Piff explained:
"It's not that the rich are innately bad, but as you rise in the ranks -- whether as a person or a nonhuman primate -- you become more self-focused."
But let's face it, a cheater's going to cheat, BMW or not. Don't take away your spouse's Bimmer just yet.
Tell us on Facebook: Do you think a nicer car means he or she is more likely to cheat?
Photo: AFP/Getty Images
love: friendships, dating, sex & marriage
After your return from your honeymoon, your marriage officially starts and with that come some changes. It's not to say that the honeymoon phase is over, but you'll have to get some things situated in order to have your marriage start off on the right foot. We tapped the expert advice of wedding planner and reality TV star David Tutera and love and career coach Charreah Jackson to dish on six things you must do to have a successful first month of marriage — from wedding-related logistics to wrap up to relationship rules to set.

Owner of Weddings in Vieques, a destination-wedding planning company off the coast of Puerto Rico, Sandy Malone has helped countless couples plan their big day since 2007. Here, the veteran planner is sharing some expert advice for free: She's sharing the top eight things you have to do right after you get engaged.

Is the idea of a big bridal bash just not your thing? Or perhaps you and your fiancé are just the super spontaneous type, so why not make your next beach vacation your nuptials as well? If you're thinking of eloping but have questions on the mind, we're here to help. We tapped elopement and wedding planner Lindsey Nickel, founder of Events, Etc., for her top dos and don'ts for getting hitched on the sly.

Easy everyday ways to keep the love alive.

Expert tips on moving past those oh-so-familiar arguments.

Sometimes you have to do things you don't want to do, like hang out with his lame friends. You're not always in the mood to nurse a beer silently while he and his boys argue about who's going to die next on "Game of Thrones" — but tomorrow he's sitting through a seven-girl brunch. So.

Why holding on to your partner's mistakes will end up hurting you.

A little extra effort, will power and research can help your marriage bloom well into old age.

These are the conversations all betrothed couples should take the time to have before they get hitched.

Brace yourself, this is uncomfortable.

There's nothing wrong with grabbing Italian food and alternating between watching action films and romantic comedies, but shaking up your going-out routine with an extreme date night can be the ultimate turn on and the best way to keep your relationship exciting.

This just in: Guys over 5'10" are twice as likely to stray.