Study: BMW Drivers More Likely to Cheat
I knew Toyotas were more dependable.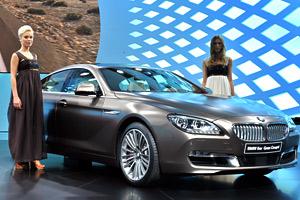 "Guilty pleasures are bought. The finer pleasures can be leased."
That's the slogan behind BMW's recent print ad campaign. Coincidentally, according to a new study, people who drive Bimmers are twice as likely to commit adultery.The study was done by extra-marital dating site, Illicit Encounters, who surveyed 640,000 of their members. Of those affair-seeking users, 19.21 percent of them claimed to drive a BMW. And in fact, the top five cars driven by cheaters were all on the pricey side:
Audi (8.79 percent)
Mercedes (8.23 percent)
Jaguar (6.59 percent)
Land Rover (4.94 percent)
One could argue that wealth has nothing to do with it, and the study is faulty because wealthy people are more likely to pay to join a cheater's website (although 'Gold Membership' is free for ladies)--the poor folks just hit up Craigslist, or wherever else they can get their "guilty pleasures" for free. If those people were surveyed, I'm sure there would be some not-so-luxury cars in the mix.
But extra-marital relationship expert Rosie Freeman-Jones insists there's a link between success and cheating:
"Successful people are often risk-takers, and have got to where they are by setting their standards high. However, these people are also less likely to settle for unsatisfying relationships or monotony."
Other studies have found that the wealthy are more prone to unethical behavior. Researchers at the University of California, Berkeley led a series of experiments that found that people who had a higher socioeconomic status were more likely to cheat to win a prize, take candy from kids and pocket extra change handed to them in error.
"If you occupy a more insular world, you're less likely to be sensitive to the needs of others," said the study's lead author Paul Piff.
While the study didn't specifically point out adultery, the researchers did conclude that self-interest often increases as socioeconomic status increases. Piff explained:
"It's not that the rich are innately bad, but as you rise in the ranks -- whether as a person or a nonhuman primate -- you become more self-focused."
But let's face it, a cheater's going to cheat, BMW or not. Don't take away your spouse's Bimmer just yet.
Tell us on Facebook: Do you think a nicer car means he or she is more likely to cheat?
Photo: AFP/Getty Images
love: friendships, dating, sex & marriage
Or how to tell if you've reached THAT point in your bond.

Dating doesn't have to be a daunting task, promise. Here's how to make it fun for you and him.

This just in: A new study shows girls are warriors in the womb.

You can make a pros and cons list...but ultimately you know what works best for you.

Maggie Reyes is a life coach, writer, and the founder of ModernMarried.com. She helps newlyweds re-think what married life can be. Here, she's revealing tricks every newlywed couple needs to know.

Government-supported Vietnamese classes teach women Korean language, customs.

Whether you're into creative artists or uber-preppy bankers, there's something to be said for trying something new.

Sometimes two characters on a TV show or movie can portray being a happy couple effortlessly, or can have lots of fun playing former spouses — especially if they're married to each other in real life! Keep scrolling for six celebrity costars you probably didn't know tied the knot, even after the bloodiest and craziest story lines.

Some couples want nothing more than a laid-back, by-the-book proposal. Then there are the other couples, where the proposal not only needs to be personalized, it also has to be unique and entirely different than the typical restaurant, bended-knee idea. Sound like you? Then get inspired by some of the most creative proposal ideas we've ever seen. If you find something you like, steal it and then modify it to make your proposal something totally unforgettable.

From Nantucket all the way to Cayo Espanto, we've rounded up some of the prettiest beaches to travel to for your honeymoon.

Researchers studied the age-old stereotype that women really are more talkative than men.

'There is a science behind attraction,' SingldOut says.