Study: BMW Drivers More Likely to Cheat
I knew Toyotas were more dependable.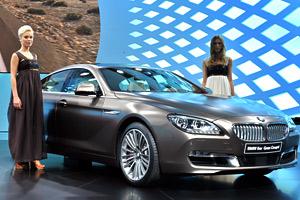 "Guilty pleasures are bought. The finer pleasures can be leased."
That's the slogan behind BMW's recent print ad campaign. Coincidentally, according to a new study, people who drive Bimmers are twice as likely to commit adultery.The study was done by extra-marital dating site, Illicit Encounters, who surveyed 640,000 of their members. Of those affair-seeking users, 19.21 percent of them claimed to drive a BMW. And in fact, the top five cars driven by cheaters were all on the pricey side:
Audi (8.79 percent)
Mercedes (8.23 percent)
Jaguar (6.59 percent)
Land Rover (4.94 percent)
One could argue that wealth has nothing to do with it, and the study is faulty because wealthy people are more likely to pay to join a cheater's website (although 'Gold Membership' is free for ladies)--the poor folks just hit up Craigslist, or wherever else they can get their "guilty pleasures" for free. If those people were surveyed, I'm sure there would be some not-so-luxury cars in the mix.
But extra-marital relationship expert Rosie Freeman-Jones insists there's a link between success and cheating:
"Successful people are often risk-takers, and have got to where they are by setting their standards high. However, these people are also less likely to settle for unsatisfying relationships or monotony."
Other studies have found that the wealthy are more prone to unethical behavior. Researchers at the University of California, Berkeley led a series of experiments that found that people who had a higher socioeconomic status were more likely to cheat to win a prize, take candy from kids and pocket extra change handed to them in error.
"If you occupy a more insular world, you're less likely to be sensitive to the needs of others," said the study's lead author Paul Piff.
While the study didn't specifically point out adultery, the researchers did conclude that self-interest often increases as socioeconomic status increases. Piff explained:
"It's not that the rich are innately bad, but as you rise in the ranks -- whether as a person or a nonhuman primate -- you become more self-focused."
But let's face it, a cheater's going to cheat, BMW or not. Don't take away your spouse's Bimmer just yet.
Tell us on Facebook: Do you think a nicer car means he or she is more likely to cheat?
Photo: AFP/Getty Images
love: friendship, dating, sex & marriage
We've made picking your palette a breeze! Just find your favorite hue and choose one of the cool combos below.

Get inspired with these twelve ideas for a fantastic, fun summer wedding!

What's worse than getting snubbed while proposing? Having your heart broken in front of countless strangers.

Want your I do's to be totally you? From pre-wedding cocktails to Mad Lib vows, here are 25 ways to make your ceremony as unforgettable as your reception.

Summer love can be sweet. But it tends to be fast, feverish and often fleeting. In a season where emotions run hot, here are some rules to help avoid heartbreak.

We asked brides on TheKnot.com to tell all -- and they did. Here, five of the most likely culprits and advice for how to deal with your drama-causing guests along the way.

This short course in flirting will not only teach you how to flirt better but also how to tell when someone is flirting with you—and how to respond. Have fun.

Gatsby glamour doesn't have to just live on the big screen! Embrace the trendy (yet timeless) art deco style with sequins, pearls, feathers and geometric patterns. Check out these art deco ideas and achieve the feel of 1920s decadence. By the way, all of these are affordable, except for the $600 hairpiece which is a splurge, but a knockout. Shop the look!

Wondering if your summer love will last? Here are 15 signs if your seasonal love is fleeting or for real.

Sixteen years after "Titanic's" release—and 101 years after the historic ship's notorious sinking—our hearts still go on for star-crossed lovers Rose DeWitt Bukater (Kate Winslet) and Jack Dawson (Leonardo DiCaprio). We rounded up some of our favorite ill-fated, but oh-so-romantic affairs on film, from "Gone with the Wind" to "Moulin Rouge!".

Flirting shouldn't be retired once you've got the ring. We asked relationship expert Harlan Cohen, as well as real husbands, the best way to keep the sparks flying.

When we're annoyed by male behavior, we turn to columnist Aaron Traister. His logic may be strange, but we have to admit, it's pretty helpful. Here, he answers our many questions for guys.