Study: BMW Drivers More Likely to Cheat
I knew Toyotas were more dependable.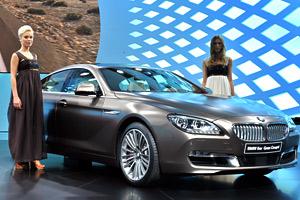 "Guilty pleasures are bought. The finer pleasures can be leased."
That's the slogan behind BMW's recent print ad campaign. Coincidentally, according to a new study, people who drive Bimmers are twice as likely to commit adultery.The study was done by extra-marital dating site, Illicit Encounters, who surveyed 640,000 of their members. Of those affair-seeking users, 19.21 percent of them claimed to drive a BMW. And in fact, the top five cars driven by cheaters were all on the pricey side:
Audi (8.79 percent)
Mercedes (8.23 percent)
Jaguar (6.59 percent)
Land Rover (4.94 percent)
One could argue that wealth has nothing to do with it, and the study is faulty because wealthy people are more likely to pay to join a cheater's website (although 'Gold Membership' is free for ladies)--the poor folks just hit up Craigslist, or wherever else they can get their "guilty pleasures" for free. If those people were surveyed, I'm sure there would be some not-so-luxury cars in the mix.
But extra-marital relationship expert Rosie Freeman-Jones insists there's a link between success and cheating:
"Successful people are often risk-takers, and have got to where they are by setting their standards high. However, these people are also less likely to settle for unsatisfying relationships or monotony."
Other studies have found that the wealthy are more prone to unethical behavior. Researchers at the University of California, Berkeley led a series of experiments that found that people who had a higher socioeconomic status were more likely to cheat to win a prize, take candy from kids and pocket extra change handed to them in error.
"If you occupy a more insular world, you're less likely to be sensitive to the needs of others," said the study's lead author Paul Piff.
While the study didn't specifically point out adultery, the researchers did conclude that self-interest often increases as socioeconomic status increases. Piff explained:
"It's not that the rich are innately bad, but as you rise in the ranks -- whether as a person or a nonhuman primate -- you become more self-focused."
But let's face it, a cheater's going to cheat, BMW or not. Don't take away your spouse's Bimmer just yet.
Tell us on Facebook: Do you think a nicer car means he or she is more likely to cheat?
Photo: AFP/Getty Images
love: friendships, dating, sex & marriage
Brad Pitt and Angelina Jolie finally took the plunge, but marriage isn't always a good choice for everyone.

Learn how these surprising tactics can really improve your relationship.

Use these tips to up your chances of finding love.

Find out how paired-off ladies might feel lacking—and how you can make your relationship satisfying.

These signals are seriously subtle, but they can give you real insight into what's going through your husband's mind.

Check which changes are necessary to stay happy together.

We know some of this may sound obvious, but these simple statements can make both of you happier.

Making your relationship more secure, connected, and intimate doesn't have to feel overwhelming. Try these expert tips and reap the rewards now—and in the long run.

For those times when nothing big and horrible happened--but nothing is feeling right either.

What's more fun than animals in weddings? We've rounded up eight of the cutest.

Your puppy is all over your Instagram, Facebook and fridge, so there's no reason not to include him in your engagement pictures too. The best engagement photos give viewers a peek into your life. If you're a dog owner, take this opportunity to show off your pooch, like these 22 couples did! And we can't thank them enough.

Our married blogger gets real about checking out other guys when you're taken.