You Stabbed Me…Now Will You Marry Me?
A truly bizarre proposal story.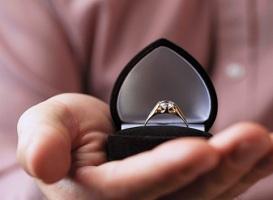 Gregory Todd proposed to his girlfriend in an unusual way—through her lawyer at a court hearing. Oh, by the way, they were in court because she was being indicted for stabbing him in the back with a 12-inch knife as he slept in December of last year.
Deal breaker, am I right? But Todd is eager to hear his girlfriend/assailant​'s response to his offer. During her hearing, Tiffany Ballies's lawyer said:
"Mr. Todd is in court and has been to see her in prison. He has brought a ring to court to propose to her. Eventually they want to get married. He says he has brought the engagement ring to ask to her marry him today."

Tiffany then began crying but didn't give any indication of whether she would accept the proposal.
As wacky as this scenario sounds, it's actually quite a sad story. Tiffany's attack came near the anniversary of the death of her 10-week old son and also shortly after she had suffered a miscarriage. According to her lawyer, she was grief-stricken during the time of the attack and couldn't explain why she stabbed her boyfriend.
The knife went through Gregory's liver, spleen and pancreas. Doctors said he would have died had he not received medical attention so quickly. After the hearing, Gregory said outside of the court:
"I love her I want to marry her. She didn't know I was going to propose today but I was. I wanted to give her the ring but they won't allow it in prison. I hoped she would get a suspended sentence, so I could propose today. She does not need to be in prison."
Ballies was originally charged with attempted murder, but has since admitted to grievous bodily harm with intent.
Sad, but still pretty brutal. 
love: friendships, dating, sex & marriage
No sense in wasting your time on someone who will never commit.

There he is, the man of your dreams. He's sitting across from you at the coffee shop or standing at the opposite side of the bar. His eyes meet yours, a quick glance, and then it's back to his drink. Was he giving you a signal?

Remember that time on "30 Rock" when Liz Lemon and her eventual-husband Criss went shopping at Ikea, only to end up in a major fight? We know it couldn't be closer to the truth because we've all been there. In honor of the irritation that can be Ikea, here are the top fights you'll likely encounter.

Love it or hate it, the selfie wields much power.

Dating doesn't have to be a daunting task, promise. Here's how to make it fun for you and him.

One woman's honest journey to divorce will break your heart and inspire you at the same time.

Want to send your date running? Try one these moves.

Two guests arrested in New Jersey.

Celebrities certainly know how to travel in style, so if you're struggling to select a honeymoon destination, look no further than these star-approved hotspots. To make it even easier, we're providing you with hotel recommendations, packing essentials, and tips on what to do and see! So channel your inner celeb at one of these U.S. destinations for an unforgettable vacation!

Tall Twitter users named Wayne, we're on to you!

Should little girls be dreaming of a different kind of "I do"?

Need a reason to pack your bags and get the hell out of here?