You Stabbed Me…Now Will You Marry Me?
A truly bizarre proposal story.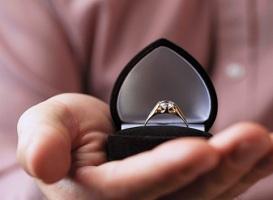 Gregory Todd proposed to his girlfriend in an unusual way—through her lawyer at a court hearing. Oh, by the way, they were in court because she was being indicted for stabbing him in the back with a 12-inch knife as he slept in December of last year.
Deal breaker, am I right? But Todd is eager to hear his girlfriend/assailant​'s response to his offer. During her hearing, Tiffany Ballies's lawyer said:
"Mr. Todd is in court and has been to see her in prison. He has brought a ring to court to propose to her. Eventually they want to get married. He says he has brought the engagement ring to ask to her marry him today."

Tiffany then began crying but didn't give any indication of whether she would accept the proposal.
As wacky as this scenario sounds, it's actually quite a sad story. Tiffany's attack came near the anniversary of the death of her 10-week old son and also shortly after she had suffered a miscarriage. According to her lawyer, she was grief-stricken during the time of the attack and couldn't explain why she stabbed her boyfriend.
The knife went through Gregory's liver, spleen and pancreas. Doctors said he would have died had he not received medical attention so quickly. After the hearing, Gregory said outside of the court:
"I love her I want to marry her. She didn't know I was going to propose today but I was. I wanted to give her the ring but they won't allow it in prison. I hoped she would get a suspended sentence, so I could propose today. She does not need to be in prison."
Ballies was originally charged with attempted murder, but has since admitted to grievous bodily harm with intent.
Sad, but still pretty brutal. 
love: friendships, dating, sex & marriage
Why holding on to your partner's mistakes will end up hurting you.

A little extra effort, will power and research can help your marriage bloom well into old age.

These are the conversations all betrothed couples should take the time to have before they get hitched.

Brace yourself, this is uncomfortable.

There's nothing wrong with grabbing Italian food and alternating between watching action films and romantic comedies, but shaking up your going-out routine with an extreme date night can be the ultimate turn on and the best way to keep your relationship exciting.

This just in: Guys over 5'10" are twice as likely to stray.

Or how to tell if you've reached THAT point in your bond.

Dating doesn't have to be a daunting task, promise. Here's how to make it fun for you and him.

This just in: A new study shows girls are warriors in the womb.

You can make a pros and cons list...but ultimately you know what works best for you.

Maggie Reyes is a life coach, writer, and the founder of ModernMarried.com. She helps newlyweds re-think what married life can be. Here, she's revealing tricks every newlywed couple needs to know.

Government-supported Vietnamese classes teach women Korean language, customs.