You Stabbed Me…Now Will You Marry Me?
A truly bizarre proposal story.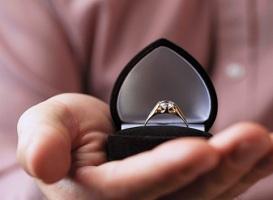 Gregory Todd proposed to his girlfriend in an unusual way—through her lawyer at a court hearing. Oh, by the way, they were in court because she was being indicted for stabbing him in the back with a 12-inch knife as he slept in December of last year.
Deal breaker, am I right? But Todd is eager to hear his girlfriend/assailant​'s response to his offer. During her hearing, Tiffany Ballies's lawyer said:
"Mr. Todd is in court and has been to see her in prison. He has brought a ring to court to propose to her. Eventually they want to get married. He says he has brought the engagement ring to ask to her marry him today."

Tiffany then began crying but didn't give any indication of whether she would accept the proposal.
As wacky as this scenario sounds, it's actually quite a sad story. Tiffany's attack came near the anniversary of the death of her 10-week old son and also shortly after she had suffered a miscarriage. According to her lawyer, she was grief-stricken during the time of the attack and couldn't explain why she stabbed her boyfriend.
The knife went through Gregory's liver, spleen and pancreas. Doctors said he would have died had he not received medical attention so quickly. After the hearing, Gregory said outside of the court:
"I love her I want to marry her. She didn't know I was going to propose today but I was. I wanted to give her the ring but they won't allow it in prison. I hoped she would get a suspended sentence, so I could propose today. She does not need to be in prison."
Ballies was originally charged with attempted murder, but has since admitted to grievous bodily harm with intent.
Sad, but still pretty brutal. 
love: friendships, dating, sex & marriage
One minute you're happy and in love, the next he's delivering the "It's not you, it's me" speech. Why? We have the scoop on the real reasons most couples split up.

Want to keep your wedding budget in check? Start by checking out this list of the 10 things that could end up costing you a lot more than you anticipated.

The proposal-filled site How He Asked has shared its top 10 most emotional proposal photos with us, so have your tissues handy. We're suckers for a good proposal story, and these ones are truly tear-worthy. Check them out now, and watch your heart grow (at least) three sizes!

How to do weddings: Yet another foreign (and expensive) aspect of adulthood that you have to learn the hard way. But have no fear! Click through for some must-have wedding tips.

As part of the 2014 Brides Best Honeymoon awards, we're counting down the best places for newlyweds to stay in the Mainland U.S. From luxe resorts in the Napa Valley to hotel oases in the Sedona Desert, you're guaranteed a memorable stay no matter which resort you choose.

For him they're NBD, so don't stress.