You Stabbed Me…Now Will You Marry Me?
A truly bizarre proposal story.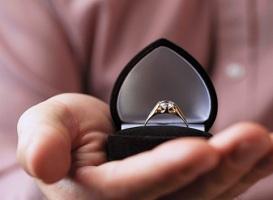 Gregory Todd proposed to his girlfriend in an unusual way—through her lawyer at a court hearing. Oh, by the way, they were in court because she was being indicted for stabbing him in the back with a 12-inch knife as he slept in December of last year.
Deal breaker, am I right? But Todd is eager to hear his girlfriend/assailant​'s response to his offer. During her hearing, Tiffany Ballies's lawyer said:
"Mr. Todd is in court and has been to see her in prison. He has brought a ring to court to propose to her. Eventually they want to get married. He says he has brought the engagement ring to ask to her marry him today."

Tiffany then began crying but didn't give any indication of whether she would accept the proposal.
As wacky as this scenario sounds, it's actually quite a sad story. Tiffany's attack came near the anniversary of the death of her 10-week old son and also shortly after she had suffered a miscarriage. According to her lawyer, she was grief-stricken during the time of the attack and couldn't explain why she stabbed her boyfriend.
The knife went through Gregory's liver, spleen and pancreas. Doctors said he would have died had he not received medical attention so quickly. After the hearing, Gregory said outside of the court:
"I love her I want to marry her. She didn't know I was going to propose today but I was. I wanted to give her the ring but they won't allow it in prison. I hoped she would get a suspended sentence, so I could propose today. She does not need to be in prison."
Ballies was originally charged with attempted murder, but has since admitted to grievous bodily harm with intent.
Sad, but still pretty brutal. 
love: friendships, dating, sex & marriage
Study finds that early birds get the long-term relationships.

Receptions would take place near where raw sewage is processed.

We don't think this one can be topped.

Studies show the lesbian divorce rate is astronomical. Find out why - and how to avoid it.

Plus, four more real-life reasons to not incorporate a hot air balloon into your engagement.

We searched far and wide to find some of the most creative gifts for the first 10 years of marriage—complete with a few fun, personalized ideas for celebrating your love.

Marriage is a beautiful thing, but it's not always easy to stay on the same page. Here are 20 signs your marriage is in trouble and what you can do to fix it.

Today in unfortunately rhyming news: The more you tweet, the more you cheat.

We don't know these couples personally, but their public relationship personas can teach us a thing or two about love. Here are 25 of the best love lessons.

This short course in flirting will teach you not only how to flirt better but how to tell when someone is flirting with you—and how to respond. Have fun.

Lesson learned: don't be afraid to shake things up!

Plus, what to do if you're experiencing a dry spell.